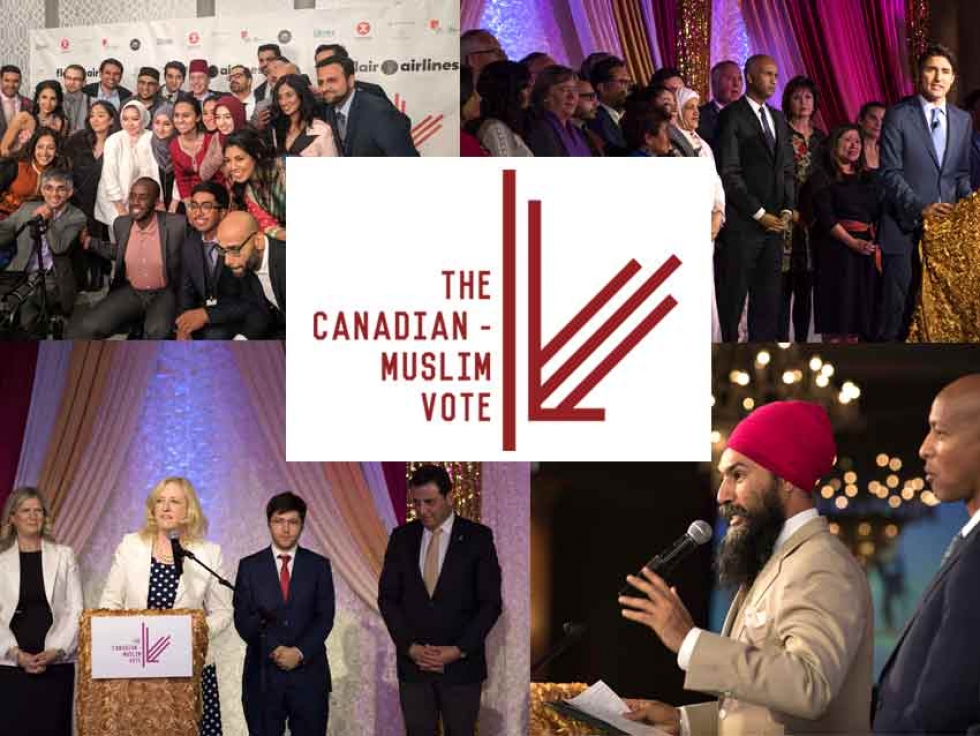 26
Jun


2019
Elected Officials Addressed The Canadian Muslim Vote's Annual Eid Dinner
Written by Canadian Muslim Vote
On June 22, 2019, a sold-out crowd of over 1,000 were joined by 70+ elected officials, media representatives, and personalities such as Toronto Raptors Superfan, Nav Bhatia and CEO of Paramount Foods Mohamad Fakih at the Canadian Muslim Vote (TCMV) Eid Dinner in Toronto, Ontario.
This was TCMV's best Eid Dinner yet and has put Muslims on the political map this election season. It was a major event which included party leaders and is being called the TCMV Get-Out-The-Vote Campaign Kickoff!
The event saw remarks shared by Toronto Mayor John Tory, Hon. Prime Minister Justin Trudeau, Hon. Deputy Leader of the Opposition Lisa Raitt (CPC), and Hon. Leader of the NDP Jagmeet Singh.
The Eid Dinner was covered live by CTV with stories on Global, City TV, CP 24, CBC, Toronto Star and was one of the top trending topics on social media. In case you missed it, you can watch a recording of the event below (It may take a few moments to load from YouTube).
This success would not have been possible without all the hard work and contributions from volunteers, sponsors, the TCMV board, and the Muslim community and our friends.
What's next? We need to take this achievement to the next level to deliver on our potential to turn out in the federal election in October. This will not be possible without your generous support to our Get-Out-The-Vote program through your tax-deductible donation. Please Donate Generously HERE.
We want to extend a very special thank you to all of the elected officials who attended.
Our Speakers:
Mayor of Toronto John Tory
Prime Minister Rt. Hon. Justin Trudeau
Deputy Leader of the Opposition Hon. Lisa Raitt
NDP Leader Hon. Jagmeet Singh
Elected Officials:
Members of Parliament
Ziad Aboultaif, MP, Edmonton Manning (PC)
Omar Alghabra, MP, Mississauga Centre (Liberal)
Leona Alleslev, MP, Aurora--Oak Ridges--Richmond Hill (PC)
Gary Anandasangaree, MP, Scarborough--Rouge Park (Liberal)
Bill Blair, MP, Scarborough Southwest (Liberal)
Bob Bratina, MP, Hamilton East- Stoney Creek (Liberal)
Shaun Chen, MP, Scarborough North (Liberal)
Pam Damoff, MP, Oakville North--Burlington (Liberal)
Kirsty Duncan, MP, Etobicoke North (Liberal)
Ali Ehsassi, MP, Willowdale (Liberal)
Nathaniel Erskine-Smith, MP, Beaches--East York (Liberal)
Garnett Genuis, MP, Sherwood Park—Fort Saskatchewan (PC)
Ahmed Hussen, MP, York South-Weston (Liberal)
Majid Jowhari, MP, Richmond Hill (Liberal)
Peter Kent, MP, Thornhill (PC)
Iqra Khalid, MP, Mississauga--Erin Mills (Liberal)
Maryam Monsef, MP, Peterborough-Kawartha (Liberal)
Mary Ng, MP, Markham--Thornhill (Liberal)
Robert Oliphant, MP, Don Valley West (Liberal)
Jane Philpott, MP, Markham--Stouffville (Independent)
Yasmin Ratansi, MP, Don Valley East (Liberal)
Ruby Sahota, MP, Brampton North (Liberal)
Deborah Schulte, MP, King--Vaughan (Liberal)
Gagan Sikand, MP, Mississauga--Streetsville (Liberal)
Francesco Sorbara, MP, Vaughan-Woodbridge (Liberal)
Sven Spengemann, MP, Mississauga--Lakeshore (Liberal)
Jean Yip, MP, Scarborough--Agincourt (Liberal)
Salma Zahid, MP, Scarborough Centre (Liberal)
Members of Provincial Parliament
Doly Begum, MPP, Scarborough Southwest (NDP)
Rima Berns McGown, MPP, Beaches East York (NDP)
Lorne Coe, MPP, Whitby (PC)
Rudy Cuzzetto, MPP, Mississauga--Lakeshore (PC)
Faisal Hassan, MPP, York-South-Weston (NDP)
Mitzie Hunter, MPP, Scarborough--Guildwood (Liberal)
Michael Coteau, MPP, Don Valley East (Liberal)
Caroline Mulroney, MPP, Newmarket (PC)
Michael Parsa, MPP, Aurora--Oak Ridges--Richmond Hill (PC)
Tom Rakocevic, MPP, Humber River--Black Creek (NDP)
Kaleed Rasheed, MPP, Mississauga Cooksville (PC)
Sheref Sabawy, MPP, Mississauga--Erin Mills (PC)
Amarjot Sandhu, MPP, Brampton West (PC)
Prabmeet Sarkaria, MPP, Brampton South (PC)
Sara Singh, MPP, Brampton Centre (NDP)
Nina Tangri, MPP, Mississauga--Streetsville (PC)
Vijay Thanigasalam, MPP, Scarborough--Rouge Park (PC)
Daisy Wai, MPP, Richmond Hill (PC)
Kathleen Wynne, MPP, Don Valley West (Liberal)
Mayors and City Councillors
David Barrow, Mayor, Richmond Hill
Patrick Brown, Mayor, Brampton
Sameera Ali, Councillor, Milton
Brad Bradford, Councillor, Toronto
Cynthia Lai, Councillor, Toronto
Shelley Carroll, Councillor, Toronto
Michael Ford, Councillor, Toronto
Zeeshan Hamid, Councillor, Milton
Jim Karygiannis, Councillor, Toronto
Jennifer McKelvie, Councillor, Toronto
Amanda Yeung Collucci, Councillor, Markham
Rowena Santos, Councillor, Brampton
Paul Vicente, Councillor, Brampton
Zakir Patel, Trustee, TDSB
We would also like to thank our Eid Dinner 2019 sponsors:
Title Sponsor: Flair Airlines
VIP Sponsor: Islamic Relief Canada
Leaders Sponsor: Ryerson University, Levitt LLP
Champions Sponsors: RBC Wealth Management, Safari Phones, KPMG, Muslim Welfare Centre and Project Ramadan, Maple Lodge
Advocate Sponsors: Fateel Catering, Bike Depot, C&C, Human Concern Canada, NCCM, UNIFOR, Sargent Farms, IDRF, One World Halal, Green Sky Labs