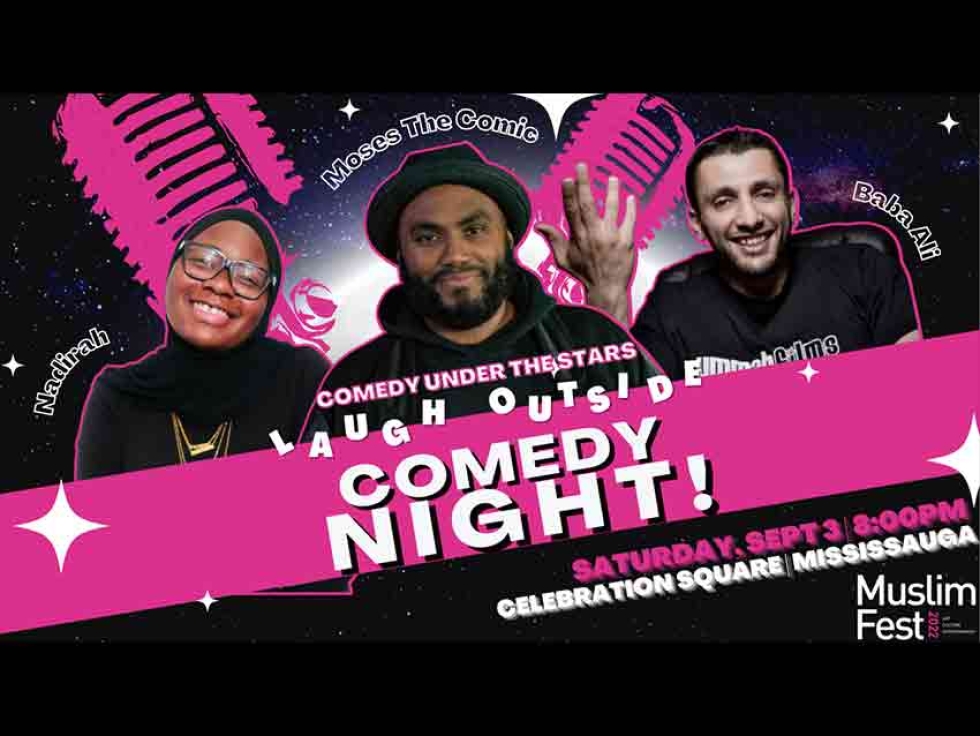 02
Sep


2022
19th Annual MuslimFest Set to Return This Weekend in Toronto With Over 75,000 People Expected
Written by MuslimFest
TORONTO, Ont. (August 29, 2022) – A weekend of art, culture, and entertainment for people of all ages is just around the corner with the annual MuslimFest celebration happening this weekend!
The 19th annual MuslimFest returns to Celebration Square in Mississauga from September 2-September 4. The free event runs from noon - 11 p.m. each day and will feature live performances from national and international artists, art exhibits, and a Souk featuring many delicious food vendors. The festival is a unique cultural fusion that combines faith traditions and Canadian culture.
"Over the past 19 years MuslimFest has become a must-attend event for Muslims across Ontario and beyond," says Tariq Syed, Event Director of the Festival. "The event has something for everyone and
caters to people from all backgrounds. We have created an incredible space that allows everyone to make memories through the language of art, humour, and meaningful entertainment; something we feel can create new connections throughout our community."
Highlights for this year's festival include:
Jummah Khutba: Join us for public Friday prayers at Mississauga Celebration Square on September 2nd at 2:00 PM with Shaykh Ammar Al-Shukry, approximately 5000 people are expected to attend
Light Calligraphy: This year will feature a spectacular light calligraphy art display. Words and pictures come to life with the touch of light and magic - you don't want to miss this!
Entertainment: The festival stage will be busy with a full line-up of entertainers scheduled for the event. Amal Kassir and Labibah will present their poetry and spoken word. Boonaa Mohammed, Ilyas Mao, & Abdullah Bustami will entertain festival guests with their musical performances. Comedians Nadira from NYC and Spoken word by Ammar Al Shukry will keep guests laughing on Saturday night.
The Fortunate Slave – Play: The story of a prominent Fulani Muslim prince from West Africa who was kidnapped to the Americas during the Atlantic slave trade. He was released due to an English humanitarian intervention and lived in England along with the nobility before returning home to Senegal.
Palestinian Cultural Pavilion: This year MuslimFest is showcasing a beautiful display of Palestinian art, culture, and heritage. Come and learn more about the history and people of Palestine.
About MuslimFest
MuslimFest is an award-winning annual festival in Mississauga that celebrates the best in Muslim arts, culture and entertainment. The event is put together by 150 volunteers with the aim to curate diverse art and performances, creating a unique cultural experience for all.
Launched in 2004, MuslimFest is a joint project of DawaNet and Sound Vision. Today, it is North America's largest Muslim festival of its kind, attracting over 65,000+ attendees annually. MuslimFest is sponsored by: the City of Mississauga, Mississauga Tourism, Ontario Government, WordCovers, Naseeha Mental Health, Nisa Homes, Nominal, Human Concern International, Zabiha Halal, Konga Fitness, National Zakat Foundation, Cen Stone, Watan Kabob, and Halal Meals.