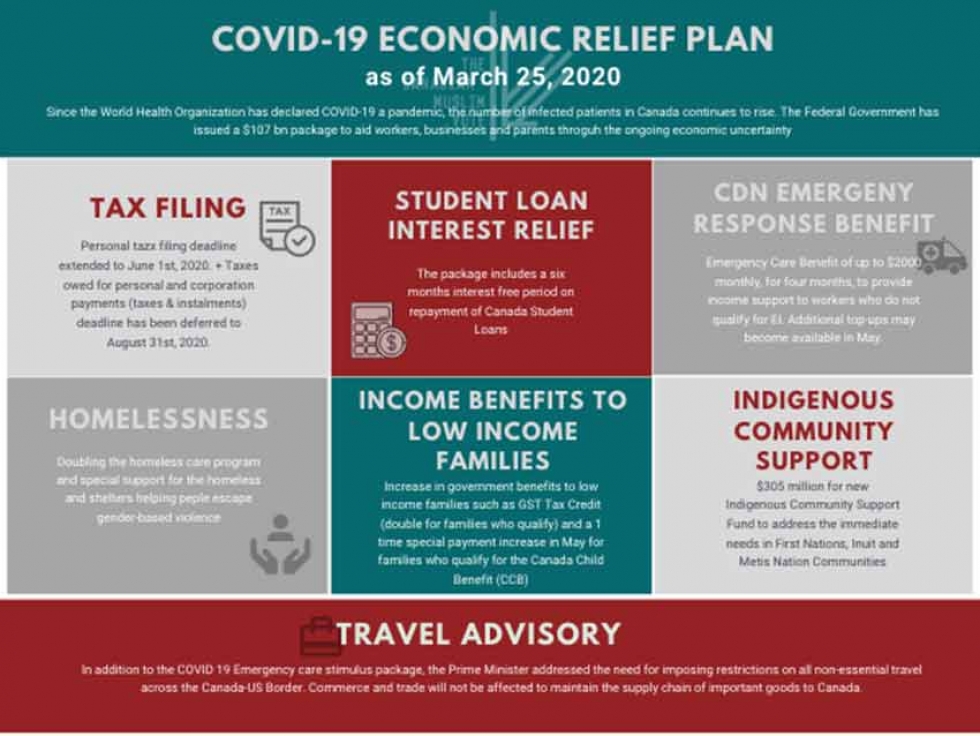 27
Mar


2020
Canadian Muslim Vote's Breakdown of the Government's COVID-19 Economic Relief Plan
Written by Canadian Muslim Vote
Prime Minister Trudeau spoke to the nation on March 18th, 2020 and unveiled the COVID-19 relief package.
The package includes tax deferrals, wage subsidies and income support. On March 25th, the federal government announced a boost to the emergency COVID-19 aid benefit. The government has combined the separate emergency care and the emergency support benefits into the Canada Emergency Response Benefit (CERB). This program will be rolled out in April and will help Canadians who have lost their job or reduced their hours due to the nationwide shutdowns. This program will become available for individuals who are self-employed and/or are not eligible for the Employment Insurance benefits program.
This package will consist of $52 billion in direct support to Canadians and another $55 billion to help business liquidity through tax deferrals. The package amounts to 3% of Canada's GDP and is expected to slow down the economic crisis many are anticipating as businesses continue to slow down due to social distancing and school closures.
While the Parliament had been temporarily halted, the House and Senate were able to pass the legislation for the emergency stabilization programs in an emergency parliamentary session on March 24th, 2020. Last week, Trudeau announced: ""No matter who you are or what you do, this is a time where you should be focused on your health, and that of your neighbours, not whether you're going to lose your job, not whether you're going to run out of money for things like groceries and medication,"
Tax Filing:
Personal tax filing deadline extended to June 1st, 2020
Taxes owed for personal and corporation payments (taxes and installments) deadline has been deferred to August 31st, 2020.
Canada Emergency Response Benefit (CERB):
Emergency Care Benefit of up to $2000 monthly, for four months, to provide income support to workers who do not qualify for EI. Additional top-ups may become available in May.
Income Benefits to Low-Income Families:
Increase in government benefits to low income families such as GST Tax Credit (double for families who qualify) and a one-time special payment increase in May for families who qualify for the Canada Child Benefit (CCB)
Student Loan Interest Relief:
The package includes a six months interest free period on repayment of Canada Student Loans.
Homelessness:
Doubling the homeless care program and special support for the homeless and shelters helping people escape gender-based violence.
Indigenous Community Support:
$305 million for a new Indigenous Community Support Fund to address the immediate needs in First Nations, Inuit and Metis Nation Communities
In addition to the COVID-19 Emergency care stimulus package, Prime Minister Trudeau addressed the need for imposing restrictions on all non-essential travel across the Canada-US Border. Commerce and trade will not be affected to maintain the supply chain of important goods to Canada.
If you have any questions about any of these programs, please feel free to visit Canada's Department of Finance website here.