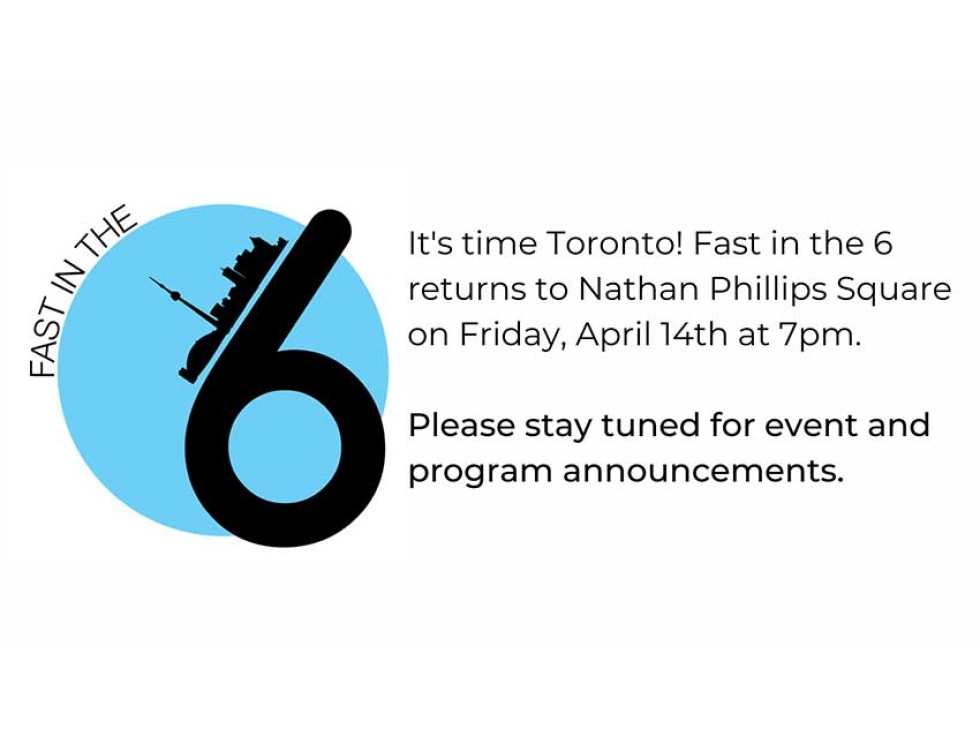 23
Mar


2023
Happy Ramadan! Fast in the 6 welcomes everyone to come together share an evening of food, fun and fireworks on April 14th
Written by Fast in the 6
TORONTO, March 23, 2023
With the start of Ramadan upon us, Toronto it's time to plan to gather again with Fast in the 6 to share in the breaking of the fast and enjoy an evening of food, and fireworks to celebrate our motto: Diversity, Unity and Prosperity.
In the spirit of Ramadan, Fast in the 6 is a unique Canadian event that invites Torontonians of all backgrounds to a free public event to come together and participate in the simple but powerful act of sharing a meal on April 14th at 6:30pm on Nathan Phillips Square. In addition to delicious food, the family friendly evening will also be filled with fun, live music and spectacular fireworks from the top of City Hall.
Fast in the 6 was founded in 2017 by Toronto philanthropists, Lisa and Dany Assaf. They wanted to create an event that brought all Torontonians together to simply celebrate the beauty of our City and its people in the month of Ramadan.
"As we face the challenges of today and look to seize the opportunities ahead for a better tomorrow, as Canadians we know we have and will always be stronger together. Fast in the 6 is a time for people from all backgrounds to come together and share a meal and enjoy each other's company. We are happy to bring this event back for a seventh year and are excited to celebrate with Toronto on April 14," says co-founder, Dany Assaf.
There will be delicious food to enjoy all evening long. Maple Lodge Farms and Sobeys will hand out free meals to break the fast at sunset. There will also be food trucks serving up delicious eats.
As in past years, the evening of celebration in the Square will include music and entertainment as well as spectacular fireworks from the top of City Hall. This year's headliner is the very talented Amaal Nuux and also appearing will be Raz Hyder. Stay tuned for more announcements of other exciting performers closer to the event!
2023 Sponsors Include: Maple Lodge Farms/Zabiha Halal, Sobeys/FreshCo, TD, RBC, Air Canada, Torys LLP, MaxWell Realty, Boom Health, Nothing Bundt Cakes, Beanfield Metroconnect and infinitycomm.
ABOUT FAST IN THE 6
Fast in the 6 is a unique Canadian event established in 2017 and is a free evening of food, fun and fireworks, coinciding with Ramadan, to celebrate the diversity of our great city through the common experience of the breaking of the fast. Founded by Toronto philanthropists, Dany and Lisa Assaf, the event's motto is Diversity.Unity.Prosperity. and seeks to affirm the city's leadership as a major global centre of both social and economic opportunity.
For more information, visit www.fastinthe6.com and follow us on:
Instagram: @fastinthe6
Facebook: Fast in the 6
Twitter: @fastinthe6
Fast in the 6 is open to everyone of all backgrounds to share in the spirit of the breaking of the fast, which is common to many heritages, and to enjoy a fun evening of entertainment. Dany is also the author of his most recent book: "Say Please and Thank you & Stand in Line: One man's story of what makes Canada special and how to keep it that way" and his new book "Everybody's Business: How to Ensure Canadian Prosperity through the Twenty-First Century".