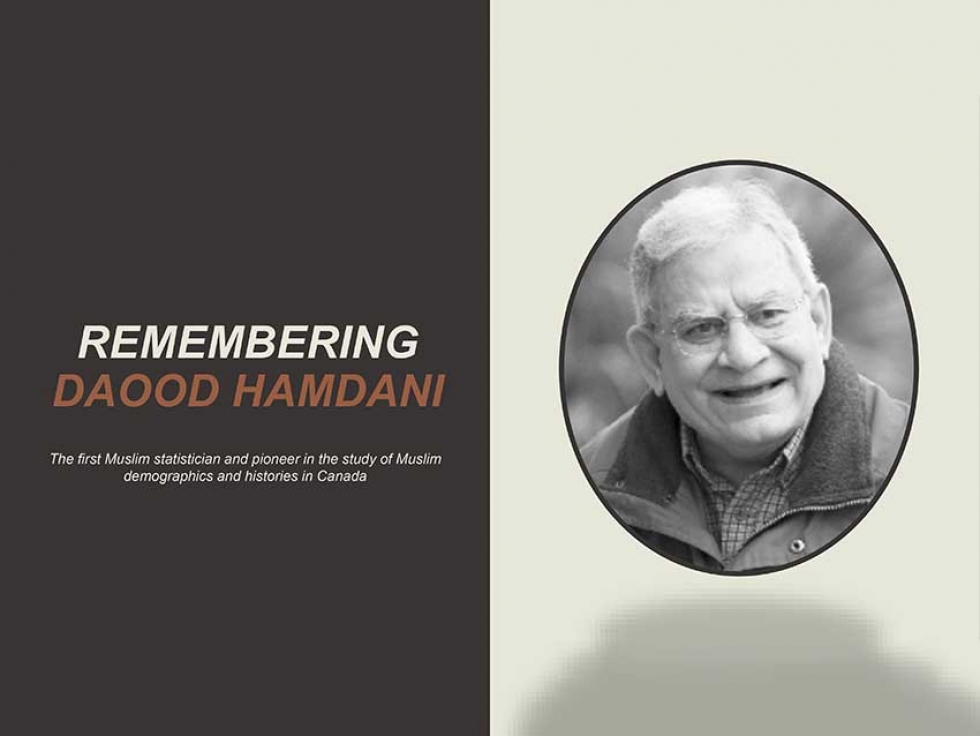 07
Apr


2021
Remembering Canadian Muslim Historian the Late Dr. Daood Hamdani
Written by Zulf M. Khalfan
The late Dr Daood Hamdani, economist, statistician, and historian of Canadian Muslims, was my friend. At least, I considered him so.
His loss to Canada, and especially to Canadian Muslims, in 2019, leaves a huge gap in the research and chronicling of Muslim's growing
role in this country.
He had the soft ego of a sage, encased in silent humility and humanity.
When I was first asked to approach him by the Islamic Society of North America (ISNA), in 2000, to request him to contribute an article for a special issue of Islamic Horizons (IH) magazine on Canadian Muslims, I felt a bit daunted.
After all, he was then a high-level government bureaucrat who often gave advice to the Canadian Cabinet. In addition, he was a world authority on innovation and even served as advisor to the U. S. National Science Foundation.
Though I knew about him, and some of his writings on Canadian Muslims, a brochure written by him being the first time I had read anything about Canadian Muslims, it was going to be the first time I was to meet him face-to-face.
As a former colleague, Dr. Michael Bordt, told me "Before working at Statistics Canada, he was instrumental in advising on policy at Finance Canada. At StatCan, he specialized in business demographics, R&D, and innovation."
Daood was recognized professionally through his papers on business incubation, electoral participation, law, and religious pluralism. His professional publications cover pages on the Library and Archives Canada website.
So, with some of that in mind, here I was, an unknown volunteer community writer, soliciting a free article for a community magazine from a high-powered official.
But, as soon as we met at Tim Hortons at Holland Cross, across from his office at the Tunney's Pasture Complex, Daood put me at ease with his simple, unassuming, calm demeanor.
My first impression? A real gentleman, in the English sense, if you get what I mean. He accepted unhesitatingly to write what ended up as the cover story of the special IH issue, titled, "A Century of Islam in Canada." After that, he left the door open, generously sharing with me his coffee-breaks, frequently chatting, at the same location. We discussed whatever was the topic of the day.
We repeated the collaboration with another IH issue on Canada. After retiring from StatCan, he welcomed me often in his home. Much later, he welcomed me regularly at his Chartwells retirement home in Kanata.
Born in Ferozpur, British India, in 1939, the Hamdani family moved in the post-Indian partition-wave to Pakistan, in 1947. He grew up in Jhang, Punjab province. Daood's multi-religious early education---having been taught by Shia, Sunni, and Christian teachers---came through in his perspective on inter-religious relations. He maintained an open mind on religious issues.
In several of our conversations, he made references to the Presbyterian-run Forman Christian College, which he attended, and which strengthened his study of the English language. I surmise it formed an ideal base in his understanding of the value of inter-religious peaceful co-existence.
Not many who major in a discipline in university are lucky enough to have been a teaching assistant in the field, later actually taught it, and after graduating, worked and became an expert in it.
Daood was all of that.
Probably because in his profession he was innovative in creating support systems for businesses, he easily helped whoever asked him for help; a
young job entrant, an individual writer, a community leader, or an imam planning a talk or sermon. He was the go-to source for Canadian Muslims from journalists to foreign researchers.
Like all of us, Daood travelled the immigrant journey widely before settling in Ottawa.
As recorded in a Muslim Link interview with him, from Pakistan, he went to the United States, studying at Vanderbilt University. After graduating, he moved to St. Johns, Newfoundland in 1965, where he worked as a research fellow at Memorial University. There, he focused on studying labour force mobility. He then joined Queen's University in Kingston, Ontario where he honed in on inter-provincial migration in Canada and its impact on the Canadian economy. He finally taught at the University of Toronto.
With his knowledge of economics and the Canadian economy, its employment situation, and immigration policy, and he himself having the immigrant experience, he was a role model and a mentor to newcomers. Two examples: He mentored a Somali post-graduate student and guided him to eventually make a career at Statistics Canada. Imam Zijad Delic, himself an author of works on Canadian Muslims, says Dr. Hamdani was a mentor to him. "His contributions to my book, Canadian Islam, were huge," wrote Delic, in Daood's Ottawa Citizen Obituary.
Daood's studies identified the under-employment of highly qualified Muslims and other foreign professionals in Canada. He always emphasized the importance of women's role in the Muslim community. He was concerned about the role of single Muslim mothers, many supporting their families, and many living in poverty. He produced research documents related to Muslim women issues for the Canadian Council of Muslim Women, and gave talks at its
conferences.
Daood was kind and gentle. He was intellectually profound. He remained sharp, was an avid reader, even as his health was waning. Even then, he never fussed about his health, coping with equanimity.
He was an attentive listener, always responded quietly, offering a broad perspective on a subject, and always smiling. I found him happiest when he talked about his grandchildren, especially one, for his love of hockey and baseball. He has left a huge legacy of his contribution to Ottawa Muslims and Canadian Muslims.
***
In December 2020, The Institute of Islamic Studies at the University of Toronto organized a webinar to launch the Muslims in Canada Archives. This webinar also included a tribute to the late Daood Hamdani.
To view the webinar, watch it online below (The tribute starts at 9:43 min):
This article was produced exclusively for Muslim Link and should not be copied without prior permission from the site. For permission, please write to info@muslimlink.ca.