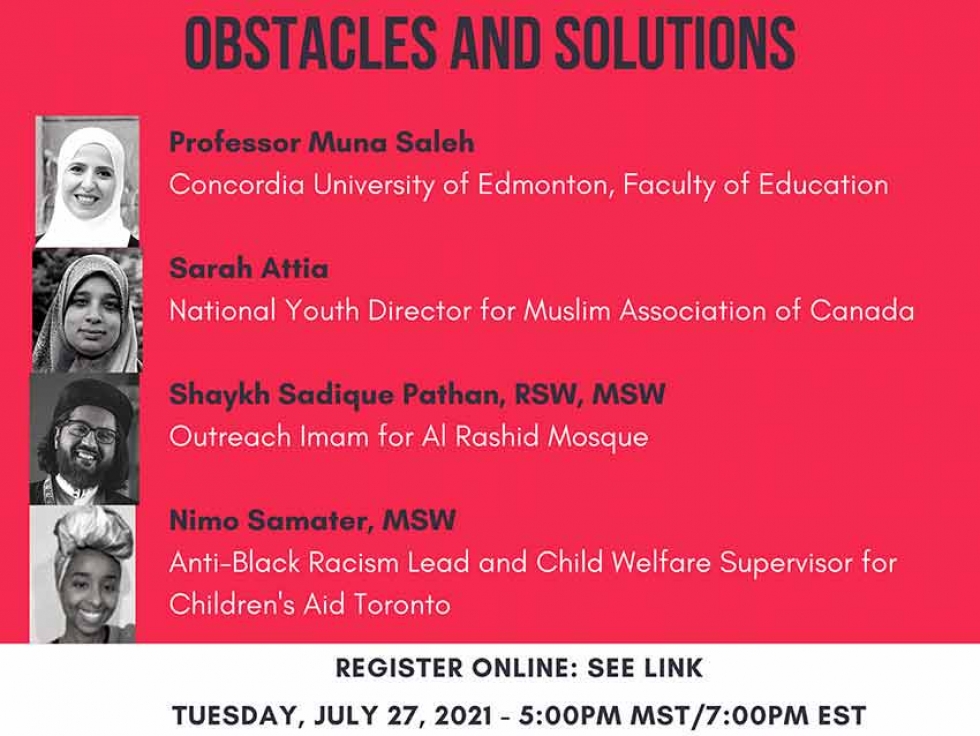 08
Jul


2021
Institute for Religious and Socio-Political Studies (I-RSS) is focused on developing discussions on key issues for Muslims in Canada with experts weighing in on Muslim youth identity in Canada.
I-RSS organized a panel on July 27, 2021 to learn more about obstacles to building Muslim youth identity in Canada and important solutions put forward from our research as well as from the expertise of our panel of esteemed guests.
Speakers included:
Professor Muna Saleh is an Assistant Professor in the Faculty of Education at Concordia University of Edmonton. Drawing upon her experiences as a Canadian Muslim woman, mother, educator, and researcher, Muna's doctoral research was a Killam Trusts-funded narrative inquiry into the experiences of Canadian Muslim girls and their mothers. Prior to engaging in graduate studies, she was an elementary and secondary school teacher and leader. Her research interests include multiperspectival narrative inquiry, mothering and motherhood, conceptions of curriculum, familial curriculum-making, and research alongside children and youth with exceptionalities and their families. Follow Muna Saleh on Twitter here
Sarah Attia is a mother, educator, community activist, a co-founder of QED foundation and the national youth director for the Muslim Association of Canada (MAC). She is a graduate of the University of Toronto, Faculty of Engineering, holding a bachelor's and a masters degree in chemical engineering. Sarah spent over 10 years working on providing quality international education to children in Egypt as a principal, teacher, and founder of an international school in Cairo, Egypt. She has a particular interest in curriculum development, character education, and community contribution. She is currently the lead of MAC iRISE, where she oversees character education curricula and programs for MAC Islamic Schools. Sarah has always had a passion for working with young people.
Shaykh Sadique Pathan, RSW, MSW is a community leader, spiritual counsellor, a registered social worker and therapist. He is the Outreach Imam of Al Rashid Mosque in Edmonton, Alberta. He is also the Head of Outreach Public Relations and Media (Western Canada Region) for Islamic Relief Canada. He is also the co-founder of his private practice, Revive Counselling, and is employed as a behavioral health consultant for the Edmonton Primary Care Network.Sh. Sadique provides educational support for educators at Islamic schools in the area of religious curriculum development, providing counselling supports for parents, youth, and community agencies, and initiating interfaith dialogues and relationship building with other religious faiths.
Over the past 14 years, Nimo Samater, MSW has held a variety of different positions at Children's Aid Society of Toronto. In her current role of Resource and Development Supervisor she is focused on community engagement, recruitment and training of foster caregivers. She is dedicated to connecting children and youth with foster caregivers 'through identity-based matching,' to ensure their unique needs are supported and understood. Nimo works from an Equity, Anti-Black Racism, Anti-Oppressive lens and is committed to strengthening the services provided to vulnerable children, youth and families.
Watch the panel discussion online on Facebook (it may take a few moments for the video to load)