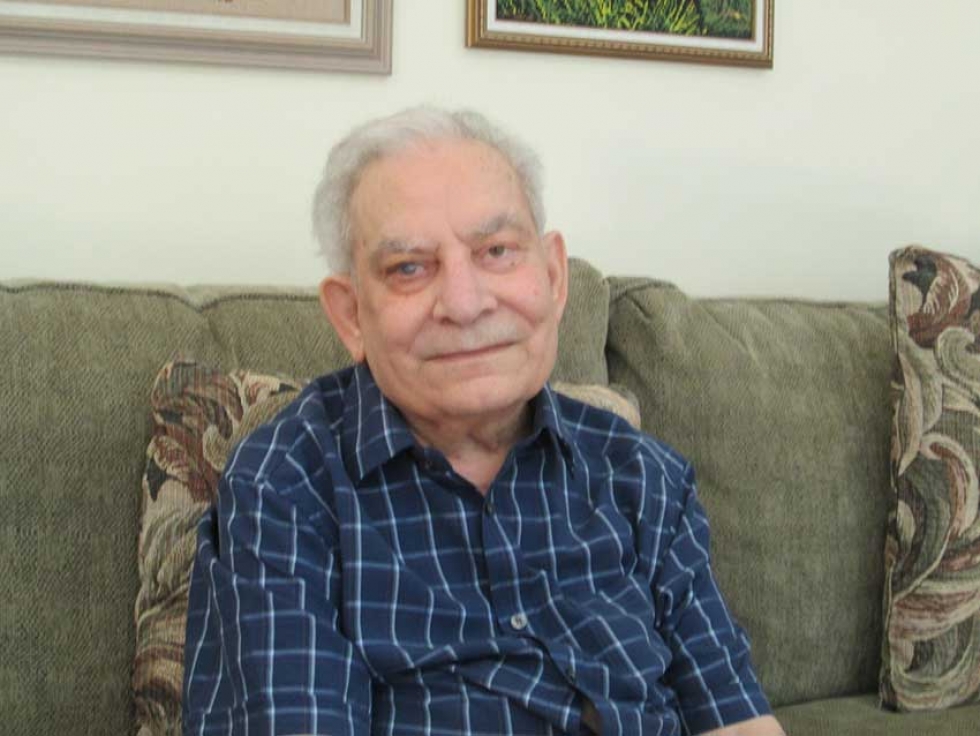 Muslim Link interviewed Daood Hamdani at his home in Ottawa.
11
Mar


2018
Daood Hamdani: Exploring Muslim Canadian History and Demographics
Written by Palvashah Durrani
Pakistani Canadian Daood Hamdani is a pioneer in the study of Muslims in Canada. A retired statistician, his most recent publication, "Canadian Muslims: A Statistical Review", has been used to highlight key statistics about Muslim demographics in Canada, including the ridings with the largest Muslim populations in the lead up to the 2015 Federal Election.
Daood Hamdani was born in Ferozpur, British India in 1939. His family immigrated to the new nation of Pakistan in 1947 where he grew up in the small town of Jhang in the province of Punjab. He grew up surrounded by the religious diversity of the region, attending schools run by Christians, following Islamic Studies from both Shia and Sunni teachers, and having meetings of his debate team at the Ahmadiyya community centre. Hamdani is proud to say he graduated from Jhang Government College, the same college that produced Pakistan's first Nobel Prize winner – Professor Abdus Salam. After graduating, Hamdani moved to Lahore to attend the Forman Christian College.
His area of study was economics and he moved to the United States on a scholarship from Vanderbilt University. After graduation, he shifted to St. Johns, Newfoundland in 1965 and started work as a research fellow at Memorial University. His area of study had him travel all across Newfoundland to study the geographical and occupational mobility of the labour force. He then shifted to Queens University in Kingston and looked at inter-provincial migration in Canada and its impact on the Canadian economy. Eventually, his career had him travel to the University of Toronto where he worked as a teaching assistant. He jokes that he was responsible for "teaching basic courses that new people are given that senior people don't want to teach."
After a number of years in academia, Hamdani shifted to the government and started his role as the first Muslim to work at the Ontario Ministry of Treasury, Economics, and Intergovernmental affairs. His government extended to becoming chief of innovation on the Science and Technology Redesign project. Through the project, Canada created the concept of the modern business incubator. As Hamdani explains, "When a new business starts, it's very dismal statistics on their survival. About one third closed down within three years, [and] another twenty percent in another two years." The model they developed creates an institution where subsidized physical space is available, in addition to mentoring from experts, and criteria and scales for businesses to assess their progress. For Hamdani, this is his ultimate accomplishment in his field – helping to form and realize this new way of supporting businesses and by extension, the economy.
Looking at the Canadian Economy
When asked about the greatest challenges facing the Canadian economy, Hamdani points to lack of support for innovation, incongruous immigration policies, and high rates of unemployment in certain sectors. Despite having a highly educated population, he identifies our lack of hospitable environments for business or technological innovation as a barrier to growth. He sees Canada as having the money for research, but not enough people to actually do the research.
This ties into what Hamdani states as "a disconnect in our immigration policies." We bring in highly skilled professionals for their potential to contribute to the economy but we have regulatory agencies that have their own standards that don't recognize those international credentials. According to the study he conducted for the Canadian Dawn Foundation, looking at statistics from other countries, only nine percent of international professionals are allowed to practice in Canada. With competitions in rich countries with declining populations to attract educated and skilled immigrants, he doesn't see that there is enough encouragement to attract them to Canada.
In one study Hamdani worked on, the number of Muslim Phd holders in Canada was identified as 40,000 individuals. When a professor from the University of Windsor questioned this statistic, stating that he didn't see that many, Hamdani responded, "You don't see them because don't go to the right places, they are driving taxis. This is such a huge waste of talent; the government must reform the system and absorb them [into the economy]."
One of the interesting statistics that Hamdani has found in his work is the 13.5% unemployment rate for Muslims in Canada. For him, this is strange given that the Muslim community can be a very highly educated population. He sees it as a stubbornly high number and states that economists have yet to figure out why that rate is so high. For him, he does see the lack of recognition of foreign credentials, a young population that traditionally had higher unemployment rates as compared to older adults, and discrimination against Muslims as possible contributing factors to the high unemployment rate. The challenge for an economist is that discrimination in particular is a subjective experience and it is difficult to find conclusive, objective evidence to measure its impact. That doesn't mean discrimination is not present, just that it is hard to state its impact on a statistic such as the unemployment rate.
Researching Muslims in Canada
Hamdani first became interested in the history of Muslims in Canada back in the 1970s. On a business trip to Alberta he ended up looking up the Al Rashid mosque in the phone directory. First built in 1938, the Al Rashid mosque is the first mosque built in Canada. Hamdani was intrigued by its history wondering what possessed the community in Edmonton, during the difficulties of Depression in the 1930s, to embark on such a big project. "These questions stayed in my mind for some time: Who were they? Where [did] they come from? Why they did it? How they lived here? What were their social and economic conditions?"
After he retired, he had the opportunity to look deeper into Canadian Muslim history and while pouring through documents in the National Archives in Ottawa he came across the Love family, "…I knew from summary tables that there were 14 Muslims in Canada in 1871." James and Agnes Love and their children were of Scottish origin and converts to Islam. They migrated to Canada in 1854 and are listed as "Mohametans" in the faded ink on the handwritten documents Hamdani scoured.
Researching Ourselves
One of the reasons the Canadian Dawn Foundation commissioned the "Canadian Muslims: A Statistical Review" was that so much of the conversations about Muslims were "opinion pieces by non-Muslims [who] wrote about Muslims in non-flattering terms and Muslims [who] wrote about themselves in too flattering terms." It was hard to know where the truth was in amongst the stereotypes and ill-informed discussions that were not based on facts.
In the "Canadian Muslims: A Statistical Review" study, the age distribution of the Muslim community identifies it as young, with the largest group being the prime labour force (25 – 44 years old) and the second largest group being children who are elementary and middle school aged (6 – 13 years old).
The four largest Muslim communities in Canada reside in Toronto, Montreal, Vancouver, and Ottawa. And each city has a different set of ethno-cultural demographics, which surprised Hamdani, "…maybe [there is] still a tendency among people to gravitate to communities that are somewhat culturally, socially, or ethnically similar to them?"
Muslims coming from an Indigenous backgrounds was another statistic included in the study that was specifically requested. He found that over one thousand Indigenous people identified as Muslim, the majority of them members of First Nations and living in Ontario.
Women & the Economy
Hamdani is very attached to women's issues. When asked why, he points to noticing gender inequality even as a child, "My father goes to school, teaches, comes back. That's it. We go to school, study, come back. That's it. But here is my mother, she's preparing breakfast, then she's washing dishes, then it's lunchtime, she's cooking lunch, cooking chapatis (Pakistani chapaitis), then eat again, wash dishes again, cook dinner, it's nighttime; we dirty kids sit there to be bathed, and all that. And I thought, you know, it's not fair. This is not a fair distribution of work. Fine in the old days when men had to go out in the jungle and face lions and tigers and risk their lives. But things have changed; and they must change."
The "Canadian Muslims: A Statistical Review" found that the Muslim community has a growing number of single-parent households, with the majority being female-led households. 65,000 of those single-parent households are living in poverty. He points to this statistic as one that Muslims should definitely pay attention to because it shows that the social structure of Muslim communities is changing and this should be reflected in our family law, social organizations, and overall outlook.
Ethnicities & Being Muslim
The study also looks as the ethnic backgrounds of the Canadian Muslim community and some of these statistic that stood out are that the population of Canadian-born Muslims is growing and there are more mixed ethnicities for Muslims. Hamdani sees this as an identifiable trend, "It's also probably important that many of these Canadian-born Muslims are less fixated on their ethnicities, and you have these people belonging to different ethnicities but with a greater bond to their religion as well as their Canadian heritage. I think that this new Canadian Muslim identity probably will influence other countries, and that can be a Canadian Muslim export. I mean, here is a Muslim community coming from different ethnic backgrounds, different cultural backgrounds, and yet how peacefully we have all come together and melded into a community, which I call a Canadian ummah - this is an elusive concept, but here in Canada we have the making of that in our communities."
Muslims and Voting
Hamdani points out that there is a variety of information available on voters and their demographics, including Muslims. A scientific survey conducted in 2002 found that the Muslim voter turnout for the 2000 election was very low, with Muslims being 25% less likely to vote than their Christian or Jewish neighbours, and 20% less likely to vote than their Hindu neighbour. In a study that Hamdani conducted, they found that the numbers they derived on Muslim engagement in the political process was similar, with as estimate of only 46% of the Muslim population actively voting.
In part this might be because Muslims have a young population, but it might also relate to voter registration. The mobility of the Muslim community is a unique statistic that Hamdani has derived, with 38% of the Muslim population having moved addresses since the last federal election.
Why statistics matter
For Daood Hamdani, statistics help you wonder why and by identifying what is happening, you can then take action and feel confident that the action is rooted in a factual and deliberate context, "In statistics they say that statistics tells us about the things that have already happened. But statistics is still very useful in a way, it tells you how much you are accomplishing, how much remains to accomplish, what progress are you making, [and] you can compare yourself to other community, what their situation is and how they are dealing with it."
To read "Canadian Muslims: A Statistical Review" (2015) by Daood Hamdani, click here
This article was produced exclusively for Muslim Link and should not be copied without prior permission from the site. For permission, please write to info@muslimlink.ca.