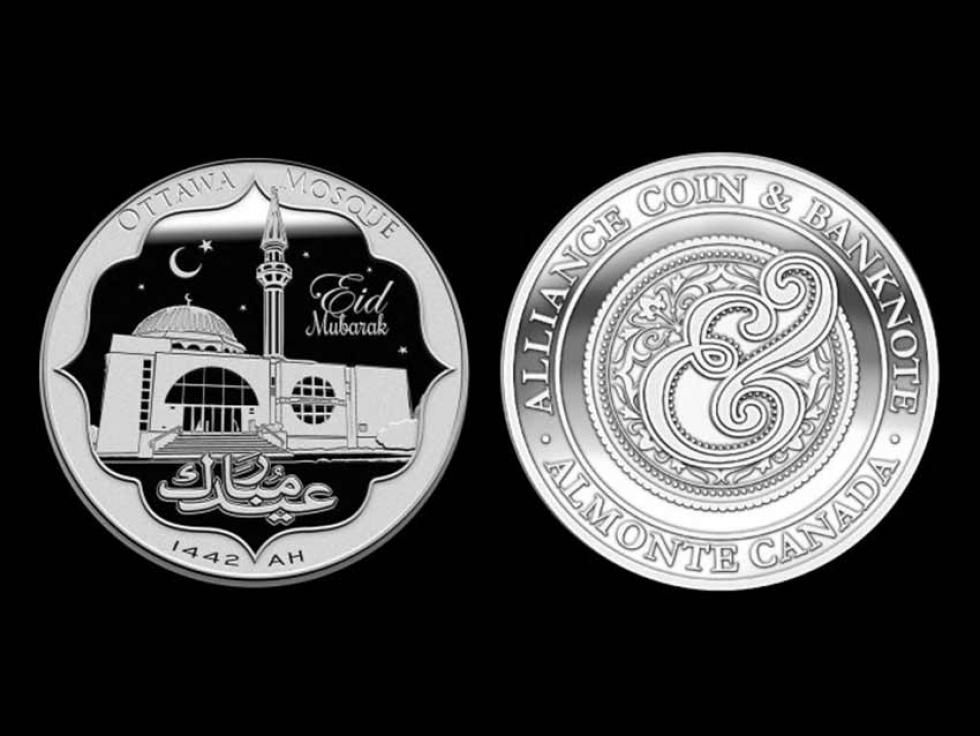 Alliance Coin worked with the North American Mint to design this Eid Coin commemorating the Ottawa Muslim Association.
Alliance Coin
25
Jun


2021
Coin Dealer Commemorates Ottawa Muslim Association with New Collectable Eid Coin
Written by Chelby Daigle
Canadian Muslims are getting used to Canada Post regularly issuing commemorative stamps for Eid.
However, as yet, there has not been commemorative coins that reflect the presence of Muslims in Canada, despite commemorative coins being issued annually for other religious and cultural holidays of other diverse communities. 
Ontario coin dealer, and convert to Islam, Sean Isaacs, wants to start filling this void in the market.
Muslim Link interviewed Sean Isaacs about why he decided to design a coin to commemorate the Ottawa Muslim Association for Eid, the joys of coin-collecting, and the need for more diversity in Canadian commemorative coins.
Tell us about yourself and why you founded Alliance Coins?
I have been a coin dealer for 32 years, first working with Lincoln Heights Coin & Stamp in Ottawa (then one of the larger numismatic firms in Canada), and then founding my own company, Alliance Coin & Banknote, in 2000.
I have collected coins since I was a child, and have always been captivated by the history and geography of the hobby.  I studied history in my younger years at Carleton University, and finally got my first job in an Ottawa coin shop in 1988. We opened our gallery/shop in Almonte 16 years ago, and it is now the permanent home to our company. I will have been married to my Indonesian bride for 30 years this August, and we have two grown children.  In addition to buying and selling all forms of coins, banknotes, medals, gold and silver, I have also provided estate and institutional appraisals for many years, including to individual collectors/estates, financial institutions, and the National Archives of Canada.
How did the idea to create a commemorative coin for the Ottawa Muslim Association come about?
For many years, I was an official distributor for the Royal Canadian Mint, and continue to sell their coins today in our Almonte gallery.  Currently, they issue approximately 300 different commemorative coins each year for collectors and as both a dealer and a Muslim, I have been waiting patiently for them to acknowledge the Canadian Muslim population with a coin.  They have released coins for numerous other cultural/faith communities (i.e. Diwali, Chinese cultural traditions, and of course more than 150 different Christmas themed coins), but never one acknowledging Muslim traditions.  Which is especially odd, when one considers that the population of Muslims in our country is well over 1 million, and therefore fairly comparable to these other groups.
A few years ago, I first came up with the idea of issuing our own commemorative Eid coin, to both mark the end of Ramadan, as well as offer members of our community something special to give and receive as part of Eid.  For various reasons (cost, timing, etc.) this continued to sit on the back burner until this year, when circumstances allowed us to move forward with such plans.  I had always envisioned trying to make this an annual series that collectors, both Muslim and non-Muslim, could look forward to. Celebrating the Mosques of Canada seemed like the perfect theme.  
As I have grown up in Ottawa, and took Shahada with Imam Shaheen more than 30 years ago, choosing the Ottawa Muslim Association (OMA) to commemorate on our first issue was the obvious choice.  We wanted the coin (technically a "medal", since it has no face-value) to be of the best possible quality, which is why we have chosen to strike it in pure silver, making it a small issue limit.  Prior to moving forward with the project, we were very pleased to have received the blessing of both Imam Sulaiman, the current imam of the OMA, and and brother Mohammad Adi, on behalf of the Mosque and local community.
Many of our readers may not be familiar with coin-collecting. Based on your experience, what advice would you give to first-time coin collectors?
Obviously I am fairly subjective on coin collecting, but have always felt it is a great hobby, in the way that it can introduce both beginning and advanced collectors to the history, geography and culture of this world of ours.  With 2,500 years of uninterrupted coinage, there is much to offer the collector.  Ideally, choosing a particular focus can lead to the most satisfaction in collecting, whether it be a particular country (Canada, England, Egypt, etc.), and even more specifically, perhaps a particular denomination – such as Canadian One Cent coins, etc.
Other popular ways of collecting, however, can be by theme – coins with fish on them, coins with birds or wildlife in general, or another idea that can be fun and popular – trying to collect one coin from each country, state or region. Believe it or not, this list has more than 2,000 possibilities, when you consider all of the countries that no longer exist in their original names/contexts. 
Coin collecting, like all other hobbies, takes some patience, which can be an excellent exercise for young people, and organizing a collection is both important and another test of discipline and commitment.   One important fact to keep in mind is that – contrary to general impression – coin collecting does not have to be expensive.  The best example of this is the "great bin" in our store (the largest of its kind in the country), that contains ½ ton of coins from all over the world – and they are priced at just 0.25 cents each.
So, ultimately, my best initial advice to a first-time collector – try to figure out what interests you, whether it may be shape, country, design, or history and go from there.
Tell us about how the Eid coin was designed?
Our Eid coin is made up of two different designs/dies (as is every coin or medal issued).  On the back, we have used our existing "Alliance" die.  Exactly 10 years ago, a local designer here in Ottawa prepared for us our new corporate logo for Alliance Coin & Banknote, which is the "&" from our name, stylized with traditional vintage coloring, and certain coinage designs added (beads around circumference with denticles, etc.).  From this design, we had created a special coinage die at the Northwest Territorial Mint in Washington State, that was used to create our first one ounce silver medal several years ago.
We had this die transferred to our friends at the North American Mint in Rochester, New York last year, and they used it to strike the back of our Eid Coin. For the front design, I prepared some art concepts using several different images of the Ottawa Muslim Association (OMA) and their artists chose the one they felt would work best, and prepared for us the final artwork for use on the coin.  It was important to us that the design incorporated some traditional Islamic elements, while still presenting the Mosque as accurately as possible.  In the end, we were very happy with the design, and hope the resulting coin is received well within the Ottawa Muslim community. We have also received inquiries and orders of the coin from outside Ottawa, from major cities such as Toronto.  This is pleasing to us, as we hope to see the wider Canadian Muslim community interested in this coin, and future issues.
What are the best ways to display a commemorative coin for decoration purposes?
All coins of this nature (due to delicate finish, etc.) are issued in protective capsules, which allows them to be handled and displayed safely.  With individual coins, they tend to be nicely displayed in their boxes where they can be enjoyed. Moving forward with a collection, however, storage and preservation is a key issue.   Not only is it easier to enjoy and share a collection if it is housed in something that facilitates easy storage, but it also offers (again) some protection to a collection.  Fortunately, there are many options for today's collectors, ranging from special pages that fit any standard binders, to individual capsules, flips and holders, as well as specialty folders – i.e. one specifically for Canadian One Cent coins, or another with different sized pockets to hold coins of the world. 
In our store we carry many different holders, folders and albums for this purpose, and are always happy to introduce new collectors to the many options available.
Obviously- especially as one becomes a more advanced collector – balancing storage, the ability to display/share a collection, and the necessity to remain somewhat discreet can be a challenge to navigate, and many of these products help with that.
Currently, these items can be ordered online from our website but once things begin to open up again, especially during these nice summer months, I invite anyone interested in visiting our gallery in Almonte for a tour and chat if they wish to learn more about coin-collecting.
This article was produced exclusively for Muslim Link and should not be copied without prior permission from the site. For permission, please write to info@muslimlink.ca.
This article was produced exclusively for Muslim Link as part of a paid advertising package. For more information on how to advertise through Muslim Link and support the running of Canada's Online Hub go here.