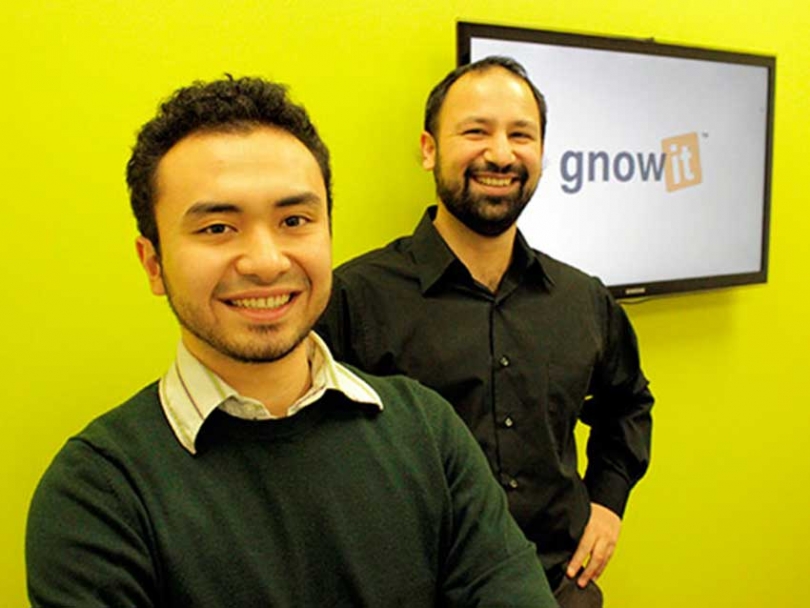 09
Dec


2013
A Rising Star in Ottawa's IT Start-up Scene: Shahzad Khan
Written by Staff Writer
Shahzad Khan was recently named one of 2013's Rising Stars by Invest Ottawa, an organization that aims to support entrepreneurs and local start-ups. Gnowit Inc., an online brand-monitoring company which Shahzad co-founded with Mohammad Al Azzouni, launched this year, gaining international clients and government contracts. Muslim Link met with the Pakistan-born entrepreneur to discuss what it takes to survive as an entrepreneur.

One of the criteria for being named a Rising Star by Invest Ottawa was that you demonstrated integrity. How important is integrity for the character of an entrepreneur?
I can't overstate the importance because every time you have a dealing with someone, they will remember it. Once you do business with someone you are entwining your fates to some extent, particularly if you are providing a service to them which they rely on. So you have to make sure that everyone you interact with has a good experience with you because if they don't have a good experience, not only will they not interact with you again, they will tell nine other people.
You were involved in Ottawa's Global Entrepreneurship Week in November? Tell us more about that.
Ottawa was one of the stars of Global Entrepreneurship Week with over 80 events; I think Toronto just had about 50, I'm not sure of the exact numbers but it was less. With the networking that takes place at these events you get a chance to meet people you could help and who could also support you in your goals.
Do you think it is important for Muslims going into business to reflect on the rather large role that business ethics plays in our faith?
If you read any book on fiqh (Islamic jurisprudence) there is always a huge section on trade because it is one of the integral things that the community is based on. But also, when you are going out there and you are trading, to a great extent you are relying on the bounties that Almighty Allah provides because at that point you don't have a paycheque coming in, you don't have anything which is guaranteed. You are literally putting yourself out there at the mercy of fate. You can do your best. You can do your best, you can provide the best service, you can have the right message for the marketing, you can put the best team together, but whether someone buys or not from you, that is not in your control.
What are the pros and cons of being an entrepreneur?
It's not easy being an entrepreneur. You are taking a big risk. You are investing your time, your money and the outcomes are never certain. It is almost like joining a pirate ship. It is a great adventure which can lead you to good places but also result in a sticky end as well.
But there is a certain dignity and meaning that is associated with actually building a product that serves others. That's where entrepreneurship is very important. Most of the jobs in Canada are created by small companies. Since you are part of small company, you spend less time on the politics and trying to jockey your way to a better position and more on the things that are really meaningful about growing your business, serving customers, helping your team, and becoming a better member of the community that you are embedded into.
Check in later for more from our interview with Shahzad Khan.
To learn more about Gnowit.com visit www.gnowit.com
To learn more about Invest Ottawa visit http://investottawa.ca/
To learn more about Global Entrepreneurship Week visit https://genglobal.org/

This article was produced exclusively for Muslim Link and should not be copied without prior permission from the site. For permission, please write to info@muslimlink.ca.