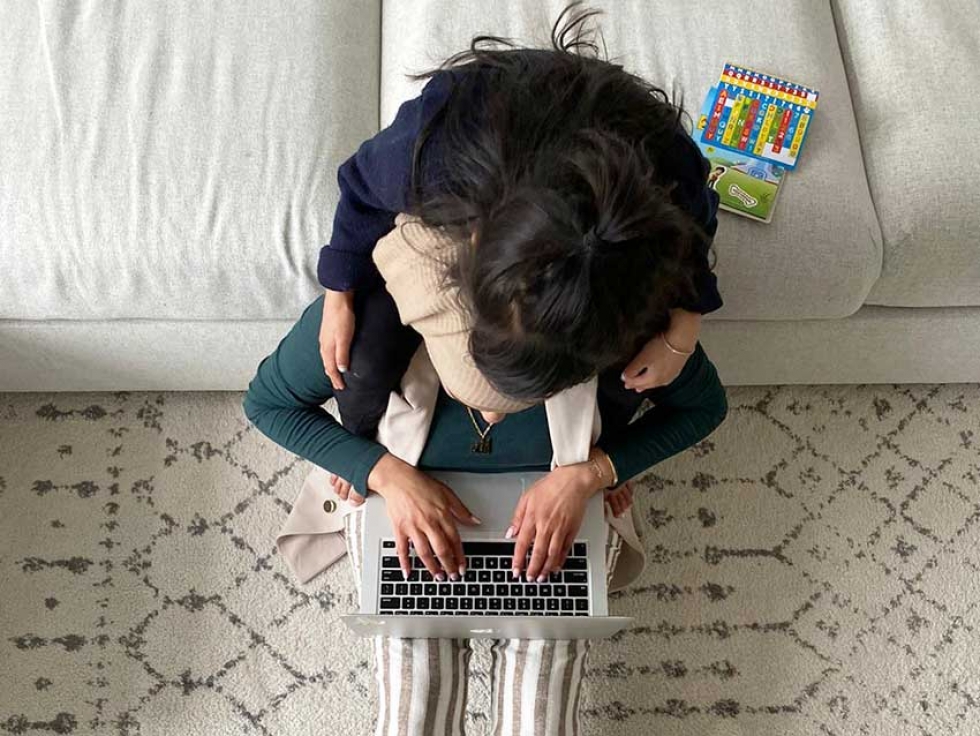 "Being a mompreneur comes with a unique set of challenges"
Fatema Railey
02
May


2021
Mompreneurs: How the Pandemic is Leading Some Mothers to Launch and Expand Their Businesses from Home
Written by Zehra Kamani
We have all, directly or indirectly, seen and felt the impact that the COVID-19 pandemic has had on global economies and local businesses, from price changes and store closures to mass layoffs. As businesses continue to navigate and evolve through the myriad of changes brought on by the pandemic, Charles Darwin's words continue to ring true today: "It is not the strongest or the most intelligent who will survive but those who can best manage change."
"Mompreneurs", referring to the merged roles of mothers who own businesses, represent one category of the "fittest" who are surviving in the world of business today.
With fluctuating COVID-19 cases in Ontario and recurring cycles of lockdowns, stay-at-home orders and schools re-closing and re-opening, many mompreneurs have jumped at the opportunity they see in a vastly changing economy by creatively adapting to their new reality. "I think the pandemic has accelerated the evolution of entrepreneurs," says Fatema Railey, a mother of two and founder of Vogue Mortgages, a company that guides home-owners through the mortgage application process in the Greater Toronto Area.
Railey rode the waves of change and launched Vogue Mortgages in January 2021, shortly after her son turned one. The decision came during her second maternity leave, a time of unpredictability in the job market, allowing her to reflect on her motherhood journey and the career that she envisioned alongside it. "I constantly reflected on how I wasn't a present mother," she states, recalling her experience working for various companies as a Human Resources representative after the birth of her daughter, who is now 4 years old. "I used to see my daughter for a mere 2 hours in a 24-hour period, and I hated myself for it, especially since I was sacrificing family time for a career I didn't enjoy."
Only four months into her new career as a mortgage agent, Railey has managed to successfully generate business through word of mouth, email, LinkedIn, and Instagram (@voguemortgages), the latter of which has also become an outlet for her to express her personality. "My goal has always been to help educate people on what is a seemingly overwhelming process, and help them navigate and chart a path towards home ownership", she says.
Entrepreneurship is a growing space for women. According to a 2020 report on the State of Women's Entrepreneurship in Canada, the first annual report by the Women Entrepreneurship Knowledge Hub (WEKH), in 2017, 15.6% of small and medium sized businesses (SMEs) were majority-owned by women, and 37.4% of all self-employed individuals were women. An increasing proportion of women's business are growing by more than 10% over 3 years, and according to one report, an increase of 10% in women-owned SMEs can potentially contribute $198 billion to Canada's GDP.
However, being a mompreneur comes with a unique set of challenges. In WEKH's report on the Impact of COVID-19 on Women Entrepreneurs, it was found, not surprisingly, that female entrepreneurs are more likely to be responsible for childcare, home-schooling, and household responsibilities than their male counterparts, which has "a significant impact on their productivity, stress levels, and health", leading to economic disadvantages and reduced growth
potential.
"I work until 3 to 4 am," says Syeda Hossain, a mother of five young children ranging from 10 years to 5 months of age and owner of Wow that Wall, a custom gift and woodwork shop based on Facebook and Instagram (@wowthatwall). "Being a mom and an entrepreneur, you have deadlines that you need to meet. It is hard on the kids sometimes, because they need you as well… But that's how I find balance. I go into the night … It's the adrenaline. I know the customers need it and it pushes me to do it."
Hossain, a teacher by profession for 15 years, made the decision during the pandemic to forgo her full-time teaching career in order to take her business full-time. She noticed a drastic change in her family dynamics and parenting style over the past year as a result of being at home with her children. Even with its many day-to-day challenges, she adopted a lifestyle that worked for her and her family. "Teaching is exhausting. You bring it home," she explains. "I can't do that…The pandemic made me realize how much my kids need me. We slowed down… My kids started talking to me a lot more." Hossain started Wow that Wall four years ago as a side hustle to provide an extra source of income at a time when her husband was transitioning into a new career.
"I started getting antsy", she noted. "I had 4 kids at the time and needed to start my own thing. I like to be in control and felt very out of control at that point." Since then, her business has grown from a part-time income into a full-time passion, one that fuels her late nights after her children have gone to sleep as she completes customers' orders.
Wow that Wall boasts over 1300 followers on Instagram today. Hossain remarks on how she gained 400 followers in the past two months alone, as she recently began a venture into woodwork through a newly purchased laser-cutting machine, an investment that has allowed her to tap into a new market and stand out from the already-saturated market of custom design vinyl shirts and pillows. This newfound growth provided her with a renewed sense of confidence and supported her decision to go full-time with her business.
She attributes the increase in customers to changes in behaviour as a direct result of the pandemic, such as greater time spent on social media and more gift-giving. "I think with COVID and the distance from family and friends, people seem to be buying gifts for [others] as a gesture of love, as that's all they can really do now," Hossain notes.
Alongside changes in social practices brought on by the pandemic, such as dropping off gifts and treats at neighbours' doorsteps, the pandemic has inspired mompreneurs to change their working and parenting practices within the home. "Being able to set my own schedule, have a better balance, and be more present were reasons enough for me to take the plunge towards self-employed life," Railey says.
"Everyone needs something for themselves," Hossain says. "Maybe your thing is to see your friends, or to exercise. My thing is this. It makes me happy … to see a product from absolutely nothing and then see it at the end and say, 'Wow! I did that'. I feel a sense of satisfaction".
This article was produced exclusively for Muslim Link and should not be copied without prior permission from the site. For permission, please write to info@muslimlink.ca.