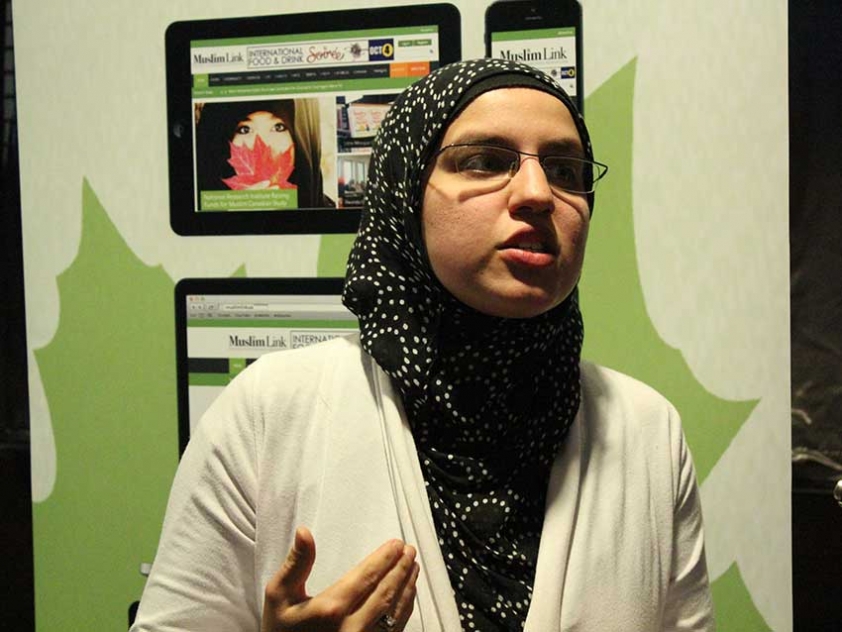 Pakistani Canadian Yumna Rashid at the 2015 I.LEAD Conference
Adilah Makrup
12
April


2015
Muslim Link attended this year'sI.LEAD Conference and asked participants to reflect on what community means to them. Here is a response from Pakistani Canadian Yumna Rashid, a recent teacher's college grad and mother of three, who regularly volunteers with the Islam Care Centre.
******
I started a program over two years ago with the Islam Care Centre where we prepare and distribute lunch bags to the homeless. We now prepare over 200 lunch bags a week. Every Saturday, 10 in the morning, people are hungry, so we haven't missed a day alhamduillah. We also make loot bags for children in shelters and during Eid (Muslim religious festivals).
My interaction in the Muslim community is mainly with people who have come to Canada from an early age or who were born here. So they are in that "in between" phase where they identify with Canada and being Canadian and also with back home. They are in the phase where they are actually searching for their identity but they are also Canadian so they want to do things with Muslims, but they want to do Canadian things with Muslims. I like working with them because with me they feel that they can be Canadian and Muslim at the same time. They have the same kind of mentality as me.  It is hard sometimes working with the older generation or people who have more recently come here particularly as a woman.  This can be really discouraging and can stop women from getting involved as much with the Muslim community. As women we get stepped on all the time and shut down all the time because people think it is okay for women to go through the back entrance or for a pregnant woman to take three flights of stairs instead of the elevator! It is really backward thinking. But for me I've learned that I need to be more vocal, and I think this has come from being a mother, I need to not be afraid of causing conflict because some people need you to fight back in order for things to change. And it's worked because it gives other people like me the confidence to do the same. So people shouldn't be discouraged.
Back in the day, I was involved in the Muslim Students' Association, that's where I met my husband, and so I volunteered with their Islam Awareness Week and things like that.  It was more like "Do you know about Islam?", if a non-Muslim talks to you, you think "I'm going to convert this person today". But that's not the case. Back when I was a university student, I would give them the whole spiel "There are five pillars of Islam." Now, if someone comes and talks to me, I will only answer the questions that they are asking. I don't go around anymore saying "By the way, do you know why I wear hijab?". Because people need to understand that we are normal. People need to know that they can interact with Muslims without being preached to.
One thing I have learned over the years is that there is no way you can try to teach people about Islam by just telling them about it. Islam is a way of life and you have to practice that way of life and you need to give people the chance to see you applying it. I actually started the lunch bag program for the sake of my kids because I needed to show them how a Muslim's job is to apply community service in their lives. With the lunch bags, we don't put any religious messages in them, we don't preach, we don't go tell them that we are Muslims. We just do it for the sake of Allah. Doing work for Islam is not about being explicit and talking about it, it's about applying it in your lives.  Back in the day, I was very "We're Muslims!" but I've realized this is a better way.
I just finished Teacher's College, and one thing I noticed with my colleagues, who are all very open-minded, but these people needed to see someone who wore hijab who was normal. I was participating in all of their activities, I was very vocal, social, and that was my dawah (sharing the message of Islam).  First of all I'm a visible Muslim because I wear hijab but they saw me participate in visual arts and music and it was good for them to see a Muslim woman doing those things, because that is not what they expected at all.
This article was produced exclusively for Muslim Link and should not be copied without prior permission from the site. For permission, please write to info@muslimlink.ca.