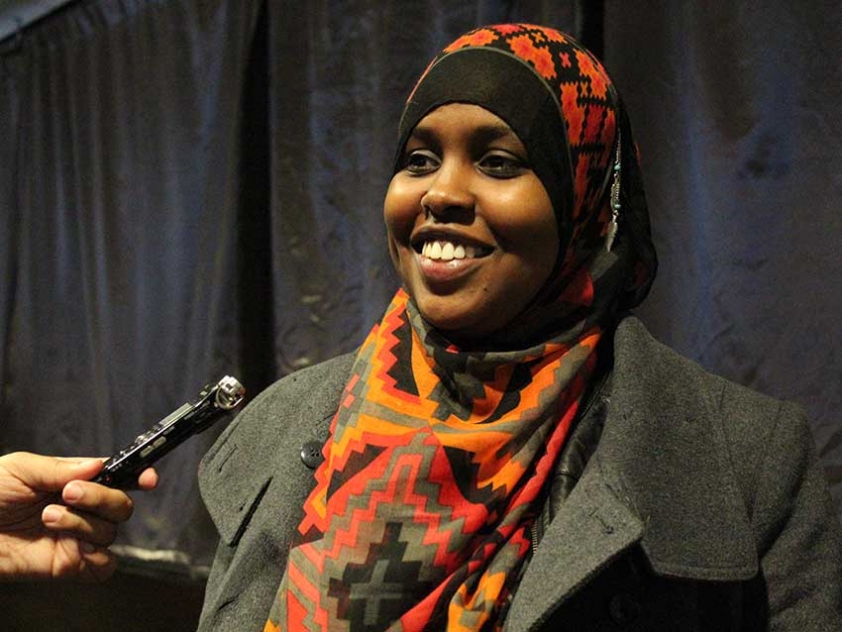 Faisa Omer at the I.LEAD Conference.
Courtesy of Adilah Makrup
05
Apr


2015
Muslim Link attended this year's I.LEAD Conference and asked participants to reflect on what community means to them. Here is a response from Somali Canadian Faisa Omar, a graduate student in neuroscience, who regularly does photography and videography for community events and Muslim Link's A Muslim History of Ottawa, volunteers with Ottawa Islamic School, and runs a weekend duqsi (Quran School in Somali) in her home for neighbourhood children.
******
Community is an obligation, it's not a choice. We can pretend that we don't live with other people but human beings are social animals so we have no choice not to help. I do photography and videography and when I covered an event for Pakistani Canadian artist Naz Ikramullah it really opened my eyes to the diversity of the Muslim community. I go to a lot of community events, but I guess you can say they are mostly Somali. So you end up thinking that all the Muslims in Ottawa are Somali. But at this event it was a completely different demographic. They were Indian and Pakistani so I was like "Oh you guys exist too!" But we have a lot of things in common as well, so it's about breaking that façade that says we are not the same and figuring out that we are all the same. As a photographer, putting your lens on different people, it opens your eyes.
As a Somali Canadian Muslim I have to spend time becoming familiar with my culture as a Somali and trying to develop back home. But I also have those same obligations towards Canada and being a good Canadian. And then there is being a Muslim as well. You have obligations to all of these communities. But you forget that sometimes. I feel like I'm half Somali and half Canadian at this point, and part-time Muslim. You have to figure out how to balance it all. But there are benefits. If you have only one identity, there are so many benefits to that, but imagine having three? All of the people you get to meet, the people who you get to touch and they touch you, all the connection.
This article was produced exclusively for Muslim Link and should not be copied without prior permission from the site. For permission, please write to info@muslimlink.ca.