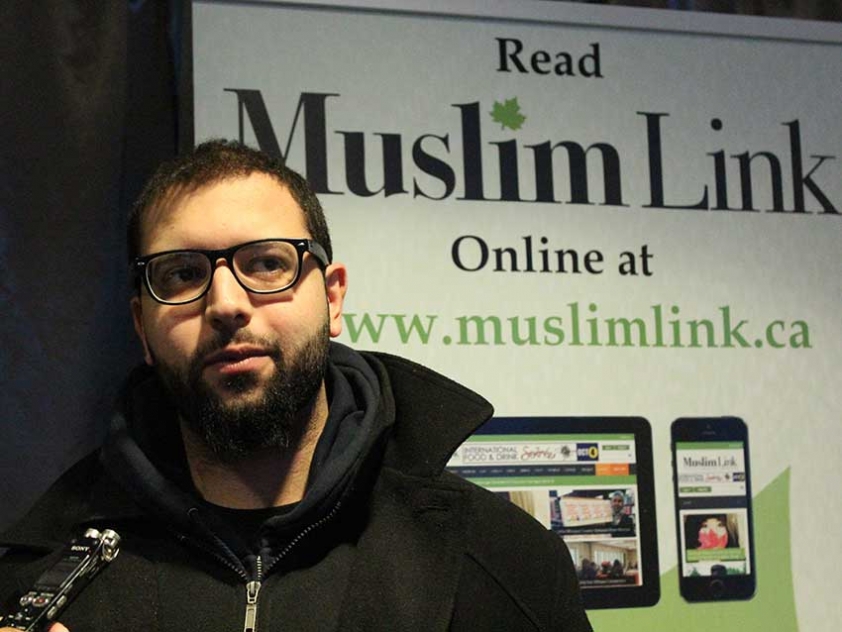 Amr Daouk at the 2015 I.LEAD Conference.
Courtesy of Adilah Makrup
05
April


2015
******
I'm heavily involved in the Muslim Students' Association at Carleton University. This year I was the coordinator of their Islam Awareness Week.
Community is the sense of belonging that people get. Speaking from an Islam Awareness Week perspective, we had over 100 volunteers and that sense of community they get is absolutely beautiful. That's something I personally experienced during my first Islam Awareness Week and hopefully people who had their first Islam Awareness Week with us felt it as well.
Unfortunately with Muslims, I don't know why, but we have a tendency to judge a lot of people. And that creates gaps between different people, different groups, based on judgements. That causes distress in the community. So people are just talking about each other behind their backs and that causes a lot of problems. In Islam, you are supposed to give 70 excuses for your brother, that's the epitome of conflict resolution. That's what I believe, if you have a conflict with someone, just resolve it right away, don't let it fester in your head to grow into something as big as hatred.
A Muslim Canadian is a special kind of Muslim. They have opportunities to do things in the community that they wouldn't be able to do anywhere else. I've learned a lot from volunteering in the Muslim community that will also benefit me in my engineering career. When you are volunteering with people every day, conflict is bound to happen so you learn how to resolve it, you learn how to lead a team; you are meeting new people, seeing people with different personalities and learning how to work with them.
This article was produced exclusively for Muslim Link and should not be copied without prior permission from the site. For permission, please write to info@muslimlink.ca.