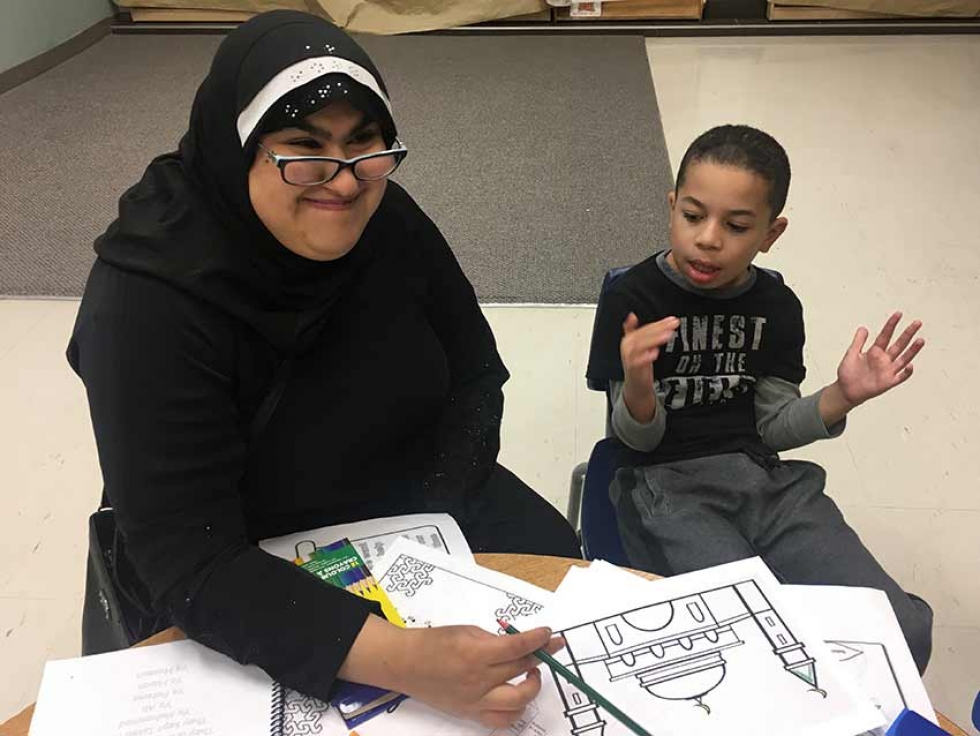 Aaliya Jaffer volunteers to help Mikail Abbas with his craft project during Muharram 2018 at the Jaffari Community Centre.
Zehra Kamani
31
Dec


2018
The Benefits of Including Muslims with Disabilities in Our Mosques: Lessons from the Jaffari Community Centre
Written by Zehra Kamani
Every Tuesday, Aaliya Jaffer walks into the principal's office of the As-Sadiq Islamic School and greets the administrative staff with a cheerful smile and "Salaam alaykum". She signs herself in and gets ready for a full day at school volunteering with the grade 3 teacher and her students.
As a 22-year old recent high-school graduate and young adult living with Down syndrome, Aaliya is full of enthusiasm and eager to apply her skills as a volunteer at the private Islamic school based in Thornhill, Ontario.
Down syndrome is a genetic condition caused by an extra copy of chromosome 21. Individuals with Down syndrome often have common physical traits like upward slanted eyes, a flattened nose and facial profile, and smaller limbs and body frame. Many people with Down syndrome also have impairments in cognition as well as speech and language, but impairments can vary widely from person to person, and some only have very mild impairments that cause only minimal or no interference in their day-to-day lives.
Living with Down syndrome has never held Aaliya back from being an active community member and doing what she enjoys.
"I want to give back to the community," Aaliya says.
Aaliya regularly attends the Jaffari Community Centre (JCC), a mosque and community centre, which houses the As-Sadiq Islamic School where she volunteers. The JCC has played an integral role in her life. For many years, it has served as a social and spiritual hub for her and her family. Aaliya often attends Friday prayers and other religious events and celebrations throughout the year. Attending the JCC has allowed her to meet many people of all different ages. And with her outgoing personality and eagerness to get involved in the community, making friends has not been a challenge for her.
But as a centre that accommodates hundreds on a regular basis, navigating a large space and participating in events that cater to the masses while living with a physical or intellectual disability can be extremely daunting. This challenge is all too familiar to Ruksana Hemani, whose daughter, Suraiya, lives with autism spectrum disorder (ASD).
"Whenever I decide to attend any event, I have to plan ahead to make sure that I anticipate all kinds of situations that can happen," says Ruksana. "I sit close to the exits, try to be distant from little kids, and try to see if there is anything in the environment that can trigger Suraiya. She has sensory issues so sometimes she can tolerate certain things and sometimes she cannot, and I don't know until we arrive. I am always anxious and on edge, and can't really enjoy the outing whenever she is with me because I don't want her to disturb other people that are there."
Individuals with ASD often have difficulties with social skills and communication. Many have restricted interests and activities and display repetitive actions, or stereotypy, such as hand-flapping or body rocking. Unlike Down syndrome, there are no physical features unique to individuals with ASD. In fact, because features of ASD vary so widely from person to person, they are best understood on a "spectrum". Some people with ASD are not able to maintain eye contact with others and never develop speech, while others are extremely high-functioning and may go unrecognized as having a disability at all.
According to the Canadian Down Syndrome Society of Canada, about 45,000 Canadians live with Down syndrome. In contrast, the Public Health Agency of Canada reported in March 2018 that approximately 1 in 66 Canadians live with ASD. These represent only two disabilities amongst many that constitute Canadian Muslim families today, including many families of the Jaffari community who attend the JCC.
Recognizing the growing population of families with disabilities, their unique needs, and the barriers that may prevent them from attending programs at the JCC led to the formation of the Special Needs Support Network (SNSN). The SNSN is a committee of volunteers from the Jaffari community that works towards promoting inclusion and accommodating the needs of families with special needs. The group plans annual programs for the holy Islamic months of Ramadhan and Muharram, as well as social events for families and volunteer opportunities for youths.
"It's amazing and excellent," says Maysam, speaking of the work that the SNSN is doing to meet the needs of his daughter Aaliya. "It's so great to see our community helping and advocating for these kids, youth and adults."
Some of the events and outings planned by the SNSN that families with special needs enjoy together include socials like bowling, pottery painting, or even a day of shopping and lunch. In fact, Aaliya, who loves a day of shopping, initiated the idea for a shopping and scavenger hunt event for special needs families over the March Break last year. These events allow parents to connect and share experiences while providing opportunities for their children with special needs to enjoy new activities, build social skills and make new friends.
Other activities run by the SNSN include buddy programs where a child or youth with special needs can apply his or her skills to volunteer in the community with the help of a buddy. Volunteer responsibilities can include things like serving water, tea and snacks to fellow attendees of the JCC or setting up food tables, plates and cutlery in preparation for iftaar in the holy month of Ramadhan.
"Ever since we have had help from the volunteers [of the SNSN], I don't feel so lonely and can relax a little," Ruksana shares. "It really helps when the volunteers are so understanding and patient with Suraiya. We all want to have as many people as we can get to know and help support our child throughout their life. The Special Needs Support Network is helping us do that."
For Aaliya's parents Rukiya and Maysam, it was important to immerse their daughter into programs that cater to not only her special needs, but also her spiritual needs.
Aaliya participates in day programs at Reena, a faith-based non-profit organization that supports people with developmental disabilities. Here, she has the opportunity to learn life skills and explore her extracurricular interests and passions, such as swimming and boxing, all while upholding faith-based values. Although Reena identifies primarily as a Jewish agency, it supports people of all religious denominations. Its dedication to promoting spiritual growth and its similarity with Islamic values are in line with Rukiya and Maysam's vision for Aaliya's growth.
"Having access to services that do no conflict with religious beliefs and practices is a unique barrier that individuals of the Islamic faith who have a disability may face," explains Zainab Fazal, an applied behaviour analyst and professor at Seneca College, who is also one of the founding members of the SNSN.
"A common example in Ontario is access to appropriate services from agencies that do not offer the option for halal foods," Fazal explains. "With the help and guidance of our religious scholars, we have been able to understand religious obligations for this population and ensure that they are able to access services in the province."
Through the support she has received with her family, friends, teachers, and the Jaffari community, Aaliya has excelled in several domains. In 2017, Aaliya represented Richmond Hill High School at the Ontario Special Olympics bocci competition as a provincial qualifier, competing against over 100 other students.
This year, in the holy month of Muharram, when the SNSN was short of volunteers, Aaliya was quick to volunteer herself. She assisted Mikail Abbas, a 6-year old boy with ASD, in completing crafts and activities as part of their annual program while his mother, Narjis, was able to attend the nightly lecture.
To Fazal, having a special needs support group at mosques is a necessity and an obligation of the community.
"We have many examples from our beloved Prophet Muhammad (S.A.W.) which teach us of acceptance and inclusion of all individuals," says Fazal. "It is our duty to ensure our centres and communities are places of acceptance and inclusion."
However, she explains that "simply opening our mosque doors to all Muslims is not enough. It is necessary for all Muslim communities to understand the different needs that individuals with a special need may have and as much as possible, cater to those needs so that they too can benefit as the rest of the community does."
This can include creating one-to-one programs that run concurrently with mosque programs allowing children and youth with special needs to be engaged and participate actively, having American Sign Language interpretation of lectures available at mosques to make them accessible for Deaf Muslims, or bringing together professionals from within the community who can offer support and specialized services to families.
Rukiya and Maysam hope that their daughter, now a young adult, learns life skills so that she can live on her own in the future. Through support from her loved ones and the community, Aaliya says she is very proud of how far she has come.
To learn more about the Special Needs Support Network at the Jaffari Community Centre, click here.
This article was produced exclusively for Muslim Link and should not be copied without prior permission from the site. For permission, please write to info@muslimlink.ca.