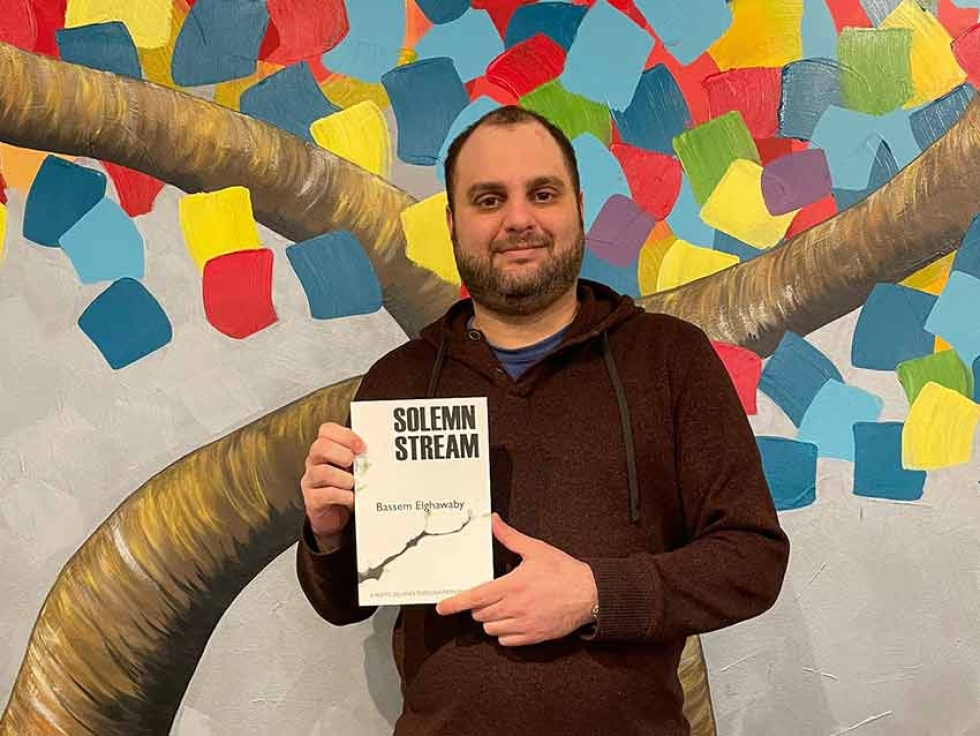 Bassem Elghawaby is the author of Solemn Stream - A Poetic Journey Through Faith and Bipolar,
Bassem Elghawaby
09
Mar


2023
New Book by Ottawa Muslim Explores Journey Through Faith and Bipolar
Written by Muslim Link
Bassem Elghawaby has a passion for helping people reach their full potential and increase their emotional intelligence and self awareness.
He does so from experiencing firsthand how powerful personal development, among other factors, helped him go from at times wishing he 'only had months to live', due to mental health struggles, (a diagnosis of bipolar disorder and generalized anxiety), to becoming stable, 'successful', and wanting to show there is a path to more than surviving, but thriving. 
He has been certified as a Life Coach under a program called Firewithin. Bassem is also an entrepreneur in the digital marketing space.
His book, Solemn Stream - A Poetic Journey Through Faith and Bipolar, is now available for purchase, online here.
The official book launch takes place on Friday, March 10 at 6:00 pm at in Ottawa. Register online here.
He resides in Ottawa, Canada, and enjoys spending time with family, friends, and diverse communities.
Muslim Link interviewed Bassem about the journey behind writing Solemn Stream.
When did you become interested in writing?
Since a young age, I became interested in writing and the challenge to do well in school in both creative and formal assignments. I also took after my older sister's interest in reading and writing. I remember in grade 4 and 5 at the Bandung International School, during my family's four year stay in Indonesia, valuing Mr. Patterson's English classes, and practicing my creative and descriptive writing, as well as competing against my very driven best friend, Woo Seok Lee, for top marks.
However, it was when I had my first manic episode and diagnosis of bipolar disorder, that I began in earnest keeping a creative journal and started sharing some pieces in the group therapy I would attend with other youths admitted to the hospital. It served a need to express the bottled up thoughts and feelings I struggled to share in regular speech.
Tell us about the journey of writing Solemn Stream.
The collection that has now become Solemn Stream was for the first few years individual pieces I didn't know I would eventually want to share as a book one day. However, as the years continued and the different ebbs and flows of thoughts, moods, and their manifestation in words continued, I began to feel that there was an underlying calling to share this work, which I sometimes felt an incessant need to pen.
I felt validation and joy by reading my own words back to myself, and also when I would share with others, whether that was in a membership site I was a part of called poets.com, other forums, or spoken word events, and later podcasts, and community events.
The challenges included the mental hurdles of when and how I wanted to share the work, creeping doubts and sometimes questions from family about sharing such personal accounts publicly, and the delays in getting to now, which I think served an ultimate purpose, as I continued to add to the collection until I felt it was finally ready and the right time to share in a book.
Tell us about the partner for this event Pay What You Can Peer Support and your role with the organization
Pay What You Can Peer Support (PWYCPS) is an organization dear to my heart, that I became a Board member for, attended some of their moderated sessions, and have just recently become a moderator myself, for a monthly peer support group for managing bipolar disorder.
They offer over 25 different groups offered virtually, on a pay what you can model with qualified peer support moderators with a diverse background of disciplines, many of who are psychotherapists, but all who are committed to the cause of providing accessibility, affordability, and creating a sense of community, to let those in need of the service know that they are not alone.
More information can be found on their website: Weekly Virtual Peer Support Groups | Pay What You Can Peer Support
Why is it important for more Muslims living with mental illness to share their stories?
They will see that they are not alone, that there are other Muslims living with mental illnesses and sharing their stories in creative and engaging ways.
When I have seen others sharing their own experiences with mental illness it has often made me feel more empowered to speak and share about my own, and I hope that this will be the case with other Muslims, as well as encouraging them to seek the resources and support they might need.
Tell us about the short video that will premiere at the event
There will be excerpts from my video profile from the series 'Voices of Muslims Living with Mental Illness' which sheds more light about my personal journey as a Canadian Muslim who was diagnosed with mental illnesses in the psychiatric system here, along with how I grappled with terms like bipolar, questions around racism and Islamophobia, and other relevant factors and life events.
Who should attend your book launch and why?
Anyone who cares about increasing mental health awareness and having constructive dialogues around how communities can celebrate what people with mental illnesses also have to offer society and how we can create more inclusive spaces for everyone, including highlighting what resources are already out there, should attend this event.
Also, if you're a poetry lover, like to be among a diverse crowd, and want to pick up a signed copy of a book 25 years in the making, which is a labor of love the author is sharing with the world, you should attend!
To register to attend the book launch, click here
This article was produced exclusively for Muslim Link and should not be copied without prior permission from the site. For permission, please write to info@muslimlink.ca.