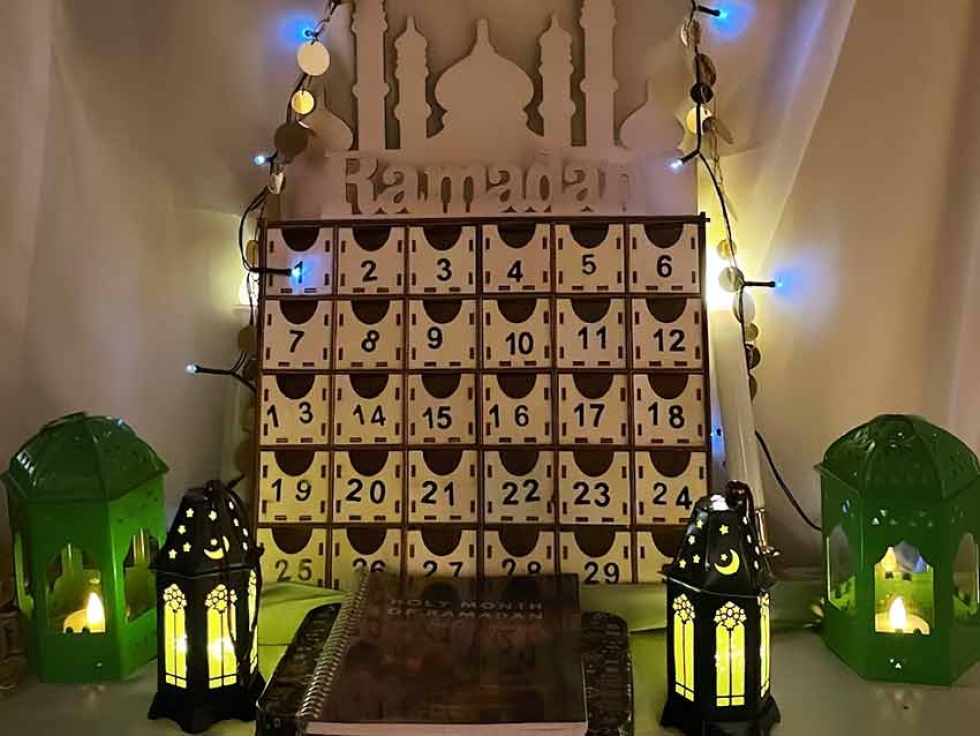 Ramadan Calendar with Chocolates
Berak Hussain
29
Mar


2023
Mental Health During Ramadan: Heart, Mind, Body & Soul
Written by Berak Hussain
Iraqi Canadian Psychotherapist, Berak Hussain, offers advice for Muslims managing their mental health during Ramadan. 
The holy month of Ramadan has started and as much as we are looking forward to these nights of worship, charity, family, community, and great food (yes we all become great culinary chefs for some reason during this time!), is also an important time to take care of our mental health even more.
As a psychotherapist, the general guideline I provide to those wanting to balance their mental health is to keep a healthy balance of their diet, sleep, activity levels, maintaining good relationships, and spirituality. If one of those factors is off balance and the person is faced with a difficult situation, then they may experience challenges dealing with that difficult situation.  If these factors are in balance, then when faced with such challenges, they are most likely able to deal with the situation better.  These guidelines fall in line with keeping the balance of the eight dimensions of wellness: occupational, emotional, spiritual, environmental, financial, physical, social, and intellectual 1. These dimensions beautifully fall into place with the tradition of Imam Musa Al Kathem where he encourages us to "Divide your time into four parts- an hour for Allah(swt), an hour for work/providing for your family, an hour for socializing with friends who who are trustworthy and can keep your secrets, and lastly, an hour for yourselves in which you can perform what you desire without falling into haram" 2 
As these are the basics to creating and maintaining a healthy lifestyle, these basics become even more important to balance and implement as a habit of routine during the holy month of Ramathan, with some tweaks to fully benefit from its many blessings.  
Here are a few ideas to consider for this month, keeping the above guidelines in mind as the base to potentially build upon from personal and professional experiences as well as from the experts I work with and take guidance from! 
Nutrition 
In general, when it comes to nutrition and mental health, it's all about eating clean, green and in balance of your complex carbohydrates, proteins and fats; eating three main balanced meals a day containing the above along with healthy snacks and lots of hydration and low intake of stimulants like caffeine (which can impact sleep and even trigger anxiety-like responses- uncomfortable pounding fast heart beat, shaking and sweating, etc.).
During this month, we want to maintain that balance even more, but adjust the timings of our food intake according to the times of abstaining from food (sohoor) to the breaking of the fast (iftar).  Some days we fast as long as 15 hours depending on which part of the world we live in, which can be quite challenging, especially in warmer climates.  It is vital that we hydrate properly with water-dense foods like fruits and vegetables (i.e. watermelons, berries, cucumbers, tomatoes, etc.), soups with lentils, and avoid greasy deep fried foods which can cause us to be more thirsty.  Meal planning in general is one of the basics of a healthy lifestyle.  During this month this is key to creating creative and healthy iftars and sohoors that can prevent us from indulging in last minute unhealthy binging choices based on cravings we get throughout the day.  Planning iftars and aiming for low fat, fluid rich foods with natural sugars (like dates) can be quite helpful in maintaining a nutritious diet.  Sohoors with complex, high fibre and whole grains such as oats, yogurts, and smoothies can help you feel full during the day and aid digestion. 3.  Of course this doesn't mean you turn down those yummy Month of Ramathan desserts at gatherings, but rather indulge in them with moderation, as my trainer Ilyas Govani from @gainswithgovinchy has advised me.  Moderation is key! 4 The fluctuation of sugar levels and the types of foods we ingest will also have a positive and or negative impact on our mood and mental health; therefore, being mindful of what we provide our bodies with is crucial for our mental wellbeing.
Exercise
This brings us to our activity levels.  We recommend 3 to 4 times a week of some form of physical exercise to reduce stress, get that natural release of endorphins that get rid of your stress hormones, to get in shape, to stay fit, to maintain and improve your mental health, and so on. It is a healthy habit for maintaining an overall healthy lifestyle that can definitely be carried over into this month.  It just depends on when is the best time for you.  Personally, after solidifying iftar plans with friends, family, or the mosque, I head off to the gym for a quick timed workout to be completed before iftar time, while listening to my favourite, duas, Islamic songs, eulogies or daily Quran Juz.  Knowing I will be eating right after helps get through the last bit of the long fasting day where the digestive system is practically turned off as our fight/flight system is fully active to move as needed. Experts also recommend this time to exercise as well as recommending that we focus on strength training rather than cardio exercises.  Another good time is between after iftar and suhoor depending on your energy levels and school/work schedule.  The key thing to remember is proper hydration and replenishing yourself properly with high fibre and protein rich foods which release energy slowly.(2, 3)   Please connect with your own personal trainer or medical professional to discuss these in detail depending on what your training and health goals are.
Mental Health
As mental health disorders and conditions are considered actual illnesses, they can potentially fall under the category of fasting exemptions just like other illnesses.  Because of the stigma and misconceptions around mental health, a large majority of people with mental health disorders will suffer in silence including during this holy month.  That is why I highly recommend seeking guidance and advice from a trusted Islamic scholar educated in psychology and mental health and your medical and mental health professional to see if fasting is doable with the mental health condition you are living with. 
When it comes to a variety of mental health disorders, issues, and conditions such as depression, anxiety, and ADHD where medications are needed, it is crucial that there be a discussion with your doctor/therapist as to when and how these medications are taken given iftar and suhoor times. Perhaps you can even consider practicing a few days before the month begins to get used to the time changes so there will be minimal disruption to your medication treatment plan. 
Eating disorders can be quite triggering during this time of the year and need to be approached with delicacy. Those struggling with such disorders can have a talk with their doctors or mental health practitioners in order to make sure that they can, first of all, fast, and second, have the support needed when facing challenges. 
As Ammaarah Zayna says, "it becomes difficult to differentiate whether you are fasting for God or fasting for your eating disorder, and the whole process of this can be incredibly overwhelming to manage." 5  It is indeed interesting to reflect upon such struggles as one navigates through this holy month of intended planned worship that is centered around abstaining from food and some other worldly pleasures that are halal to us to abstain from. Yet for the person living with an eating disorder or other mental health challenges, the lack of control or over compensation of control along with low moods, or intense anxious overwhelming thoughts can potentially be harmful to the self if one is not proactive in setting up plans and supports ahead of time.  Not to mention that their whole biochemistry dynamics can be impacted especially when medications are involved.  A person living with such conditions can communicate ahead of time with their friends and families about how they wish to be supported for the upcoming month. This can prevent awkward difficult situations as the month goes by. 5
Social Interactions, Community and Spirituality
During this month, with our individual and group worshiping at home, or as the pandemic restrictions ease up, at others' homes and the mosques, we can forget that it can also be a potentially lonely time for those away from their families for work and or school, for reverts, for practicing Muslims living with non-practicing friends and or families, for single Muslims, for seniors, for Muslims who are hospitalized, for Muslims who are alienated from their families, for refugees and immigrants to Canada, and for newcomers to our cities. It is helpful to try and find a local mosque, center or organization at school or in the community to connect with, and break the fast together.  Although we have had plenty and possibly enough of online programs at times, these can be quite useful for staying in connection with lecture series, historical and religious TV series (and no I don't mean the latest release on Netflix!) to gain knowledge as well as to grow spiritually.  They can be part of the ongoing development of healthy habits and routines that we aim to continue and foster during this month to carry over into the rest of the year. I have seen how challenging and lonely this month can be for Muslim international students and I have always tried to connect these students to the on-campus Muslim student groups as well as to similar community groups off campus to help with that. For those in such or similar situations, please try to connect as soon as you can to such community resources and reach out to potential practicing Muslim roommates, housemates, neighbours, etc. to create your own month of Ramadan community, culture and routines. 
Volunteering at local centres, mosques, or charity groups is another great way to meet like-minded people while at the same time doing what is recommended to us during this time.  It could be at local food banks, homeless/womens' shelters, mosques, etc. through which you connect meaningfully with people as well as helping others.  Research as well as lived clinical experience show that volunteering your time and efforts and helping those in need, giving to those less fortunate, feeding the hungry etc can greatly improve your mental health. Helping others releases oxytocin - the "love" hormone - into our system making us feel good and fulfilled,not to mention the good deeds we are collecting for our souls and cleansing our spirits with!
Spiritual Mental Health
Finally, a last word when it comes to your own spiritual growth and development.  We have heard time and time again that this month is not about speed reading through the holy Quran to complete it or how many good acts of charity you put on display. It truly is a personal journey of reflection and contemplation towards your connection to God. One can easily get caught up in comparing oneself to others and feel low about their lack of personal effort or potentially get into the "imposter syndrome" mindset where they feel they are not good enough to be fasting if they have not prayed regularly throughout the year, or do not wear the hijab, or are not as "religious" as "Brother Mohammad or Sister Fatima" there.  The key point here is that we are ALL on a personal non-judgemental journey where our spirituality will naturally waver anytime of the year as well as during this holy month.  Knowing that the heaven doors are wide open to receive our good acts and supplications is a potential great motivator for us to do our own personal best to grow and benefit from the abundance of spiritually that this month is blessing us with.  It is up to you how you would like to plan and implement your goals for this month just as you would for a project that needs proper planning and execution. And yes decorating the house and making chocolate covered dates can be a fun way to get into the spirit!  However, these are just surface level preparations.
Using a Ramathan month planner such as "Holy Month of Ramadan in Forty Days'' by @craftycadeau can be a wonderful tool to track your spiritual development with reminders, tips, Quran verses and tradition quotes to empower you in solidifying your routines and to help reaching your goals for the month and beyond. The Kun Fa Yakun Planner is also a great tool to keep track as well and develop your spiritual as well as life goals with the goal of increasing spirituality with the balance of "deen and dunya" that you can do during this holy month into the rest of the year 7.  These are a few of the resources I have been given to review and have enjoyed by creatives in our community.
Students during this month busy with assignments and exams may feel they are missing out and potentially lethargic.  It is common and normal.  Students can try to find an optimal focus time that works for them and also remember that their struggle (jihad) in their studies is also a form of worhsip as we are reminded by our scholars!
***
There is so much more that can be discussed when it comes to the Holy Month of Ramathan and our mental health.  Here, we have touched briefly upon the various aspects that fit into the dimensions of wellness described by modern psychology as well as from the Ahlul-Bayt (peace be upon them) as a means to find balance in our spiritual and personal development pursuits.  They are not groundbreaking suggestions but rather reminders to many things that we already know.  
What I find beautiful is the challenge to push ourselves to reaching such goals on these holy nights of Destiny and Power through mindfulness, awareness, and compassion, with balance and doing our absolute best given our circumstances in order to carry over our new and/or strongly developed habits that we have worked on over the course of thirty days  into the rest of the year, to maintain and keep ourselves accountable to such a spiritually, physically, and mentally healthy lifestyle. 
The Eid we celebrate after the ending of these thirty days is a celebration of what we trained our spiritual and physical selves to accomplish with discipline and abstaining from what is halal for us, feeling the hunger of others, gratitude in what we have and so much more, all in order to develop new and improved habits to improve the quality of our spiritual and physical lives…Inshallah (God Willing).
May you and your loved ones be blessed with the beauty of this holy spiritual month and may you find serenity as we enter the Month of Mercy and of Spiritual Training.
If you would like to follow along with more mental health tips, exercise, nutrition, resources as well as spiritual development during this month, please follow my daily stories on @berak_hussain exploring these and more Inshallah. 
Please remember us all in your prayers.
For more resources, please see: 
Help, Support and Further Resources:
War Against Eating Disorders: Information, self-help tools and support groups. Eating Disorders Ramadan Guide – Healthy Ramadan, Healthy You
Middle East: Middle East Eating Disorders Association (MEEDA) – Provides information and a helpline including a directory of psychologists, dieticians, and doctors that understand eating disorders.
UK: Muslim Youth Helpline – Faith and culturally sensitive support via phone, live chat, WhatsApp or email.
Canada & USA: Naseeha Mental Health Hotline for Muslims, 7 days a week (12pm-9pm EST). 1 (866) 627-3342, This email address is being protected from spambots. You need JavaScript enabled to view it.
Muslims and Eating Disorders: An online resource and safe, public platform to learn about these issues and get support.
CAMH: What clinicians need to know about Muslim patients with mental illness during Ramadan
References: 
1 https://shcs.ucdavis.edu/wellness/what-is-wellness 
2-Tuhaf Al Uqool p 302.
3 Dr Sayyada Mawji 
4 Illyas Govani
5 https://butterfly.org.au/ramadan-and-eating-disorders/
6 https://link.springer.com/article/10.1007/s10902-020-00242-8 
7 https://www.amazon.com/Inshallah-Planner-Increase-Productivity-Management/dp/B09H91K92W/ref=mp_s_a_1_4?dchild=1&keywords=inshallah+planner&qid=1633717002&sr=8-4