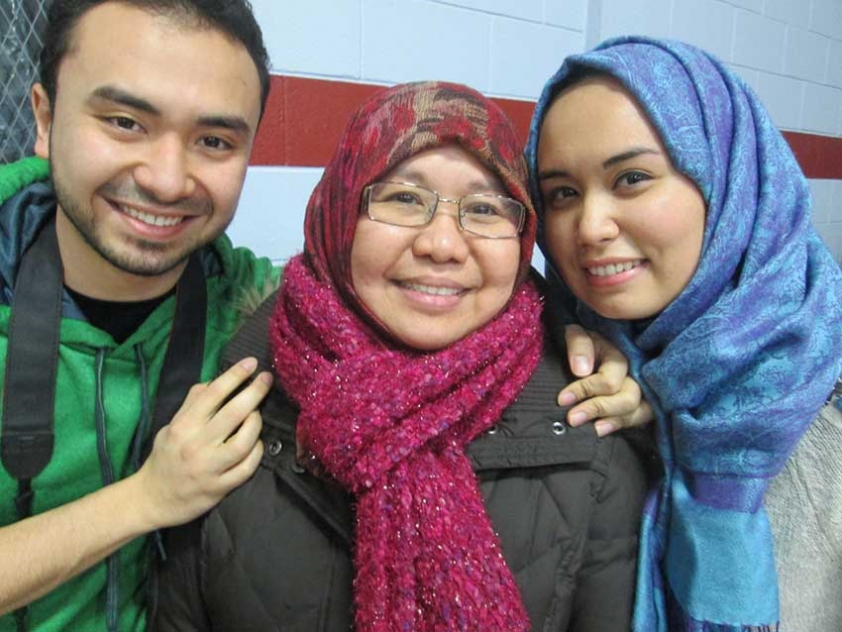 Mohammad Al Azzouni, Nesreen Lachica, and Salwa Al Azzouni at MAC's Canadian Family Day Event. Nesreen still has not taken off her winter coat or scarf.
Chelby Daigle
22
Feb


2015
What Does Family Mean To You? Mohammad, Nesreen, and Salwa
Written by Muslims of Ottawa
Muslim Link attended MAC's Canadian Family Day event on February 16 and asked people: What Does Family Mean To You? Nesrin Lachica, originally from the Philippines, met Mohammad and Salwa Al Azzouni's Arab father in Saudi Arabia, creating a very culturally mixed family which has set up roots in Canada as the children have come and settled here as international students.
Nesreen: Family means everything for us. Without a family you are alone in this world and you have no purpose. To have a family, to have children, to have your in-laws, and friends, and the community itself, it is very fulfilling and very inspiring. Family is the basis of our existence in this life.
Salwa: I study abroad and I'm living alone but when we are all back together as a family we feel happy. Your family is there for support and encouragement for whatever you want to do. Family is your backbone. They will always be there for you no matter what.
Mohammad: Family can mean community too. Us being an immigrant family, coming in as international students, the community we have here is the family we chose. We grow together and share the same values.
Salwa: We come from a very mixed background, half Arab, half Asian. Having two cultures in your family, you are exposed to the Arab culture and the Asian culture. It's nice being from a mixed family.
Mohammad: I'm half Filipino, part Lebanese, part Palestinian, my dad was born and raised in Egypt, I'm raised in Saudi, I'm married to an Indian, my brother's married to an Algerian. So it's a bunch of different cultures so when we look at family, when we look at the community around us it's not based on skin colour, it's not based on race, it's based on the values that we have; it's based on Islam. Coming to Canada, you see all different faces, all different types, and all have equal opportunities. That's why we are happy to be here and we are happy to be involved in this community.
Salwa: When people see our family they say 'This is Islam itself' because it is not about the colour of your skin, it is about your deen (religion), your eman (faith).
Nesreen: And having a chance to come to a country like Canada. What a beautiful country! Everyone is honoured. Everyone has the right to share values and dreams and hopes. It gives us a good direction to be in this country. Real Islam is here. Everyone is respected. We are in a very good country, very accommodating…and very cold.
This article was produced exclusively for Muslim Link and should not be copied without prior permission from the site. For permission, please write to info@muslimlink.ca.