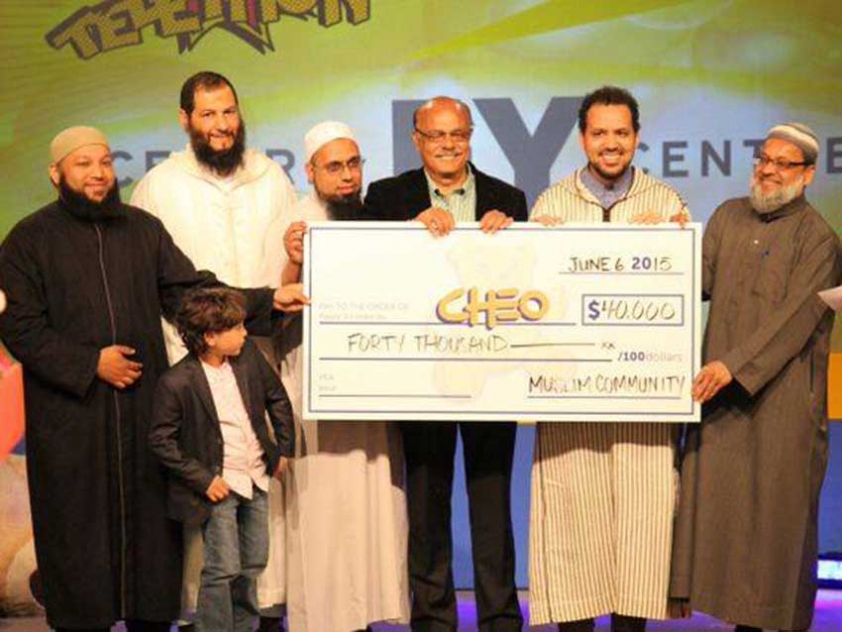 Local imams and leaders of Muslim organizations presenting CHEO with a donation on behalf of Ottawa's Muslim Community in 2016
31
May


2016
Imams Urge Ottawa Muslims To Donate To CHEO This Weekend
Written by Muslim Link
The Council of Imams of Ottawa-Gatineau and the United Muslim Organizations of Ottawa-Gatineau are raising funds to present to CHEO on behalf of the Muslim community, live during their annual Telethon on CTV Ottawa this weekend, June 4-5.
Local imams representing the Muslim Community of Ottawa-Gatineau presented CHEO with a contribution of $43,150 during the annual CHEO Telethon in 2015.
In 2016, local imams ran the phones during the telethon and presented CHEO with a cheque worth $40,000 from donations from Ottawa's Muslim community.
Local imams and Muslim organizations hope that Ottawa's Muslim community will be generous again this year.
If you would like to donate, contact the imams and representatives from the Muslim organizations listed below.
1. Assunah Muslim Association (AMA)
2. Islam Care Centre
3. Islamic Society of Cumberland (Masjid Bilal)
4. Islamic Society of Gloucester
5. Jamiatul Muslemeen of Ottawa-Carleton (Jami Omar)
6. Kanata Muslim Association (KMA)
7. Mosque of Aylmer
8. Muslim Association of Canada- Ottawa Chapter (MAC)
9. Ottawa Muslim Association (OMA)
10. Outaouais Islamic Centre of Gatineau
11. South Nepean Muslim Community (SNMC)
12. Islamic Society of Sandy Hill (Taqwa Mosque)
The CHEO Telethon starts at 7 p.m. on Saturday, June 4th and wraps up at 7 p.m. on Sunday, June 5th. It will be broadcast on CTV Television Ottawa.
During the Telethon viewers can pledge their support by calling (613) 738-1450 or 1-888-738-1450 or by clicking on the donate button below.  A webcast of the Telethon will be available on the CHEO Foundation website.
It is also possible to donate to the CHEO Foundation at any time throughout the year.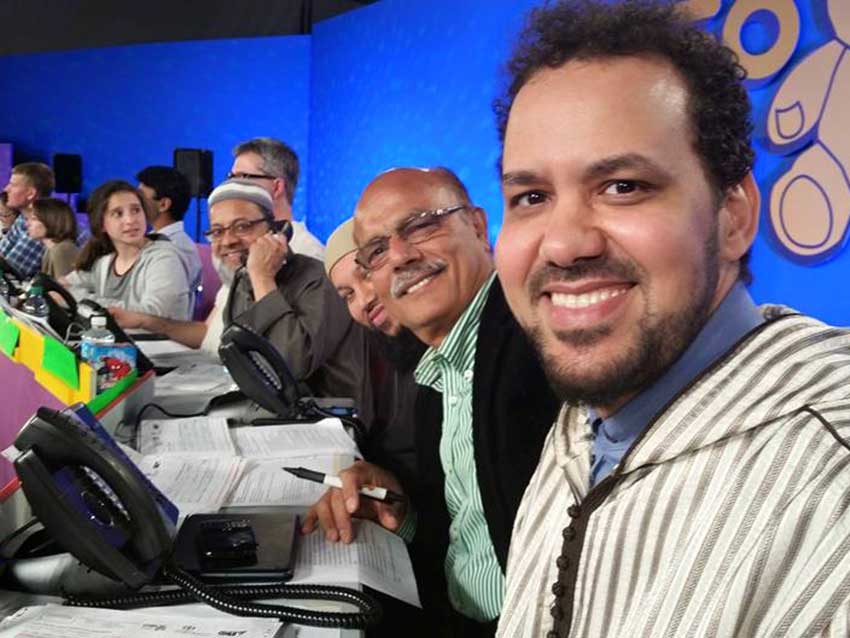 Local imams and leaders of Muslim organizations working the phones at the 2016 CHEO Telethon
Although CHEO receives provincial funding, an important source of revenue is public donations. This is actually how CHEO began. In 1965, a group of young mothers and health care professionals launched a campaign to build a hospital focused on the needs of children. They raised four million dollars on their own over 10 years and finally in 1974 CHEO opened its doors.
"CHEO has been built by this community," Alex Munter, CHEO's President and CEO explained, "CHEO has thrived as an institution because of that active engagement of the broader community. It is our obligation to open our doors and our hearts to make sure our services reflect the needs of the whole community but we really rely on citizens and residents of our region to participate in helping to build the institution."
Imam Anver Malam of Jami Omar Mosque is one of CHEO's most enthusiastic supporters because his own family has been given hope from the hospital's research on rare genetic conditions. Imam Malam's children, Salma and Atif, were diagnosed with a rare genetic disorder which made them go blind soon after being born. They were selected to take part in CHEO's world-renowned Care for Rare Program which aims to discover the genetic roots of hereditary disorders.
"When I take my children to CHEO I really see how passionately these people deliver services and look after the well-being and health of the children," he explained. This inspired Imam Malam to work with the Council of Imams of Ottawa-Gatineau to begin fundraising for CHEO within the Muslim community.
This article was produced exclusively for Muslim Link and should not be copied without prior permission from the site. For permission, please write to info@muslimlink.ca.