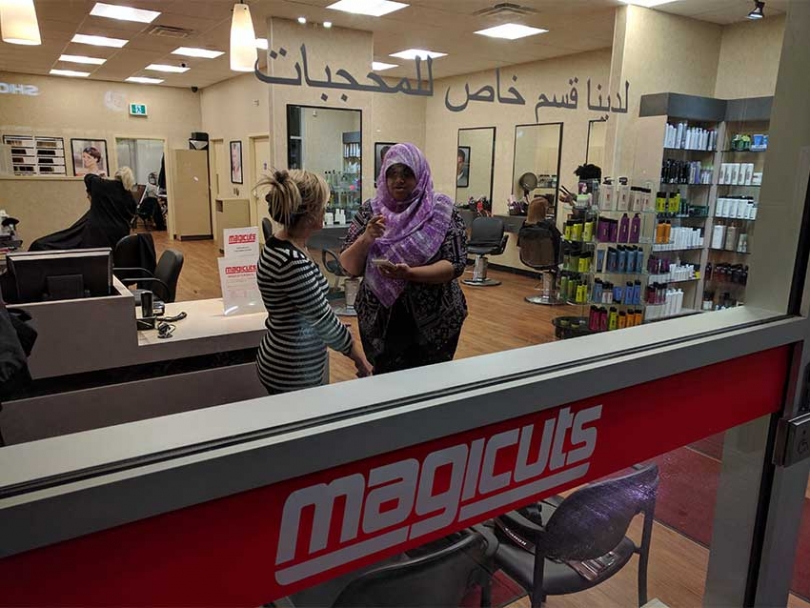 New Magicuts hair salon location has specially designed room offering a comfortable, private and hijab-friendly space
09
Jan


2017
New Magicuts Hair Salon Location Offers Comfortable Hijab-Friendly Section
Written by Palvashah Durrani
Magicuts, a well-known hair salon franchise, has opened a new store on Ogilvie Road with a special section designed to provide quality hair care services in a comfortable space for women who wear hijab. The salon is part of Shoppers City East, a new shopping district located near COSTCO. It was actually a current Magicuts staff member, Lebanese Canadian Nisrine Soueid, who suggested that the store create the hijab-friendly space as there are not many salons who offer full services for clients who wear the hijab and don't want their hair exposed to the public.
Magicuts started by using the back room at their original McArthur Location to accommodate hijab-wearing clients. Now with their new location, Magicuts has been able to design their layout from scratch, creating a beautiful, multi-functional, well-ventilated section for women who want privacy while benefiting from the salon's many services which include not only hairstyling but waxing, threading and ear-piercing.
According to the store's manager, Carole Signore, "threading has become a big thing now; a lot of clients come in asking for it." Threading, a hair-removal method more commonly found in South Asia and the Middle East, is becoming increasingly popular in Canada. Because of Magicuts multicultural staff, they have been able to offer threading to clients and now Magicuts staff actually teach threading to other salons.
The new Magicuts location is easily identifiable by the Arabic writing on the window that lets Arabic speakers know about their hijabi-friendly space. As Carole shared, "A woman walked by and saw the writing on the window. She was so excited to see that we had such a space. She came in and I took her to the section and she was impressed."
Carole, who has been working in the field of hairdressing for over 22 years, welcomes the changing beauty trends that Canada's increasing diversity presents. Over the years, she has had the privilege of working on the hair of women from a variety of background because as she stated, "Everybody's different but everybody wants good looking hair."
Get a coupon to use next time you visit Magicuts here.
This article was produced exclusively for Muslim Link and should not be copied without prior permission from the site. For permission, please write to info@muslimlink.ca.
This article was produced exclusively for Muslim Link as part of a paid advertising package. For more information on how to advertise through Muslim Link and support the running of Canada's Online Hub go here.