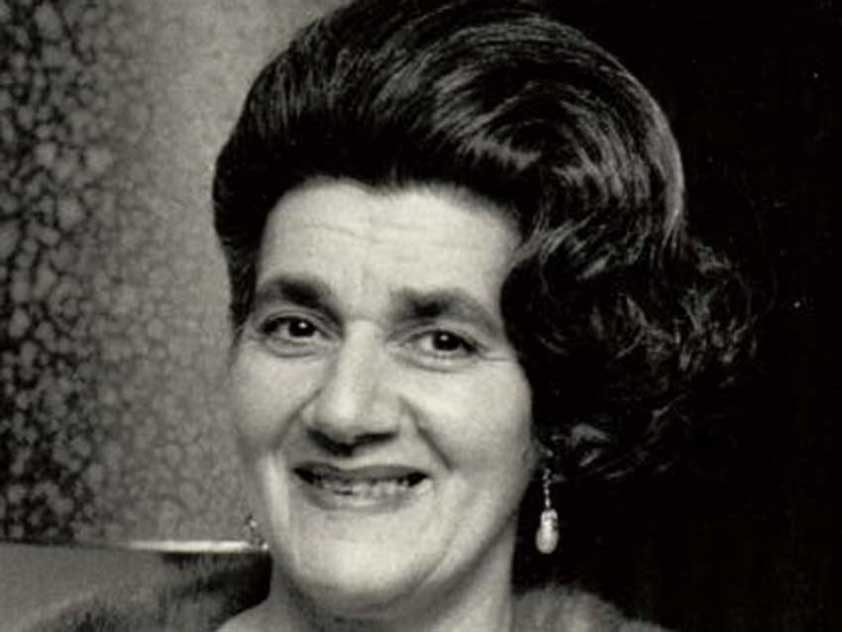 Eva Wahab, the first Muslim born in Ottawa. Photo Taken in the 1960s
Courtesy of Shano Bejkosalaj
03
Oct


2014
First Muslim Born in Ottawa: Visionary & Community Builder Eva Wahab
Written by Palvashah Durrani
Hers was a name that almost everyone knew.
At one time in Ottawa's history, Eva Afife Wahab was the go-to person in the Muslim community.
Born in 1914, Wahab was the first Muslim child born in Ottawa. Her father emigrated from Lebanon to Canada in 1903, and her family was the first Muslim family in the nation's capital. Prior to that, it was individual Muslims who had settled here.
Though proud of her Canadian identity, Wahab remained still deeply tied to her roots, and her faith. Her father would line up all the children with him when he prayed, including the girls, so they wouldn't forget and would learn their religious practice.
In the time that she was growing up, women had restricted lives in Canada. Hard to believe that up until 1955 women were fired from the federal government when they got married. In the United States in the 1960s, women couldn't open a bank account without their husband's signature.
Wahab was an independent Muslim woman who worked hard in her community. She lived in the Glebe, at Holmwood and Bronson, and for some time was in charge of her local post office, serving as postmistress.
Described as a dynamo, Wahab was a member of multiple women's groups, was well known at City Hall, and worked hard with the Lebanese community to establish the St. Elias Cathedral and Banquet Hall which hosts so many Muslim community events and weddings.
It was this endeavour that seems to be the start of her desire to build a mosque in Ottawa. In 1963, the year she co-founded the Muslim Women's Auxiliary, the Muslim community in the city numbered only 500.
The mosque was a symbol, a way of cementing that there was a tangible Muslim presence in the community; one that subsequent generations could look to and identify as representing their place of worship. She rallied every Lebanese family in Ottawa, focusing on how important the mosque was for them and especially their children. She encouraged them to be the pioneers in establishing the first mosque.
Wahab was in a unique position in the Muslim community. While everyone else was an immigrant to the city, Wahab was born and raised here. With her foot in both worlds, and having both a strong command of English and firm education behind her, she set off to make the mosque happen. She believed in it, knew it could be done, and made it happen.
An outgoing and positive person, Wahab faced multiple challenges, especially in the patriarchal order at the time.
Women's space was limited to the home and final decisions were most often made by men. Wahab challenged this. She networked, she lobbied, and she visited radio and TV stations to speak about the Muslim Women's Auxiliary and about who Muslims were. This was a time when most Canadians had little idea about the faith or its adherents.
Wahab had a reputation for being a strong and caring woman. She was a doer and was both organizer and participant. She was known for taking on mentorship roles.
On April 23, 2005, Eva Wahab passed away peacefully in her 91st year at the Starwood Nursing Home.
Today, her legacy lives on in the Muslim community she helped establish, in the first Ottawa mosque (the Ottawa Central Mosque on Northwestern Avenue), and in a bursary established in her name at the University of Ottawa. The annual bursary supports full-time female First Nations students studying journalism, human rights, or social studies.
More than that though, Wahab serves as an example to young women and men in the Muslim community about perseverance, hard work, and a refusal to bow down to any stereotype or box that society might place you in.
This article was compiled from interviews with Shano Bejkosalaj, Nazira Tareen, Khadija Haffajee, Jean Ahmed, and Dawn Kalil. Thank you. ■
To learn more about Muslim Link's A Muslim History of Ottawa project visit this page.
This article was produced exclusively for Muslim Link and should not be copied without prior permission from the site. For permission, please write to info@muslimlink.ca.