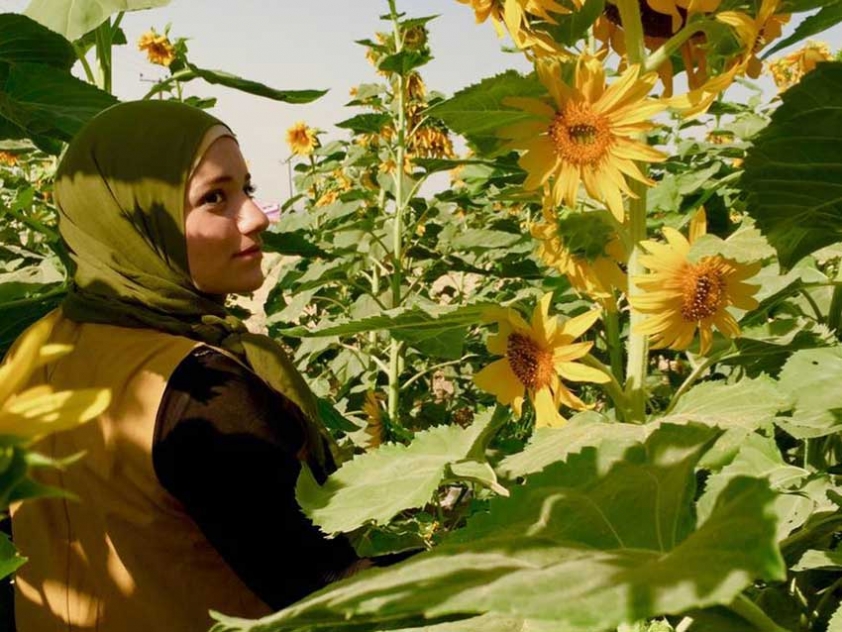 Nasim Asgari in Iran
Courtesy of Nasim Asgari
04
October


2015
Nasim Asgari on Working to Publish Her First Book of Poetry
Written by Muslim Link
Muslim Link interviewed this rising star of Toronto's Spoken Word scene about coping with Islamophobia, struggling with lack of confidence, and stepping out of your comfort zone.
Tell us about yourself.
My name is Nasim Asgari. My first name means breeze, and my last name translates to warrior. I was born in Tehran, Iran, and moved to Toronto at the age of 5. It's interesting to observe, how leaving your birthplace at a young age, you don't really realize the changes that you will truly be facing, in both the short term, and long term future—one of the most significant things being leaving your extended family behind.
After having lived in Toronto for 6 months, me, my parents, and two brothers moved to Brandon, Manitoba for 2 years, where I spent significant parts of my childhood, literally, in the prairies of western Canada. Amongst all these constant changes, my parents decided to move back to Toronto. The last major change, in terms of location and environment in my life, was moving to Geneva, Switzerland for close to 7 months at the age of 12.
Having experienced living in all these different locations, and having to learn and understand the many different cultural norms in each of these locations, they have all been embedded within me, and the way I lead my live. I now attend York University, where I am pursuing my undergraduate degree in human rights and equity studies.
Tell us about your journey into the Spoken Word scene.
My name in itself is a word that has been deeply intertwined within Persian poetry, including the works of Maulana, also known as Rumi, Hafez, Saadi, Sohrab Sepehri, etc. That's why I'd like to think that poetry has been a part of me and my family, and my culture and roots, from far before I was born. The arts have always been a significant part of my life, especially since both my parents have dabbled in all types of arts throughout their lives, and also having my older brother being an artist, someone I look up to, more than he himself knows.
I remember writing some of my first pieces of poetry at the age of 9 and 10, and it was during my time in Switzerland, when I truly began digging deeper into writing songs and poems. The music I listened to had a strong role in leading me to write, alongside programs such as Def Poetry Jam. It was the summer before 8th grade when I wrote a piece and decided to perform for the first time in front of a crowd of about 100+ people. This experience was so terrifying for me, due to the strangeness of the moment, the rawness, the vulnerability, and all the emotional baggage that the poem came with. However, when you truly love something, it's not easy to put it aside. And now, I can't imagine doing anything else
What communities have you been able to interact and collaborate with through the Spoken Word scene that you don't think you would have met if you were not involved in it?
The spoken word scene has given me the amazing opportunity to connect with all different types of communities and amazing personalities from all around the world. SpeakOut Poetry has been a platform for me to express [myself] on many occasions, and has allowed me to share the stage with many different artists, including Randell Adjei, who runs a weekly program called R.I.S.E, (Reaching Intelligent Souls Everywhere). Attending RISE on a weekly basis has allowed me to become part of a community of artists and art lovers who love and support one another sincerely. It's become extremely difficult for me to miss RISE Monday's, because I know I'm missing out on an experience that cannot be had anywhere else.
Also, I have had the opportunity to be part of a group called Outburst, which curates workshops and spaces for young Muslim women. It was through Outburst that I had the chance to participate in a workshop facilitated by Warsan Shire, and share the stage with her. Unity Charity has also played an important role with connecting me to talented local artists, having been awarded the MVP award at the 2014 Unity Charity Festival.
You have performed for large audiences, including at Toronto's anti-bill C-51 protest—you were in the cover photo for Desmond Cole's article in the Walrus about the event. Why do you think it was important for you to perform at this demonstration?
As an artist, I feel, and know, that it's extremely important to raise my voice when needed, especially at events such as the Bill C-51 protest at Nathan Phillips Square, the candle light vigil for the Chapel Hill Shooting, Rouge River TEDx etc.
It is important to step out of your comfort zone in order to speak a message that you know is greater than your fears. It's not a simple task, but I know I have a purpose and I am determined to make an impact. I would not only want to speak in spaces where I can preach to the choir, or have my friends support me, but I also try to expand by stepping into a room filled with hundreds of strangers, not knowing the outcome of the responses that I will receive.
What challenges do you feel you face as an Iranian Muslim Canadian? As the reality is that you are part of a national community that is spoken about a lot in the media but also a religious minority within the Muslim community which also faces discrimination from other Muslims. How has this influenced your work?
As an Iranian, I face challenges often from non-Iranians, especially when I lived in Europe and Western Canada. As a practicing and visible Muslim Iranian, aside from facing challenges outside of both communities, at times, I can face them from both, which is even more disheartening, because you always expect more from your own people.
Being Iranian, I have realized that often when I tell people, the conversation that follows is a political one, and speaking about politics without being looked at as being 'extreme' or 'radical' is uncommon.
Practicing a school of thought that is a minority within the religion of Islam, I have accepted that criticism, and distaste may follow. Ultimately, I often declare myself as Muslim before elaborating about which school of thought I belong to. Not because I am ashamed, but rather because I find it ridiculous that such a beautiful religion has been divided for often extremely small differences, which we can easily agree to disagree upon.
However, all these different factors of my identity are how I walk through life, and how I lead my life, ultimately affecting my poetry. Being a Muslim Iranian who has been raised in Canada is a significant aspect of my identity and it is reflected in my poetry. Reflected in the personal experiences I write about and also [in] the subject matters which I choose to raise my voice and my pen to bring awareness to.
You were interviewed by the National Post about your teacher who posted Islamophobic tweets, some directed at his students. Do you think there needs to be more reflection on how teachers may be fueling discrimination against various marginalized students?
Also, what advice would you give to young people who face issues like this but might be more likely to assume that all non-Muslims are like this?
Yes, there definitely needs to be training sessions and workshops for teachers to understand how they should interact with their students from different backgrounds. Of course the matter was one which I wish wasn't true, however after a 10-week investigation, the York Region District School Board decided to fire the teacher.
I've come to the conclusion that despite what a person is saying against me, my views about my religion will stay the same, but the way I react towards the hate I receive may determine how the other person will continue to see Islam. One of the Qur'anic teachings I am struggling to follow is saying peace to ignorance.
Discuss your experience with Outburst—how has this space for young Muslim women, which includes not only women from diverse ethno-cultural and denominational backgrounds but also varying degrees of religious practice and is welcoming of people who identify as lesbian or transgendered, affected your work and perspective on Muslim Canadian identity?
Outburst has always been a great space for me. In terms of connecting with like-minded people, learning more than I could ever imagine, creating sisterhood bonds that I know could not flourish in other spaces. I always feel comfortable at Outburst, and feel like my voice is heard and supported. I've learned so much about people, and have expanded from my own bubble, realizing there is more than just one or two ways to live your life, especially as a Muslim living in Canada.
Why is it so important for you to publish a book before your 18th birthday?
I've always wanted to have a physical, tangible copy and collection of my work, it's been years now. The other reason aside from lack of resources that was stopping me was self-confidence. I never thought I was good enough to publish a book, I always felt like it'd be a waste of my time, and other people's time.
But this past year has been one of overcoming challenges for me, and acknowledging my value, even if others don't. I want to have this book to prove to myself that I could do it, regardless of how negatively I may think about myself, or regardless of all the eyes watching me. I want to have a physical copy of my work in my hands, so I can improve with every single project I decide to work on. This book won't be just a book for me, but it's a collection of what my life has been since I've been born, things I've finally got the courage to write about.
What practical advice would you give to a young Muslim woman who is interested in getting involved in the Spoken Word scene?
I would tell other Muslim sisters not to think that they have to compromise who they are to be able to succeed. But it's definitely easier said than done. But on the other hand, they'll have to try, and work extra hard in order to improve their art, and a lot of times, when you love something so much you'll be willing to sacrifice for it. It's important for us to expand our circles, and start creating friends and families in other communities. It's all a matter of stepping out of our comfort zone a lot of times, and this is more than just with spoken word, this is with anything.
To learn more about Nasim Asgari follower her Facebook Page
This article was produced exclusively for Muslim Link and should not be copied without prior permission from the site. For permission, please write to info@muslimlink.ca.