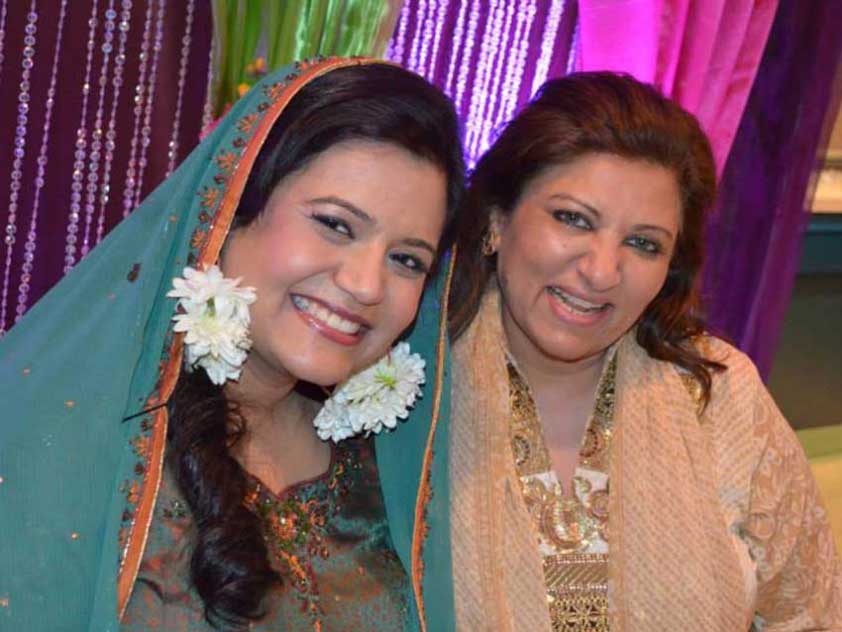 Nargis Yousuf of Al Nisa with one of her brides.
Courtesy of Nargis Yousuf
03
Oct


2014
Al Nisa – Making Challenges Work for Your Business
Written by Mahwash Fatima
Nargis Yousuf began her career as a beautician from her small kitchen in a two bedroom apartment. Now her established beauty salon, Al Nisa is the official hair and makeup company for Suhaag's Ottawa Show.

How it all happened
After she finished high school, Yousuf discovered her interest in aesthetics and decided to do a one year course at a local school. Soon after, she got married, had kids and got busy in her married life. Her career in beauty was put on hold.
It was not until a few years later, when she applied for immigration to Canada, that her passion was rekindled. At that time Yousuf was expecting her third child and knew that she would not be able to join the workforce in the new country for quite some time. Her immigration lawyer saw her beautician certificate and advised her to start a home-based beauty business as soon as she landed in Canada. She did a refresher course, learned new skills like henna application, and at the end of 1995 immigrated.
Two years later, she moved into the Bayshore area, and for three days a week, transformed her kitchen into a salon. By 1999, word started to spread about Yousuf's skills as an aesthetician. She moved to a larger home and catered to her growing clientele in the finished basement.
Yousuf had not yet achieved her dream of the luxurious lifestyle she had left behind in Pakistan. To make ends meet she started a day job and continued her home-based business on evenings and weekends.
A high achiever, Yousuf took courses at the Marvel school of beauty and the Versailles Academy, considered the best beauty school in Ottawa. Her decision to join Versailles paid off. When she graduated, she walked out a more confident and professional beautician, describing her transformation there as "Amazing"
By 2001 business had picked up even more. Yousuf realized there were two problems with her current location: Lack of parking space, and the need for a separate client washroom. Towards the end of the year she moved into a single home in Kanata with a finished basement complete with a washroom and a waiting area for her customers.
At its present Kanata location Al Nisa has expanded its services to offer complete bridal packages, photo shoots, clothing, and jewelry. Yousuf operates a team of 12, with four henna specialists and the other eight employees specializing in the other beauty services.
Marketing
Networking has been Yousuf's biggest marketing strategy from the start. She always keeps her business cards on her and hands them out wherever she goes. She attended parties and events and has made a lot of connections throughout her career. Yousuf feels that it is very important to be there in person. "People remember your personality and who you are, and walk away with your positive energy".
Yousuf also offers new and exciting deals to her clients. She believes in building a relationship with her clients and turning them into repeat customers. She also regularly attends trade shows and events like the Festival of India, the Suhaag Show, and other bridal shows. She attends these events not only to advertise her own business but also to learn new trends in beauty to offer to her own clients.
Strengths
Yousuf has four secrets to growing her business in a short timespan:
One: She made a habit of writing her goals. She wrote everything in a diary, of what she wanted in life, what her short term and long term goals were, and what she needed to do to achieve them. Studies have shown that people who write down their goals achieve much better results.
Two: She keeps it professional. She never sees anyone without an appointment.
Three: She is sincere in her dealings. This is the reason she has consistent clients who have been coming to her for 15 years. Giving her clients full value for their money, she deals fairly and is conscious that she has to answer to Allah in the hereafter for all her dealings in this world.
Four: She never said "no" to a client. If the task seemed too big for her, she would take it as a challenge and give it her best shot. When her clients asked her if she could get clothes from Pakistan, she set aside a small space in her salon to stock clothes and jewelry for sale. Now Al Nisa offers all-in-one wedding packages that include both beauty services and wedding preparations.
Challenges
The first of her challenges was balancing the late hours getting brides ready and being at home with her family. For Yousuf, her priority was her family. She managed to finish her work and be home at a reasonable hour. At the same time, she spoke to her husband about the existing limitations of having a home-based business and how fixing her availability added to the challenges.
With patience and perseverance, she was able to convey to her husband how her business worked, her degree of professionalism, and the needs of the business itself.
Her second challenge was when she joined the Versailles Academy. Not only was she only Muslim and the only immigrant, she was also the most senior student. She used these challenges to her advantage. She was inspired by her classmates and came to an understanding with her teacher to take breaks for prayer between clinics.
Going back to school while having school-going kids was another challenge she had to face. But her passion kept her going and she was able to do it all without disrupting her household. Her husband and kids were supportive throughout.
Advice
"When asked what advice she would give to mompreneurs she said, "Never give up on your dreams. If you have a dream, go for it. Work hard and keep a strong connection with Allah. As long as you have Allah on your side, you are good to go."
"Never say never! Do not make your family an excuse for not going after your goals."
She also advises women to set their priorities. For Yousuf, her household and family always came first. Even now, although her business is in her basement, the rest of the house is a proper household. The entire family sits together for dinner and her work stays in the basement.
Yousuf is a dreamer who went out and made her dreams a reality, but she is also a realist. Every step of the way, she accepted her realities and limitations and used them to her advantage. She realizes now that she is at a point in her life where her business needs a fresh face. She has already started training her replacement and plans on downsizing retiring as a teacher in the near future.
Nargis Yousuf can be reached at: Al-Nisa at 33 Sherring Crescent (off Kanata Ave) (613) 271-6274 www.al-nisa.ca
M. Fatima runs her own small business from home in Ottawa while raising her children. Check out Maham's Boutique http://www.mahamsboutique.com/ She is also co-founder of Muslim Women's Business Network of Ottawa. Muslim women business owners in Ottawa and the surrounding areas can contact her through the Facebook page https://www.facebook.com/mwbnottawa ■
This article was produced exclusively for Muslim Link and should not be copied without prior permission from the site. For permission, please write to info@muslimlink.ca.