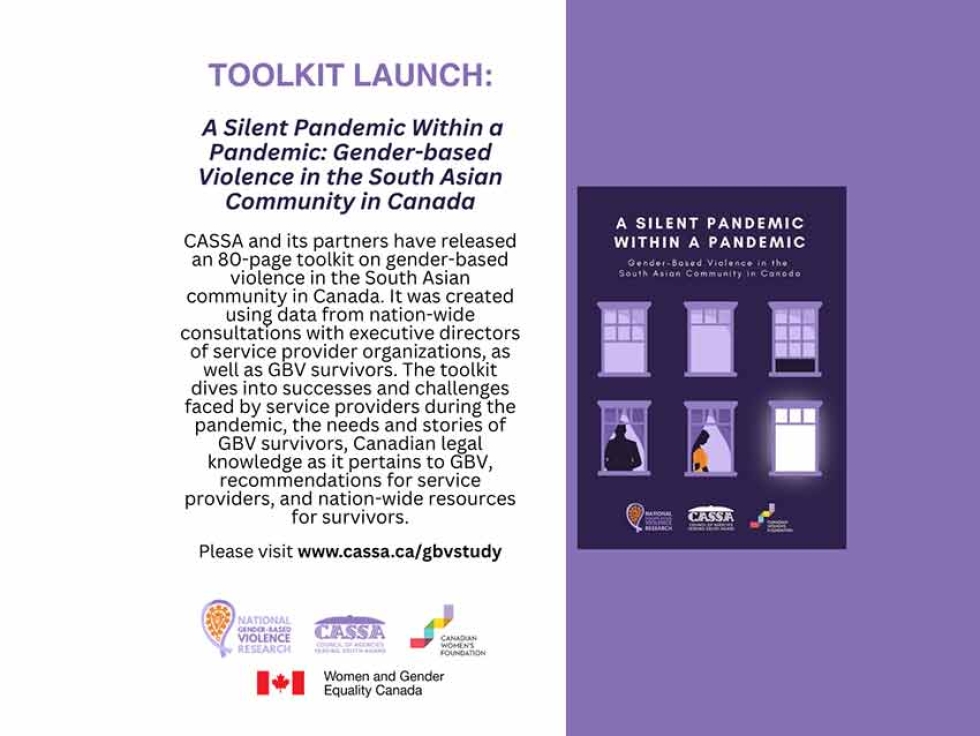 25
Apr


2023
With much anticipation, the Council of Agencies Serving South Asians (CASSA) and its partners are excited to release an 80-page toolkit based on a national study conducted over the past 1.5 years, seeking to understand gender-based violence (GBV) during the pandemic within the South Asian community in Canada.
The toolkit, titled "A Silent Pandemic Within a Pandemic: Gender-based Violence in the South Asian Community in Canada", was created using data from nation-wide consultations with executive directors of service provider organizations, as well as GBV survivors.
The toolkit dives into successes and challenges faced by service providers during the pandemic, the needs and stories of GBV survivors, Canadian legal knowledge as it pertains to GBV, recommendations for service providers, and nation-wide resources for survivors.
According to the study, [m]ost of our participants were Canadian citizens or permanent residents. We have also spoken to international students, and refugee claimants, among others.
Interestingly, as the Legal Knowledge section of our toolkit makes clear, although those who have immigrated to Canada and been granted permanent resident status cannot be deported, due to reasons such as language barriers, the abuser being the only source to help her navigate systems in Canada, or a lack of resources, among others, many abusers threaten the GBV survivor with false information about deportation if she does not remain within his control.
This is why this toolkit provides some basic knowledge on Canadian family and immigration law as they apply to GBV.
Below you can watch an educational discussion exploring some of the basic knowledge of Canadian family and immigrant law relevant to South Asian women experiencing GBV in Canada:
To learn more about the toolkit and to download it, visit www.cassa.ca/gbvstudy