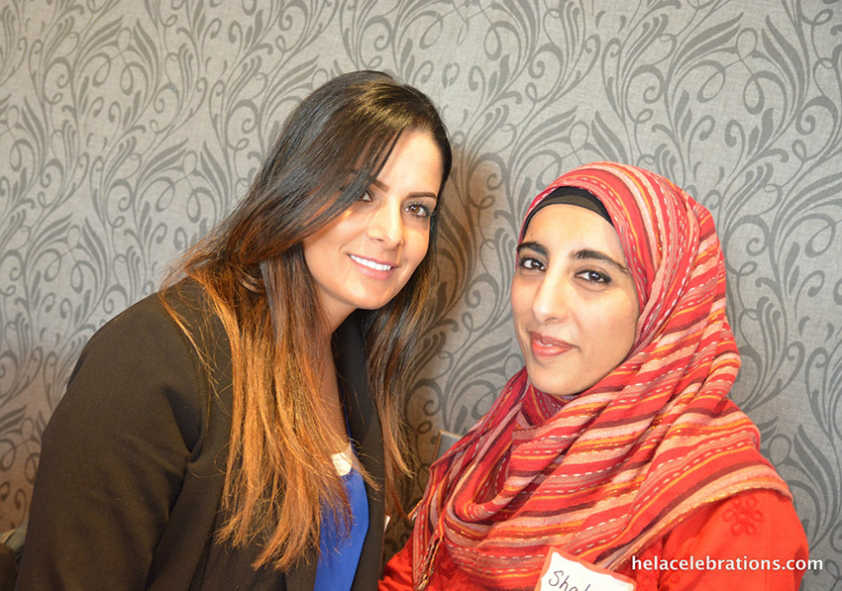 Amal Elfarou and Shalini bint Ashok
Berak Hussain
09
May


2014
For the first time in Ottawa, Muslim business women got a chance to come together to network, share ideas and learn about each other. This networking event was organized by the Muslim Women's Business Network of Ottawa (MWBNO) on Saturday April 12th, 2014. The event was a huge success and was attended by a total of 28 women which consisted of beauticians, lawyers, professional consultants, etc.
The Muslim Women's Business Network of Ottawa was established in March 2014 by two women entrepreneurs: Jessica Keats and Mahwash Fatima. They wanted to create a platform where Muslim business women could come together to network, mentor, and share their ideas and experiences.
Jessica is a registered yoga teacher. She owns her own small business which specializes in using gentle therapeutic movement to help people move, breathe, live and feel better. Mahwash is a business graduate from the University of Ottawa, column writer with the Muslim Link's Mompreneur Series, an eBay power seller, and owner of two online stores: Maham's Boutique and The Makeup Store.ca.
What once began as an idea became a reality when MWBN launched its Facebook page and invited Muslim women business owners from Ottawa to join the group. With continuous sharing of Facebook posts by fans and the administrators, the page acquired 165 fans in less than two months. The fan base continues to grow day by day.
The Facebook page consists of a business directory album which is updated every Monday. Muslim women-owned businesses are encouraged to send in their logos or a photograph which is then included in the business directory album. Weekly promotions and important business-related announcements are also included in the "Promotions and Sales" album every Tuesday.
In addition, vendor opportunities at local events ad business-related articles and news are posted on a regular basis. The Facebook page is turning into the go-to source for everything that a Muslim woman might need to start, run, or expand her business in Ottawa.
But in order to bring this virtual community into the real world, Jessica and Mahwash decided to organize the first in a planned series of networking events.
According to Jessica, the idea behind this event was "to bring like-minded Muslim women together to support and build a greater sense of community". She said that they want to keep these events small and intimate with no more than forty business women at a time. Keeping the groups small will allow women to build more meaningful relationships with each other.
The best part of their April event, according to Mahwash, was that "all women were extremely comfortable and began networking almost immediately. You could feel the excitement in the air the entire time".
Hodan Ibrahim of FWD MVMNT, a digital marketing and design agency, found the event to be "incredibly inspiring. Everyone was genuinely interested in getting to (know) you and your business. The atmosphere was lovely and the venue was great".
Farhia Ahmed thought the event was "cool". "[It] was a breath of fresh air. It was uplifting, motivating and inspiring to see such talent among my sisters in the community. Almost every type of product and service was represented - health and beauty, professional services like legal and accounting, career and personal coaching, food, cleaning. The ladies were doctors, lawyers, engineers, bakers, designers, writers and artists," she explained.
Another attendee, Amal Elfarou, regional VP of Arbonne International, a skin care product business, thought that "having the monthly networking lunch will allow many doors to open for all of us."
For Rabiya Khan, owner of Miss Cupcakes, was able to generate business leads. "I got to meet many young and experienced entrepreneurs whom I did not know before. It felt nice to be part of a new initiative that can help the community along with building new relationships.
The venue for this unique event was at a local restaurant Tandoori Fusion which is owned and run by a Muslim business woman, Feroza Shamim.
Berak Hussain of Hela Celebrations, a wedding décor and photography business, volunteered as the event photographer.
MWBN of Ottawa believes that business is about building relationships and hopes to create a platform where any Muslim woman who is interested in starting a business can come to for information. MWBN of Ottawa also plans to create seminars to help Ottawa Muslim women run sustainable businesses in Ottawa.
For more information and to know about future Muslim Women's Business Network of Ottawa events, visit their Facebook page at http://www.facebook.com/mwbnottawa.
To learn more about Yoga with Jessica visit www.facebook.com/YogaWithJessica.ca
To learn more about Maham's Boutique visit www.facebook.com/MahamsBoutique
To learn more about FWD MVMNT visit http://FWD-MVMNT.COM
To learn more about Arbonne visit http://amalelfarou.myarbonne.ca/
To learn more about Miss Cupcakes visit: www.facebook.com/misscupcakes.ca
To learn more about Tandoori Fusion visit www.tandoorifusion.com
To learn more about Hela Celebrations visit http://helacelebrations.com/main.html ■
M. Fatima owns Maham's Boutique and co-founded the Muslim Women's Business Network of Ottawa.
This article was produced exclusively for Muslim Link and should not be copied without prior permission from the site. For permission, please write to info@muslimlink.ca.