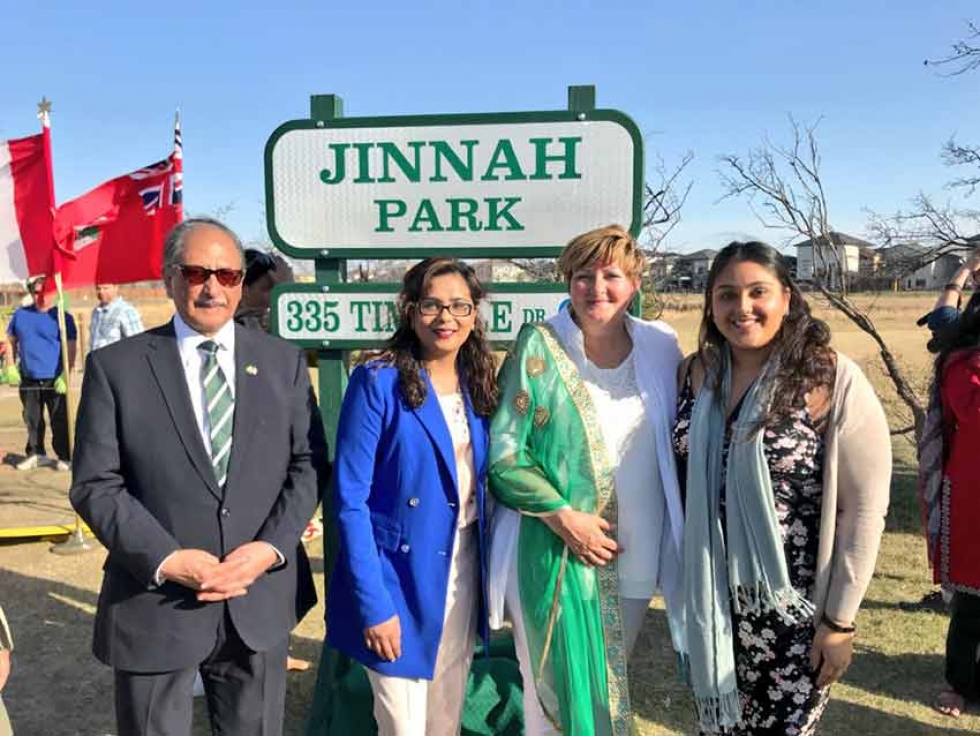 Pakistan's High Commissioner Tariq Azim, MP Iqra Khalid, and City Councillor Janice Lukes at the unveiling of Jinnah Park in Winnipeg, with Tanjit Nagra.
Tanjit Nagra Twitter
19
August


2018
Winnipeg Park Named After Pakistan's Founder Sparks Controversy
Written by Staff Writer
In May 2018, a part in South Pointe, Winnipeg, was named after the founder of Pakistan, Muhammad Ali Jinnah. 
Naming the park after Jinnah, often referred to as "Quaid e Azam", meaning "The Great Leader" in the Urdu language. The idea for the naming a park after Jinnah came from the Pakistani High Commissioner to Pakistan Tariq Azim who shared it the idea with members of the local Pakistani community, including the University of Manitoba Pakistani Students Association, who worked with Winnipeg City Councillor Janice Lukes, to establish the park.
Located south of Tim Sales Drive at Northern Lights Drive, Jinnah Park is a neighbourhood park which lies alongside a naturalized pond, and includes a recreational cricket field, a new play structure, swing set, and benches.
In the press release shared to invite the public to the opening ceremonies for the park, Councillor Janice Lukes stated, ""Our Pakistani community is strong and proud of their history, and of Muhammad Ali Jinnah's principles of social justice and equality in the creation of Pakistan. It is important that we share our cultures and traditions to gain a greater appreciation and understanding of how cultural diversity goes hand-in-hand with a just and equitable society."
Liberal Members of Parliament Terry Duguid and Iqra Khalid spoke at the unveiling of the newly named park.
The Goverment of Pakistan tweeted about the event.
The naming of the park after Pakistan's founder sparked controvery after a tweet by Conservative Member of Parliament Maxime Bernier, who contrasted the naming of a Canadian park after the founding father of Pakistan with the removal of a statue of one of Canada's founding father's, Sir John A. Macdonald, from Victoria City Hall. Both figures are not without controversy as both rose out of the fallout of British colonialism to create nation states. For some, Jinnah's legacy is unavoidably connected to the violent break up of the subcontinent into India and Pakistan and eventually Bangladesh, resulting in mass displacement of peoples from their homelands and communal violence. Sir John A. MacDonald has been criticized for his role in developing residential schools and the cultural genocide of Canada's Indigenous peoples. There is even currently a similar political controversy going on in India after a BJP politician demanded to know why there is a portrait of Jinnah in the Students' Union office of Aligarh Muslim University. This has stirred communal violence in the community surrounding the university.
Conservative Party Leader Andrew Scheer has distanced himself from MP Bernier's comments by stating: "Maxime Bernier holds no official role in caucus and does not speak for the Conservative Party of Canada on any issue. "Personally, I disagree with politicians on the left and the right when they use identity politics to divide Canadians. I will not engage in this type of politics. "Conservatives celebrate Canada's diversity and a Conservative government will continue to welcome those from all over the world who choose to come here because of the society we have built. "At different times, waves of immigrants from all over the world have added to our history and our culture and embraced the fundamental principles that Canada was founded on, including peace, equality, tolerance, freedom and democracy. We must all work to ensure that Canada continues to be a place where people from all over the world can come to find a richer, freer more peaceful life."
The sign for Jinnah Park was recently vandalized and the park's supporters believe this is due to the anti-immigrant sentiment that MP Bernier's comments has stirred.
https://twitter.com/HannaBokhari_/status/994799503592120321/
This article was produced exclusively for Muslim Link and should not be copied without prior permission from the site. For permission, please write to info@muslimlink.ca.