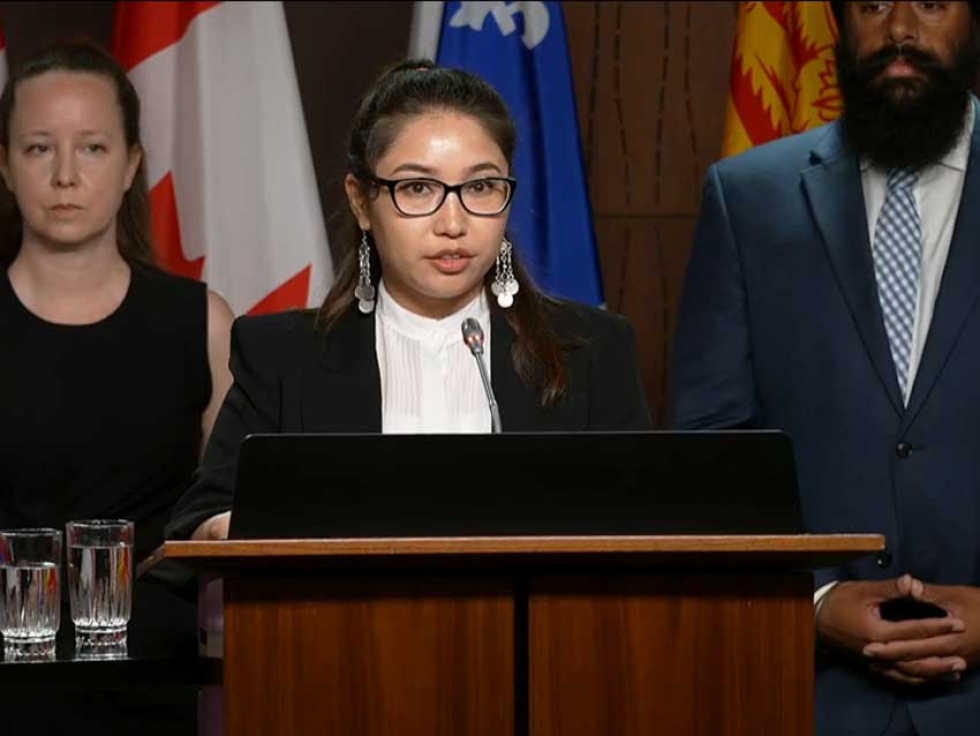 Recent Afghan refugee Rahima Paiman speaks at Press Conference on Parliament Hill on July 21, 2022.
Screenshot from Video of Press Conference
21
Jul


2022
Conservative MP and Advocates Call for Expansion of Resettlement Program for Afghans
Written by Making Headlines
On July 21, 2022, on Parliament Hill, Conservative immigration critic Jasraj Singh Hallan held a press conference discussing the federal government's special immigration program (SIM) to resettle Afghan nationals who provided critical assistance to Canadian forces during their mission in Afghanistan and those who worked at the Canadian embassy in Kabul.
He was joined by Afghan advocates, including recent Afghan refugees.
The community advocates who spoke included:
Amanda Moddejonge, a veteran of the Canadian Armed Forces, who volunteered with other veterans, including those who served in Afghanistan, over the past year to help move the most at-risk Afghan allies to a network of safe houses that were ultimately shut down because of a lack of assistance from the Canadian government.
At the press conference, she read she received on Canada Day from a note on Canada Day from an Afghan who was once responsible for feeding the Canadian troops:
"I sincerely hope the Government of Canada either faces this situation directly or just tells us to go away. Their indifference to our situation is depressing and God knows how many good men will lose their lives while Canada tries to solve their own puzzle of senseless bureaucracy," wrote the Afghan, who applied to resettle in Canada last July. I'm not hopeless and I never give up easily, but now, based on facts, it seems that I have to … stop waiting for Canada. Instead of asking the Canadian government to face the crisis with respect and honour, it would be much more beneficial and easy to face the situation with courage myself here in Afghanistan and see what the fate has in store for me and thousands more like me."
Rahima Paiman, a recent Afghan refugee who was evacuated from Afghanistan
At the press conference she stated: "Those women who did their best in Afghanistan are now in danger. Their very lives are at risk. I'm requesting you to please not stop supporting women in Afghanistan."
Saeeq Shajjan, a Harvard educated lawyer and recent Afghan refugee whose law firm in Kabul spent the past eight years working as the local legal team for the Canadian Embassy in Afghanistan. Now he is advocating for the about two dozen of his employees still stuck in Afghanistan who he feels the Canadian government is doing very little to help.
He stated during the press conference: 
"I do understand that it's not an easy process, it does require a lot of work. But at the same time, what I see and what I'm frustrated at is we did not receive any response for my colleagues."
"You're talking about people who are at risk right now just because of the services they provided to the Canadian mission in Afghanistan, and it really needs to change now."
"Literally, I'm asking anyone and begging anyone for help to make sure that I bring these people to safety. But as of now, nothing has happened. It is really disappointing."
"People are living in a society right now that there is no law. It is completely lawless. There is no rule of law. There is no system that you can rely upon. Everyday you will see people taken out by the Taliban. They simply disappear."
You can learn more about this story from CBC News interviews below:
CBC News: Within days, this Afghan lawyer went from helping refugees, to becoming one himself (October 7, 2021)
Jurist: Attorney Saeeq Shajjan – 'We Need to Raise Our Voices for Afghanistan's Embattled Lawyers' (January 27, 2022)
Canadian Bar Association: Canada needs to honour its word (February 14, 2022)
Canada committed to resettling 18,000 Afghan nationals through the program, which was announced one year ago on July 23, 2021.
Hallan and the community advocates called on the government to expand the program.
MP Jasraj Singh Hallan is also urging implementation of recommendations made by Immigration Refugees and Citizenship Canada to the House of Commons Special Committee on Afghanistan, and acceleration of the Afghan resettlement process.
You can watch the press conference below (It may take a few moments to load from YouTube)
Press Coverage
CBC News: Conservatives, advocates call on government to expand special Afghan immigration program (July 21, 2022)
CTV News: Conservatives, advocates call on Ottawa to remove bureaucratic hurdles to resettling Afghans (July 21, 2022)