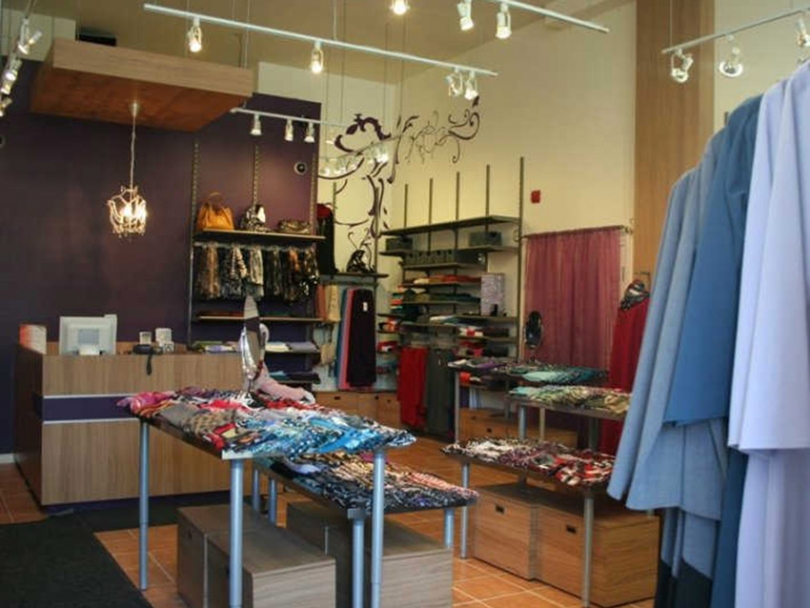 Inside N-Ti Boutique's Montreal store.
Photo Credit: N-Ti Boutique
11
May


2012
Montreal boutique N-Ti opens branch in Ontario
Written by Sadia Virk
After taking the Montreal Muslim community by storm, women's clothing store Boutique N-Ti opened its first Ontario location
in Mississauga early this month.
"We've been discussing the opening of a store for more than two years," says Fatma Nurmohamed, CEO of the Toronto branch. "We've been planning, researching, marketing and selling through our mobile store until we were finally able to find the perfect location."
Ms. Nurmohamed got involved with N-Ti in 2009, two years after it was opened by Montrealer Dikra Ait Nacere.
"I started wearing the hijab in 2002," Ms. Nacere says, explaining how the idea for N-Ti was conceived.
"I was looking for simple, practical clothes to wear, but I only found Muslim clothing that was imported from the Middle East that didn't go with my taste and culture as a Canadian Muslim. I saw the need for clothes with simple and clean cuts, made from good quality materials, that were in line with the trends and styles of our society, but at the same time were modest and Islamic. So I started N-Ti with a small collection in 2007 selling from my basement and at local Islamic events. We then moved online and opened the first store in 2008."
The company has grown since then, with a full time boutique on Decarie Boulevard operating seven days a week. Throughout the year, N-Ti conducts business in Ottawa and Toronto via its mobile stores, and also ships internationally through its online store. The line has expanded to include a variety of different items, including head scarves, abayas (long, loose over garments), skirts, pants, shirts, tunics, as well as a variety of accessories, such as hijab pins and sleeves.
In order to accommodate for the increase in production demand due to the opening of a new location, it has also recently shifted to a larger factory. As Ms. Nurmohamed points out, one of the unique factors that sets N-Ti apart from its competitors in the Islamic clothing market is that the entire design, production, manufacturing and retailing of all N-ti products is done in Canada.
"We are a Canadian company and all our products are designed and made in Canada," she says. "We are socially conscious and pay fair wages. We are constantly improving and trying to raise the bar so that we can be seen as a quality business with quality product and high standards."
Raisa Dookwah is a 25-year old Scarborough resident who has been eagerly awaiting the opening of the Mississauga branch.
"I first knew about N-Ti at the Reviving the Islamic Spirit 2009," she says. "I was so excited and eager to shop there because everything looked so elegant and stylish. There are so many things I love about N-Ti. I love how comfortable it feels and how modest it looks. I also love the bold prints and colours."
In order to stay abreast of the needs of the market, N-Ti routinely conducts focus groups, to meet Canadian Muslim women of different age groups and backgrounds and hear what type of products they are looking for. While they maintain a classic line, the cuts and colours change periodically, staying on top of the latest trends and styles.
Despite the inevitable challenges and struggles of starting and growing a new business, Ms. Ait Nacere credits her customers for making her work rewarding and worthwhile. In addition to being able to fulfill the needs of the women in the community, she says her work allows her to contribute to the Canadian economy and help generate jobs for Muslim women in the community, many who may have had difficulty finding employment elsewhere, despite their qualifications.
"When I get e-mails from customers, it makes me so happy," she says. "We are doing something for the sisters and we want them to know we are here for them. Some need help to find clothing that is Islamic and suits their lifestyle, and others need help to find a job. It feels good to be able to contribute to the society like this and also help to change the perception of Muslim women."
For Ms. Nurmohamed, the future for N-Ti includes continued expansion, to be able to meet all the needs of Canadian Muslim women.
"It is our vision to become a one stop shop for the Muslim woman," she says. "We hope to be able to carry all products from undergarments and swimwear to body and hair care. We want to become the first company that comes to mind when a Muslim woman decides she needs something to make her feel like the queen she was intended to be."  
This article was produced exclusively for Muslim Link and should not be copied without prior permission from the site. For permission, please write to info@muslimlink.ca.