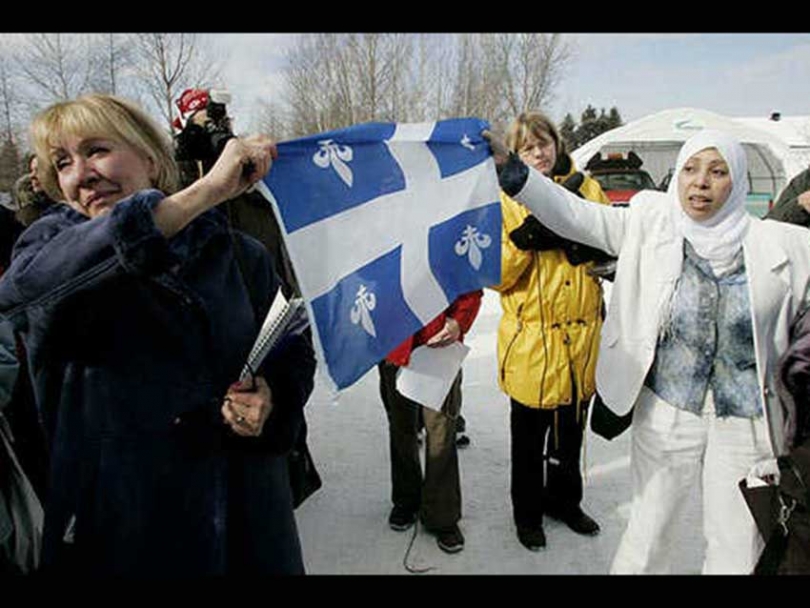 16
September


2013
Passage of anti-hijab law could see Muslims leave Quebec
Written by Sadia Virk
The fiery debate over secularism and reasonable accommodation is once again a hot topic in Quebec, as Premiere Pauline Marois' government is poised to introduce controversial legislation that will ban religious symbols in the public sphere.
As part of the proposed "Charter of Quebec Values", public employees working at government offices, schools, CEGEPs, universities, hospitals, courtrooms, police stations and daycares will be prohibited from wearing hijabs, turbans, kippas, niqabs and visible crucifixes.
The Parti Québécois government is expected to unveil the full charter in mid-September, after which the minority government must receive the support of the Quebec National Assembly to bring it into law.
For Montrealer Sonia Hussein who has been working for 11 years as a daycare teacher wearing hijab, the threat of such a proposal is enough to make her consider relocating her family elsewhere in Canada.
"Enough is enough, I am tired of my own government trying to make me feel like I am a second class citizen and that my individual rights can so easily be taken away from me," Ms. Hussein said. "Even if this new law isn't passed, just the fact that our provincial government could suggest such a discriminating policy is enough to seriously make me want to leave. I don't want my children growing up in a place where they are made to feel ashamed because of their religious beliefs and actions, or being told what they can or cannot do based on what they wear."
Her sentiments were shared by Suad Rajabi, a respiratory therapist at the Lakeshore Hospital.
"I love my job and I worked hard to study and to be qualified to work in a hospital," she explained. "I believe no one has the right to stop me from working unless it was proved that I wasn't qualified to do my job. I wouldn't consider removing my hijab to keep my position because it is part of my core values and beliefs. I would move to another province where I am free to exercise my religion. I am not an immigrant who is seeking a refuge, I am a Canadian citizen and I am part of this country."
Others such as Aya Salah, an education specialist and high school science teacher, felt the policy was diverting resources and attention away from more important issues and that it could be the beginning of a slippery slope towards the further eradication of individual rights and freedoms.
"I am irritated and exasperated, because instead of going in circles trying to fix "˜problems' that aren't actual problems, we could use it to solve real issues, like poverty for example," Ms. Salah said. "And it's not just an issue of hijab, it's the controlling principal behind it. If I were to be forced away from wearing hijab, who says my freedom to pray my five daily prayers won't be tampered with either?
Since the news of the proposed policy was first leaked, it has drawn censure and criticism from numerous organizations and civil rights experts. The Muslim Council of Montreal, B'nai Brith Canada, the World Sikh Organization of Canada and the Canadian Institute for Identities and Migration were amongst the many expressing their disapproval over the proposed ban.
Politicians also weighed in, with federal Liberal leader Justin Trudeau stating that the Liberals will always stand "against this intolerance and this division" and Thomas Mulcair, leader of the New Democratic Party of Canada called the ban "blatantly unconstitutional" and in violation of the Charter of Rights and Freedoms. Prime Minister Stephen Harper also vocalized his disapproval, vowing to protect fundamental Canadian rights from the proposed ban.
Montreal science teacher Ayesha Khan also hopes that individual religious rights will in fact be protected and would not allow a ban against hijab prevent her from enjoying her religious freedoms. 
"I believe and sincerely hope that my constitutional rights would override such a ridiculous proposition and would prevent such a charter from taking effect," she said. "If it did actually take effect, I believe that there would be serious backlash and protests from individuals and communities. I think people would be further deterred from this dilapidated province and it would be very detrimental to the image and growth, or lack thereof, of Quebec. I imagine many people would leave, as this would be the final straw for many of us, myself included. I would not at all consider removing my hijab, I would just up and leave the province. There is a limit to the nonsense one can tolerate and this may well be it."
According to Ms. Hussein, such thoughts are in the minds of many and as such, if the ban on religious symbols were to come into effect, it could have serious ramifications for Quebec.
"If the PQ government thinks they can bully people into abandoning their religion, they are wrong," she stated. "What will happen instead is that we will lose countless teachers, doctors, nurses and police officers, as many Muslim, Jewish and Sikh families will leave Quebec. Already our economy is suffering and our education and health system is in a sad state. Not only will this make matters even worse, it will also be so detrimental to social harmony and coexistence."
Ms. Rajabi echoed this fear, saying such a policy could be devastating on the society.
"Quebec society is a heterogeneous one where you can find all kind of religions and cultures," she said. "This kind of policy will only create more tensions and divisions between the citizens of this province. Pauline Marois seeks to define who is a Quebecer and who isn't and all those who don't fall in her definition, are rejected and alienated. They become the enemy. To believe in such  a definition is one thing but to force it by law is another."
For Samia Qureshi, a research coordinator at the Jewish General Hospital, such a ban would not only call on individuals to renounce their personal identities, but also prevent valuable opportunities to learn from one another and build respect and tolerance.
"By banning religious symbols from public institutions, I feel that we are forcing people to assimilate themselves into one identity and to hide their real identities," she explained. "We spend more than half of our lifetime working and with our co-workers. My religious headgear has been a means to open up about my beliefs with others and vice versa, also build a stronger relationship with my co-workers. All in all, we respect one another even if our ideologies are not the same or sometimes even if they clash. What kind of example would the government be setting by preventing people to practice their religious obligations? How is our society supposed to be welcoming towards multi-faith and multiculturalism, when our own government seems to be discouraging it?" 
Sadia Virk is a writer who lives in Montreal.
This article was produced exclusively for Muslim Link and should not be copied without prior permission from the site. For permission, please write to info@muslimlink.ca.