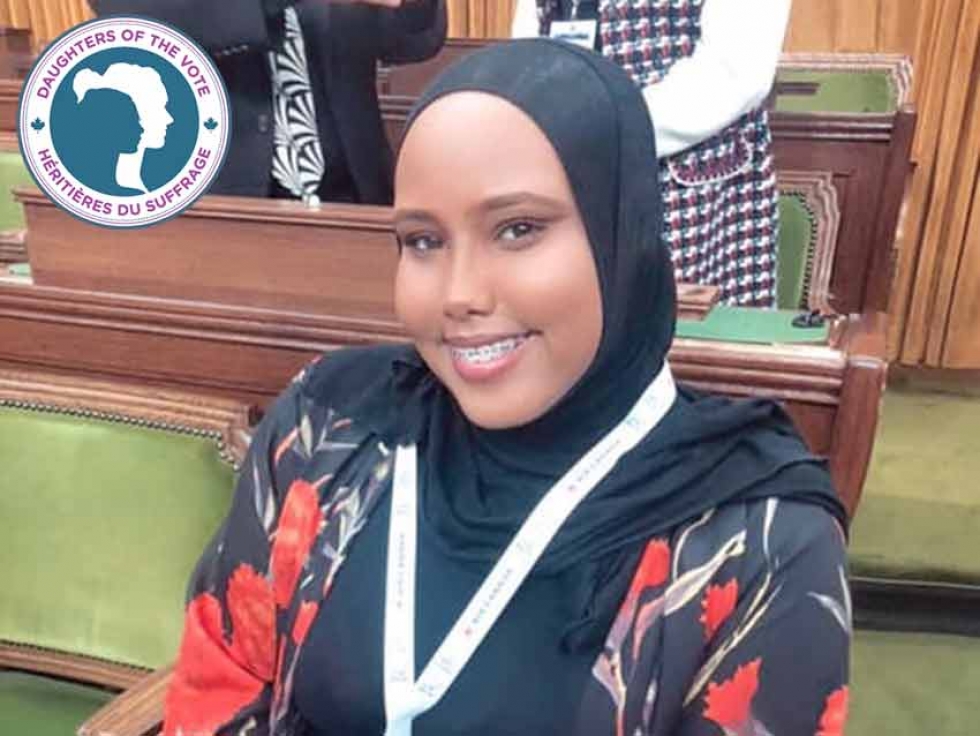 Somali Canadian Nagad Moalin represented the riding of Fort McMurray-Cold Lake, Alberta at Equal Voice's second Daughters of the Vote gathering in early April 2019
16
Aug


2019
Muslimahs on Parliament Hill: Nagad Moalin from Fort McMurray-Cold Lake, Alberta
Written by Making Headlines
Somali Canadian Nagad Moalin represented the riding of Fort McMurray-Cold Lake, Alberta at Equal Voice's second Daughters of the Vote (DoV) gathering in early April 2019, which brought together 338 young women between the ages of 18 and 23, representing each Canadian riding and take their seat in the House of Commons during a historic sitting of the House of Commons. They were addressed by every federal party leader, and engaged with an array of Ministers, critics and advocates.
Daughters of the Vote (DoV) was aimed at encouraging more young women to become involved in Canadian politics, a space where there are still challenges to gender equity.
Muslim Link had the opportunity to interview several of the young Muslim Canadian women who were selected to participate in this historic event, including Nagad.
Tell us about yourself
I'm a first generation Somali-Canadian Muslim. My parents came to Canada as refugees from their war-torn country. The obstacles they went through to get here are extraordinary. I was born in the capital of Canada. We moved to Toronto and I spent a bit of my childhood there. When I was seven years old, my biological father left us. During this time, my mom barely knew English, relied heavily on him and had six children to feed. She was in shock when it happened. She's a very resilient woman MashaAllah (Praise God). She moved us to Alberta a few months later because she was told there were job opportunities. She took ESL classes, worked two minimum-wage jobs, all while raising the six of us. At first,she did have government assistance (financial and housing), but once she established an income she no longer needed it. She ended up going to college and getting a diploma. She now owns her own small business here in Fort McMurray and I've never been so proud and inspired. Her experience and the obstacles she overcame motivates me everyday.
I've recently graduated from Keyano College and earned a degree in the Bachelor of Science in Nursing program through the University of Alberta. I'm the first, and inshaAllah certainly not the last, in my family to earn a degree. Right after graduation, I was hired at the hospital here in my city and I absolutely love working here.
I was never really interested in politics until about the end of high school, when we got more exposure to it. I realized that politics affects me whether I like it or not, so it's crucial to get involved and be more vocal.
Tell us about the riding you represented in the House of Commons. What challenges socially and economically is the riding facing? Do you feel that many in Canada know about and/or understand these challenges? How do you hope to increase awareness about the challenges your riding faces to broader Canadian society?
I had the honor and opportunity to represent the Federal Riding of Fort McMurray-Cold Lake, Alberta. I consider Fort McMurray my home. In 2016, a wildfire swept through the city and forced everyone to evacuate. It destroyed many homes, including my own. Many don't know this but, Fort McMurray is a very multicultural community of resilient individuals who celebrate diversity and overcome adversity.
I'm passionate about healthcare and its impact. I've learned that we are lacking and have limited easy access to healthcare resources in our riding. We have very little healthcare specialists and programs that cater to mental health, which we're in dire need of considering the wildfire and it's impact on so many people's lives. I feel that we shouldn't have to resort to flying out critical patients to a higher-level facility of care hours away. Fort McMurray is a city with a population of 66,000+, we should have all the resources we need right here. We need to invest more in the health and well-being of our citizens.
As young women involved in politics, what challenges, if any, do you face? Do you feel that the presence of more young women is changing politics? If so, how?
Being a visible African Muslim Woman, I'd say that, in itself, is a challenge in the political world. Politics is a very male dominated, male driven profession and this needs to change. Women are underrepresented in our government. I feel that women aren't taken as seriously in the political world, and that we are treated as inferior to men or incapable of taking on a role that holds power. Unfortunately, women in politics face more scrutiny ( take a look at Ilhan Omar) and this forces us to hold back and be extra cautious with our words, actions, and presentation. Inclusion of women in the political atmosphere is a social, economic, and political benefit. It is important for democracy and gender equality. I mean we were taught in school that the democratic process requires the participation of all its citizens. If we ignore this, we are failing to promote democracy, and instead, we are cultivating an unfair and unequal system.
The presence of young women is changing politics on a global scale. Is it making many uncomfortable? Of course. But guess what? we shouldn't care too much about how people feel or think of us because we are the future...plain and simple. How we act from here on out impacts us long-term, as well as future generations.
Programs such as Daughters of the Vote is so important and needs to be protected. It is empowering and aiding young women in being more involved politically. It's teaching us to overcome the barriers and challenges women face and nourishes our ambition for change. Programs like these are exceedingly lacking but they help to give hope to future female leaders.
By attending Daughters of the Vote (DoV) you had an opportunity to meet young women from across Canada. Did any of the realities they shared challenge you to unlearn some assumptions about your fellow Canadians or seek out knowledge about issues you had otherwise not known about your fellow Canadians?
I had the opportunity to meet and listen to the stories of young Indigenous women from all around Canada. I learned about some of the barriers and challenges Indigenous women endure, and that there is an absence of government action in regard to this. I learned that the history of colonialism has fostered intergenerational trauma and now many Indigenous communities are vulnerable to increasing rates of suicide, poverty, and substance abuse. There is a limited access to resources, and this inhibits and disempowers the Indigenous population from thriving mentally, socially, politically, and economically.
What is the key lesson from your experience at DoV that you will be taking back into your work in your riding?
To always celebrate differences and always stay true to who you are and what you believe in. I've learned that we may not necessarily support or agree with others beliefs/opinions on issues, but regardless everyone is deserving of respect. So be kind and respect others. Also, speak up and be vocal about issues that affect you, because if you don't, change will not happen.
This article was produced exclusively for Muslim Link and should not be copied without prior permission from the site. For permission, please write to info@muslimlink.ca.