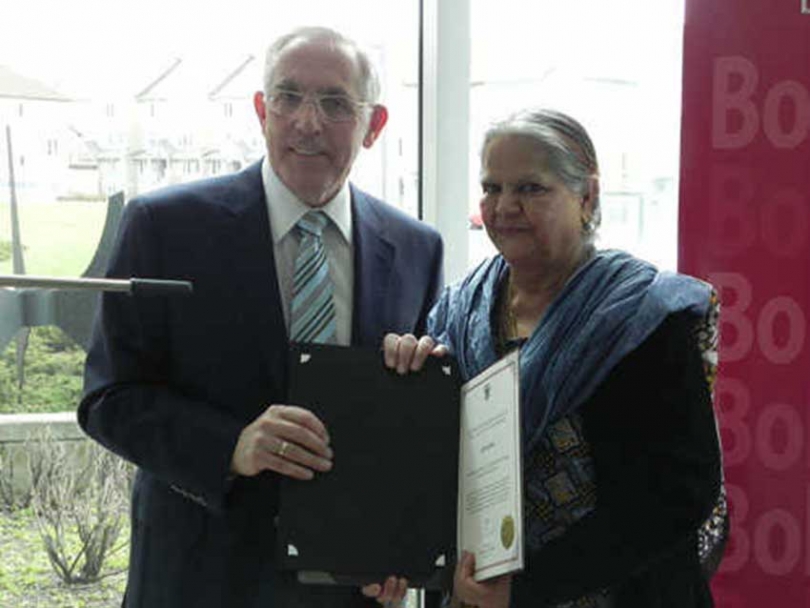 Safia Rasheed accepts her Leading Women, Leading Girls Building Communities from Ottawa West "" Nepean MPP Bob Chiarelli.
Photo Credit: Safia Rasheed
11
May


2012
Looking around the Atrium at Ben Franklin Place on Apr. 10, Mashooda Lubna Syed was moved at seeing so many young women being honoured for showing leadership in their communities.
"It is wonderful to be able to connect with such amazing young women and to hear their inspiring stories! It really does encourage one to push forward and take out that extra bit of time to do a community service," she said.
But she and Safia Rasheed, who were also honoured with Leading Women, Leading Girls Building Communities awards, are hardly lightweights when it comes to community mobilizing. Living on either ends of the city, Mrs. Syed and Mrs. Rasheed are closely linked to several high-profile initiatives around Ottawa.
Mrs. Syed spearheaded the highly successful Orleans Multicultural Festival which attracted close to 700 people. She's also the president of the Canada-Pakistan Association and gives her time to several other community organizations such as the Masjid Bilal Women's Committee, Developments in Literacy, and the Ashbury Guild, a parent volunteer organization. Mrs. Syed is an active member of the Multifaith Housing Initiative. She does publicity for the organisation and co-hosts the annual Tulipathon.
Mrs. Syed and Mrs. Rasheed were delighted to receive their awards.
"I think it is wonderful that women and girls are acknowledged and celebrated for their dedication to making positive differences for the community," said Mrs. Syed.
"I feel humbled and honoured at the same time to receive this award," Mrs. Rasheed said. "I thank Allah that He has given me the courage and strength to do community work and pray that I continue to do that as long as I am healthy and able to do so."
A "dedicated volunteer who selflessly gives to benefit the community at large" is how Dr. Emdad Khan, President of the South Nepean Muslim Community described Safia Rasheed in his letter to Ottawa West "" Nepean MPP Bob Chiarelli nominating her for the award.
Mrs. Rasheed who was recognised for her contributions to the SNMC, organises the annual SNMC Food festival and garage sale (for which she previously received a Volunteer Appreciation Award from the SNMC). She also volunteers with the Ottawa Community Immigration Services Organization where she assists the elderly with translation (for which she also received a certificate of appreciation), and gives companionship to the occupants of the Barrhaven retirement home
Mr. Chiarelli and the Ontario Minister of Transport presented the awards, giving Mrs. Rasheed the opportunity to talk to the both of them about her ideas for OC Transpo seniors' programme. It is because of Mrs. Rasheed's efforts that seniors can ride OC Transpo buses for free every Wednesday from 12 p.m.
Mrs. Rasheed says she plans to continue lobbying for OC Transpo to offer free all-day rides for seniors every Monday and Friday.
"I feel that more Muslim girls and women come forward to volunteer their time, especially with elderly people in the nursing homes and hospitals -- because they have language problems -- and also (volunteer) with mainstream organizations. Islam tells us to live by our deeds not just by talking and preaching."
She feels the recognition held by the award is not as important to her personally as it is to the community. "It is very important for Muslims in general and Muslim girls and women to be very visible in all aspect of Canadian life and be recognized by the mainstream society and the provincial government," she says.
"Most of the time Muslims have negative publicity and such recognitions will help improve the image of Muslims. Muslims should be very visible in Canadian society where we live by choice and help build this country."
Mrs. Syed agrees. She believes that being awarded in this way should also provide enough incentive for other Muslims to participate actively in their community and make a difference.
Summing up the intention behind her community service, Mrs. Syed said, "Although it is wonderful to receive an award in appreciation for all you do, it is not the recognition or the desire of the award that is important, rather it is your commitment to your community that stands out at the end of the day."
As the Prophet Muhammad, may peace be upon him, said, "The best of people are those that bring benefit to the rest of mankind." (Daraqutni, Hasan)
To nominate an outstanding woman or girl that you know for the Leading Women/Leading Girls Building Communities' Award, contact your local MPP  .
This article was produced exclusively for Muslim Link and should not be copied without prior permission from the site. For permission, please write to info@muslimlink.ca.