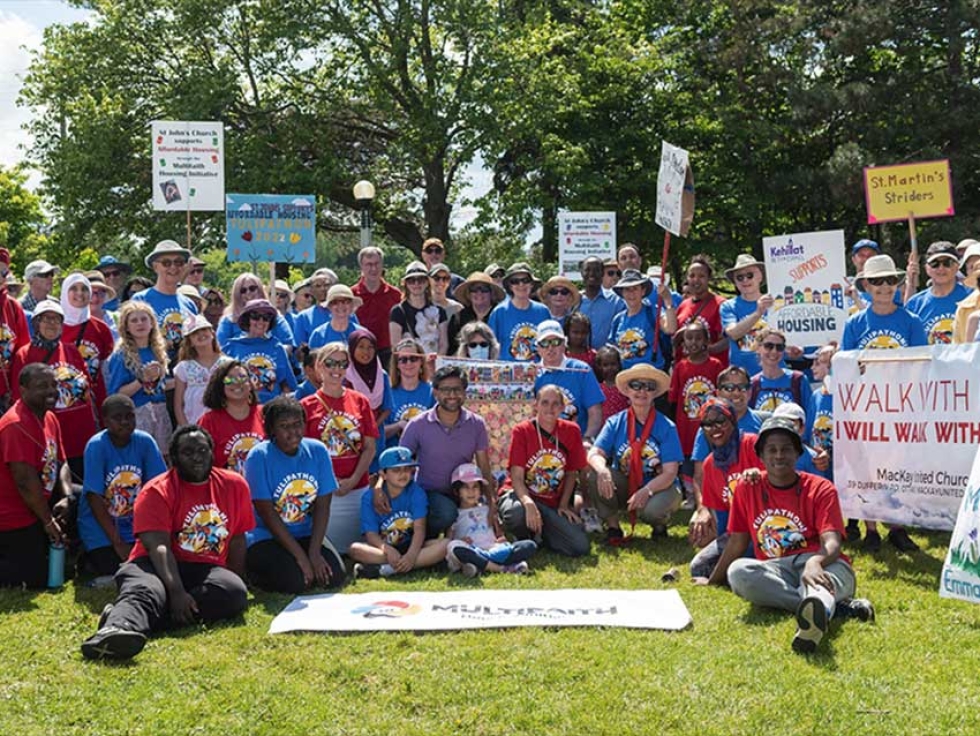 Participants of the 2022 Tulipathon
Multifaith Housing Initiative
21
May


2023
The Multifaith Housing Initiative of Ottawa (MHI) was established as a Canadian nonprofit charitable organization in 2002, which has grown into a coalition of over 70 faith communities including Christians, Jews, Muslims, Hindu, Unitarians, Baha'i and other faiths from across the city of Ottawa. These members are dedicated to achieving MHI's goal to create more affordable housing in Ottawa while promoting tolerance and respect among residents of all faiths.
Currently, MHI owns a total of 179 units, housing between 300 and 400 people, at five different property sites: Blake House, The Haven, Kent House, Somerset Gardens, and Veterans' House: the Andy Carswell Building. We believe that people are better able to move forward with their lives if they are first housed. We have seen individuals and families thrive, and with your help, we want to ensure that they continue to do so.
Every year, MHI hosts Tulipathon, a walkathon fundraiser at Dow's Lake. MHI's 70+ faith group members are invited to walk among the tulips and raise money for the tenants who live at MHI.
As always, 100% of net proceeds go to the MHI subsidies program. MHI provides more than $400,000 in subsidies to our tenants every year.
The "Tulipathon" Charity Walk was initiated by the late Dr. Farook Tareen, with support from the Ottawa Muslim Association. The first walkathon fundraiser was held on May 27, 2000, and became an annual event where the proceeds were donated to different Ottawa charities. MHI became the recipient of the walkathon and started a long standing relationship with the Tareen Family. Dr. Tareen even served on MHI's Board of Directors!
After becoming a supporter and part of the MHI family, Dr. Farook Tareen gifted the walkathon to MHI where it became an annual fundraiser for the MHI housing subsides program.
Some of the Ottawa Muslim organizations that have teams in this year's Tulipathon are listed below, along with their Team Fundraising Page which you can donate to:
Ottawa Muslim Women's Organization (OMWO): OMWO Fundraising Page
Ottawa Muslim Association (OMA): OMA Fundraising Page
South Nepean Muslim Community (SNMC): SNMC Fundraising Page
Jamiatul Muslemeen of Ottawa-Carleton​​ (Jami Omar): Jami Omar Fundraising Page
Kanata Muslim Association​ (KMA): KMA Fundraising Page
Human Concern International​ (HCI): HCI Fundraising Page
Ismaili Community of Ottawa: ICO Fundraising Page
To learn more about participating in this year's Tulipathon Walkathon on May 28 in Ottawa, click here
While the walk will take place on Sunday, May 28, 2023, the fundraising campaign isn't over then. Fundraising continues until June 30th.
If you can't make the walk, please consider donating to the Multifaith Housing Initiative online here