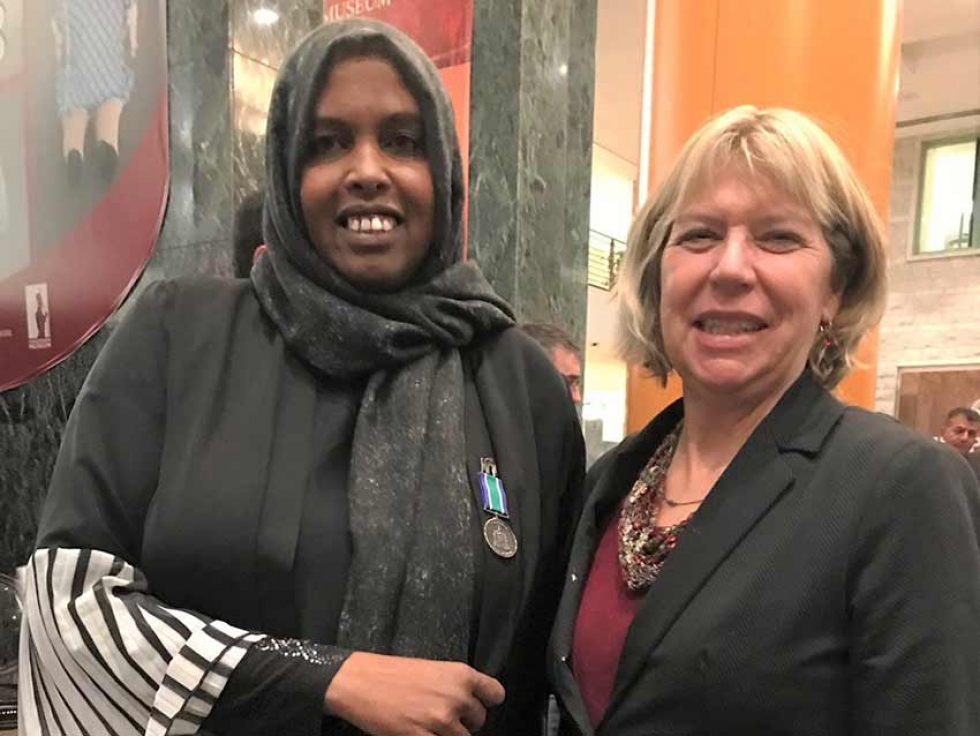 Hindia Mohamoud is with Theresa Kavanagh, City Councillor Bay Ward at the Order of Ottawa ceremony on November 22, 2019.
Theresa Kavanagh Twitter
14
December


2019
Hindia Mohamoud Inducted into Order of Ottawa by Mayor Jim Watson
Written by City of Ottawa
Mayor Jim Watson inducted Ms. Hindia Mohamoud into the Order of Ottawa at a ceremony at Ottawa City Hall on November 22, 2019.
The Order of Ottawa recognizes exceptional residents who have made a significant contribution in a professional capacity in many areas of city life, including arts and culture, business, community service, education, public service, labour, communications and media, science, medicine, sports and entertainment, or other fields that benefit the residents of Ottawa.
This prestigious civic award was established in 2012 by Mayor Watson and City Council. Recipients are chosen by a selection committee comprised of the Mayor, City Clerk and Solicitor, Chief of Police, Chief of Protocol, City Archivist and Chief Executive Officer of the Ottawa Public Library.
Ms. Hindia Mohamoud has nearly 20 years of experience in building community solutions through research, partnership development and program design. Ms. Mohamoud has dedicated herself to addressing social inequities. Since 2009 she has served as Director of the Ottawa Local Immigration Partnership. She is responsible for facilitating the establishment and implementation of a community-wide vision and strategy for improving the settlement and integration of immigrants in Ottawa.
Ms. Mohamoud came to Canada as a refugee 24 years ago and is passionate about ensuring Ottawa is welcoming to newcomers. Her work enables her organization's partners to create community solutions, like the Ottawa Newcomer Health Centre, led by the Somerset West Community Health Centre and the Catholic Centre for Immigrants. Ms. Mohamoud's efforts can also be seen in the work of the Ottawa Board of Trade on immigrant talent, in the Equity in Education initiative led by Pinecrest Queensway Community Health Centre, in the Equity Ottawa Partnership and in the Welcoming Ottawa Week – a platform to convey Ottawa's respect and welcome to newcomers. Prior to her work at the Ottawa Local Immigration Partnership, Ms. Mohamoud worked at Ottawa's Social Planning Council and at the United Way. She has volunteered for multiple local causes, ranging from her local food bank to women's organizations.
For more information regarding the Order of Ottawa, please visit the Awards and Recognition page on ottawa.ca.
Ms. Mohamoud was interviewed about her work with the Ottawa Local Immigration Partnership (OLIP) in 2014. (It may take a few moments for the video to load from YouTube).