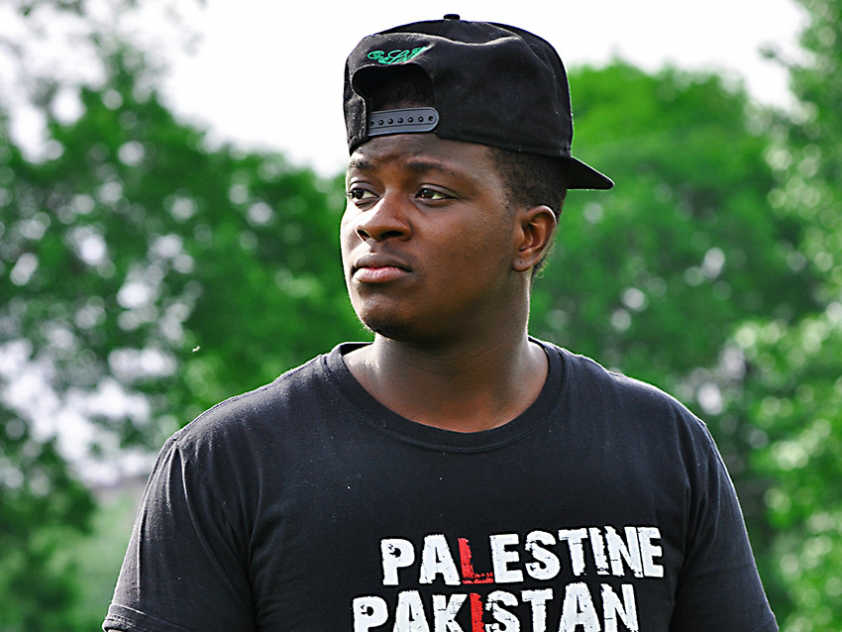 Joshua Asare reflects on his journey as a convert to Islam.
Courtesy of Joshua Asare
25
Jul


2014
Local Hip Hop Artist & Convert Jae Deen Shares His Story
Written by Sakina bint Erik
In this installment of the Journey to the Light, we hear the brothers' side of the Ottawa convert story. A local entertainer, Joshua Asare, aka Jae Deen, agreed to speak to Muslim Link's Sakina bint Erik about his journey.
What is your full name, and how old are you?
Joshua "Jae Deen" Asare. I'm nineteen. I accepted Islam when I was fifteen.
What did you think about Islam or Muslims before accepting Islam?
I had a bunch of Somali friends in school. I saw them abstaining from pork, fasting and praying, but I knew it as a culture and not as a religion. I didn't know that Islam was so large, until I extended research into it.
What things caused you to be interested in becoming Muslim?
Believe it or not, it's kind of a romantic story. I had previous relationship with a Muslim sister, and I really liked her, and found out she was Muslim. She told me, 'If you want to marry me you have to become a Muslim.' So then I researched the religion, and accepted it even without the incentive of having a girl that I liked. It was also through music as well. There's this rapper I like named Lupe Fiasco who is a Muslim, who made a song called 'Muhammad Walks' (a remix of Jesus walks). Especially these lyrics:
"G's up along with Muhammad and Jesus
In the Quran they call him Isa
Don't think Osama and Saddam are our leada
We pray for peace, but the drama intrigues us
All, so we fall for the illusions of the beast
So instead of tryin to teach we show our teeth.."
We all have issues with our family members when we accept Islam. What was your family's reaction?
My dad was not accepting at first; he didn't want to hear about it. He took notice that I stopped hanging around the bad people and stopped doing the bad things that I used to do. The day I finally told him, he was happy and realized the change that I went though. In this I find that imitating the Prophet is the best dawah (invitation to learn about Islam).
There's a lot to learn when someone accepts Islam. How has your experience been in learning Salah (prayer), and dua'as?
I've got that little dua'a book, which I read all the time. To learn how to pray, I watched a video on YouTube, and prayed in the wrong direction for prayer to practice, so I could watch the screen. This way I learned how to pray in two weeks, full du'aa Alhamdulillah (Thanks to God).  In school I was reading the Qur'an and my friends and teachers were laughing at me. No 15-year-old kid in school wants to study the religion, but I did.
What do you think the Ottawa Muslim community could do to offer more support for Muslim male converts?
For brothers, I think they need to be more generous. Every Ramadan, every day, there used to be iftar (breaking of the fast) parties, and I felt like I was at home at the mosque.  I met all those people then and got the support, but they don't have those anymore.
Ramadan is a lonely time for convert brothers. I'm blessed Ahamdulillah this is second year in a row I won't be in Ottawa for Eid, but in Waterloo and Kitchener for the Eid festival. Aside from that, I have a few convert friends and we'd have breakfast on Eid morning. The brothers really need to step up to the game. I am very disappointed with how the brothers behave towards the community. We also need to start speaking out about world issues together.
You are part of the team 'Deen Squad'. How do you see your career unfolding as a performer of Islamic songs and raps while in Ottawa?
The support is genuine. Whenever we perform, whether it's in southern Ontario, or in Toronto, there's such a link between us and the Muslim youth. I've never had this feeling before with my music. No one's ever come up to me and said, 'That was really good.'  
I'm trying to be more revolutionary with my music to speak out. Every time we perform, it's always the sisters that support us. We do this because we care about the youth.
How else would you like to get involved in the Ottawa Muslim community?
I have a lot of ideas in my head, like running a fitness program. We need a culture, something that the kids will remember about Ottawa and their lives as young Muslims here. In contrast to how I think things should be, last night I was at the mosque. They're being very strict about who is to come to the mosque. A seventeen-year-old came with his blanket, Qur'an, ready to make itikaaf (spiritual retreat at the mosque). The brothers refused to let him stay, and told him to go home. We're trying to be the ones to bring them back.
You can find out more about Jae Deen through his Facebook Page, 'Jae Deen', or through Deen Squad's Website.
This article was produced exclusively for Muslim Link and should not be copied without prior permission from the site. For permission, please write to info@muslimlink.ca.