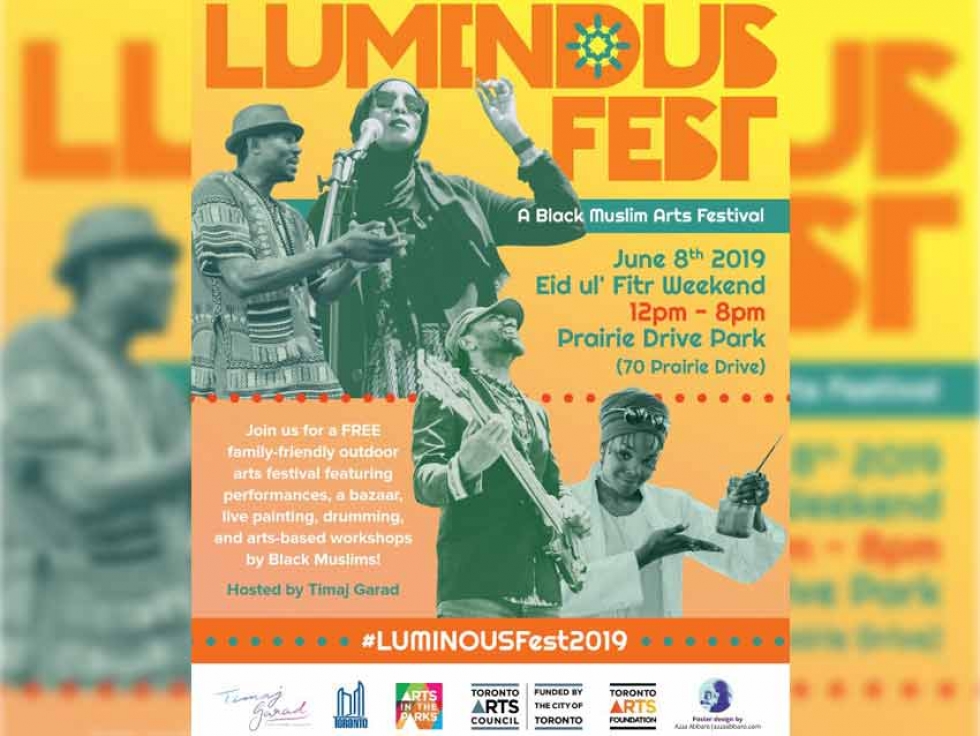 06
Jun


2019
Check Out LUMINOUS: A Black Muslim Arts Festival This Saturday
Written by Chelby Daigle
How did you come up with the idea for a Black Muslim Arts Festival?
Through my lived experience as a Black Muslim and within my capacity as an Artist and Arts Educator working with Black Muslims, I've continually witnessed attempts to relegate Black Muslims through silencing and tokenizing us in communities that claim to be our safe havens. This happens in Muslim (predominately) non-black spaces as well as Black (pre-dominately) non-Muslim spaces, and of course, everywhere else.
In response, there is a lot of talk within our community, and rightfully so, of "taking up space" - entering a space that wrongfully excludes us by it's design and asserting our right to exist and thrive within it, so basically, the tedious work of existing as Black and Muslim in virtually every space we regularly find ourselves in. I wanted to adjust spaces in ways that didn't necessitate the taxing need to always push through them.
That's when I decided to create a space that we didn't feel like we needed to "take up" because we could just be in the space as we are, no explanations or straining to belong necessary. There's so much power and peace in just being able to come as you are - I wanted to give that back to my community because we deserve it. We deserve to be celebrated in all our beauty and luminosity.
Are you working with any city or Muslim community partners? If so, how did these partnerships develop?
LUMINOUS Fest is partnered with Arts in the Parks Toronto and we are the first festival in their summer programming - a partnership was formed through our funders, the Toronto Arts Council (TAC), and the Toronto Arts Foundation (TAF). We are also being support by the Inspirit Foundation. We've formed many community partnerships with organizations doing parallel work as well including with the Black Muslim Initiative - a grassroots organization dedicated to advocacy, education, and resource development towards tackling anti-blackness and islamophobia at the intersections of Black Muslimness, and Ahay Toronto, a new Black Muslim event series. Our other partnerships include, Shawtsi - a local walking group from the Prairie Drive Park (this year's park) area, Park People. This year, in an effort to make our event more environmentally sustainable, we've teamed up with the Green Team, a team of dedicated environmentalists that work with events to reduce waste and develop sustainable solutions to manage waste. We will be advertised on the CBC radio show "Big City, Small World" so look out for that as well, inshaAllah.

What artists can people look forward to seeing at the festival?

Our line-up for this festival is truly majestic. We'll have Toronto-based artists across art forms including the unique sounds of Waleed Kush African Jazz Ensemble, incredible hip-hop nasheed duo Mustaqeem, wonderful nasheed artist Ibrahim Caba, dynamic singer-songwriter and a steelpan ensemble, Spoken Word artists like the powerful Shadiya Aidid, and 5th place world poetry champion, Ifrah Hussein, as well as award-winning poet & afrofuturist artist Ian Keteku.
We're also proud to host Faduma Mohamed who will perform a mixture of poetry and theatre. We also will host rising-star trailblazing comedian Hoodo Hersi. We'll have a few surprise performers as well! In addition to performances, we have arts-based workshops including a painting workshop by the multi-talented Aasiiyah, and a spoken word poetry workshop by awe-inspiring and renowned poet, Key Ballah.

What Black-owned businesses can people look forward to seeing at the bazaar?

We are excited to host a myriad of Black Muslim businesses and organizations through our 15 vendors. Rose's Halal Kitchen - a Jamaican Halal restaurant will be selling food for our festival. We also have vendors promoting and selling services and products including but not limited to jewelry, artwork, accessories, henna, cosmetics, magazines, graphic T-shirts, beauty products, and home decor. Some of these businesses include, Ayan Art, Botxn Beauty, Zaintheartist, Alice's Creations, Goodness from Mali, Ayan.Art henna, Tranquil Treasures, Botxn Beauty, Desegregated.to, design's by Aasiiyah, Zuhoor Designs, Organic Beaute, and more! This year we are also sponsored by In-T First for an amazing self-care Eid box raffle giveaway!
Why is the festival a great space for interfaith and intercommunity dialogue and exchange?

The many communities we belong to - the ones that often hurt and alienate us - need to work on repairing the fractured relationship they have with Black Muslims by first listening to our stories and knowing us. What better way to do this than through the vibrant expressions of our artistic contributions?
The stories we tell are vital insights into the challenges we face and our needs. As we work towards inclusion, it's important to seriously reflection on these stories, for their impact to not only be a fleeting moment of awe but a call to action. I hope attendees who hope to build genuine allyship with Black Muslims will not just passively consume, rather make the intention to actively engage to challenging anti-blackness in their own communities.
Is there anything else you would like to add?

LUMINOUS Fest is happening Eid weekend, June 8th at Prairie Drive Park, right beside Victoria Park Subway Station.
Please check the event page and follow us on Instagram @luminous_fest for regular updates
This article was produced exclusively for Muslim Link and should not be copied without prior permission from the site. For permission, please write to info@muslimlink.ca.