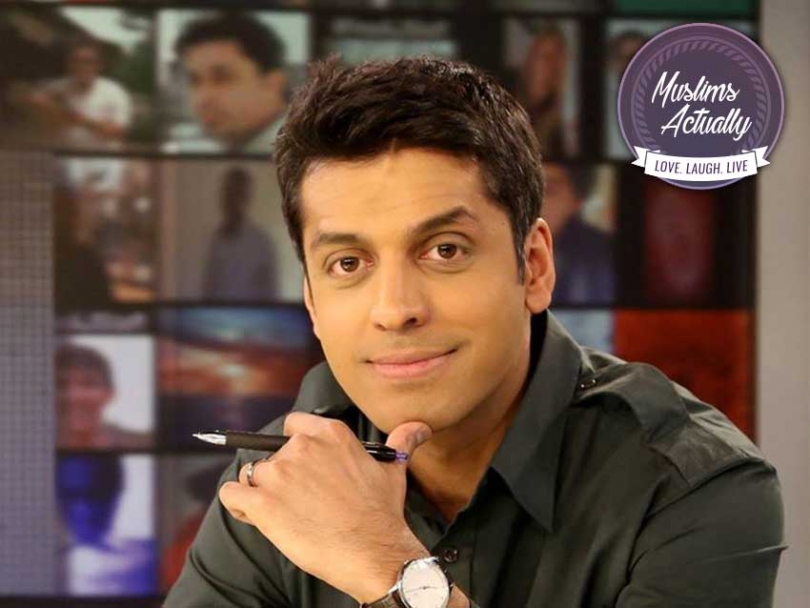 Interview with Muslim American playwright Wahajat Ali
Courtesy of Wahajat Ali
01
Jan


2017
Wajahat Ali is the writer ofThe Domestic Crusaders, a two-act play that is being hailed as "one of the first major Muslim American plays." We asked him what brought him to his current job at Al Jazeera's The Stream, his ups and downs along the way, and what inspired him to become a playwright.
Can you tell us how your career path led you to your current position at Al Jazeera America?
It has been a long, uphill, non-linear, unexpected chaotic journey to this point. Chaos, by the way, is not always negative but it is always memorable. Specifically, my wife led me to this current position. Or, rather, I followed my wife to DC from the Bay Area and this job opened up. Lesson? Happy Wife, Happy Life. Do what your wife tells you.
I didn't know what I wanted to be when I was growing up. I'm serious. I'm just very curious and restless. I guess you can say I'm dilettante. I'm willing to try new things and want to taste as much as possible before the sand runs down the hour glass. I mention this because I first appeared on Al Jazeera's The Stream back in 2011 as one of their first guests. I was promoting my play The Domestic Crusaders and the investigative report I did with the Center for American Progress titledFear Inc: The Roots of the Islamophobia Network in America. I made a good impression and I did a few more guest spots with the channel.
Around March 2013, I decided to join my wife in Virginia. I moved from the Bay area with about $600 in my pocket and shipped my '97 Camry via two Ukrainian dudes who rode it cross-country. I had no solid leads or job prospects and decided I'd start from scratch and take whatever job presented itself. The first month I was "Mr Ikea" and built the furniture for our new apartment. I also did the laundry and house chores just to feel useful. On a whim, I emailed an Al Jazeera America producer, Hebah Abdallah, who had invited me on the show years before.
I wrote that I am curious to know if there were any openings. She said to check out the website and let her know if anything was appealing.
A few days later she emailed me on her own and said executive producer of The Stream, Jen Salan, wanted to meet me. We all met for 20 minutes at Carribou Coffee where we had the worst chai on Earth. They were asking me general questions. It was a pleasant interaction. The next day Jen Salan said to meet her again at the Starbucks across the street from the Al Jazeera's Washington, DC office. She said straight up they had always wanted me to be the co-host of the new version of the show, but assumed I wouldn't be interested or that I'd never move since I was a Bay Area guy.
They were shocked at the timing. She invited me to audition. I did so without having any experience co-hosting a live TV show. I was terrible but they vouched for me. I went to NYC for a final meeting with the bigwigs. Paul Eedle, who was with Al Jazeera at the time, told me my audition wasn't impressive but for some reason the team really liked me. He made me promise I wouldn't suck and I'd work very hard (he actually made me promise this and shake his hand on it). I did and one month later I was on TV wearing makeup.
Have you ever done field work reporting yourself?
They have begun using me a bit more for field work and packages. However, I'm a co-host and digital producer of a social media-driven talk show. We recently did week-long training on how to create video packages. I'm learning television journalism on the spot. They threw me in the deep end and said, "Oh, yeah, you don't know how to swim. You'll figure it out. Inshallah. Maybe. Don't suck." This summarizes pretty much every job I've ever done in my life.
As a racialized man and a journalist, how do you ensure that news stories regarding race and discrimination are reported in a fair manner?
Good question. I am both a Muslim and a brown son of Pakistani-American immigrants. In privileged circles of "power"–however you want to define that word–I have often been the only colour in the room. It's me and, like, the plant. Or the nice rug. That's it. I am always aware–and made aware–of my "racialized" presence, as you termed it, and the fact that I'm often the only Muslim.
Thankfully, my team at The Stream is one of the most diverse in America. Seriously. We are the envy of other teams. We have a female-led management. We have a very rich ethnic and religious mix in our crew and we also have international flavour. It's like the United Nations buffet of excellence. This allows for more globalized and diverse perspectives to shape the conversation, the framing of the show, the booking of guests and so forth.
Our team is very aware of the often monochromatic nature of television, where white talking heads and experts dominate and suffocate the conversation. We try to democratize the playing field by bringing voices from different classes, ethnicities and perspectives to give a more accurate representation of the American panorama. My position allows me the privilege to–at the very least–attempt to bring out stories in a fair and diverse manner.
Regarding fairness when it comes to differing viewpoints, we are not a Right/Left or Republican/Democrat show. We give space to differing views on our show. We take pride in knowing they will get time to have their say, and we won't badger or harass a guest based on their ideological viewpoint.
Can you tell us about the play you wrote? What inspired you?
My English teacher at UC Berkeley, Ishmael Reed, told me I had to write 20 pages of a play or else I'd fail his short story class. Please note it was a short story class – not a playwright class. It was September 2001, and I was a senior graduating from college. He told me I had a natural ear for dialogue and characters and I'd be wasting my time writing short stories in his class. He took me "out" of the class and gave me a special assignment.
As an African American he knew the hate American Muslims would endure in the aftermath of 9/11. He told me that storytelling, arts and culture are often the best ways to "fight back," because you can change perceptions by becoming protagonists of your own narratives and telling your own story instead of having stereotypes told to you. He wanted to hear a Muslim Pakistani American story. He said he had never heard one before and I should write one.
I thought he was nuts and begged off. But he told me he'd fail me so I was stuck. I used Eidi money to buy two plays from Borders (which is extinct and now belongs in the Smithsonian next to Pagers and Kodak film). I read them and returned them within two weeks to get my store credit, which I promptly used to buy and read two more plays. I did this for a month to "learn" how to write a play.
The play became The Domestic Crusaders, a two-act family drama about three generations of Muslim Pakistani Americans, six characters who reconvene in the family house to celebrate the 21st birthday of the youngest child.
I started the play on my 21st birthday and I finished it as a present to myself for my 23rd birthday. My teacher, Ishmael Reed, became the play's producer and his wife, Carla Blank, became the director. What started as a school assignment has evolved to become the first published play by McSweeney's which has premiered in Berkeley, NYC, Washington, DC and London, Ontario.
I received an email that the play is being taught at the University of Minnesota. Folks have used it to get their PhDs and actors use monologues to land acting gigs. Crazy.
How does it feel to know that someday you could be watching your play as a Hollywood movie?
I don't know if my play will ever become a movie, but I am working on two scripts that could maybe end up on the TV screen. Listen, the statistics are against me. It's so unbelievably difficult to finance and produce a feature film. Just draining, exhausting work and sometimes it's just the luck of the draw. But I'm grateful to be placed in a position where the percentage might have kicked up from five to 12.
I lack delusions of grandeur but I am very aware of how lucky I am to be given these opportunities. I never take them for granted, not for a second. It has been a long, sometimes lonely, uphill and chaotic journey but always fulfilling and memorable. I also know that many creative, talented people with tremendous hardships will probably never get this far due to their unique challenges and circumstances. Again, it's why I never take things for granted.
If I could be watching my play as a movie I hope they cast me as Brad Pitt… or George Clooney… or Ryan Gosling. Those actors are still seen as cool, handsome, relevant and with six pack abs, right? I kid, I kid. It would be fulfilling only if they do it justice and actually honour the words and characters, otherwise what's the point? I'm not interested in doing a movie just for the sake of doing a movie, ditto television. The hope is that it's meaningful, authentic and entertaining. And that it subsidizes my life and gets me lots money and free cheese platters.
You recently became a father for the first time, are you an actively involved parent?By which we mean do you change diapers?
I am happy to report that I not only change diapers, but I also apply butt paste! And I burp the baby after my wife feeds him. I lack the tools to do the latter. I have yet to be struck down by #1 or #2 but my wife has been assaulted by the urine stream. May Allah have mercy on her clothes. I try to be an engaged, active father. Our Ibrahim is three months old. Right now, I am meaningless to him because he likes the parent with the boobs. But I hope to remain engaged, involved and present. Maybe one day he'll become a baller and subsidize my biryani.
How do you balance a hectic work and family life?
I don't. Okay, that's not true. I try. I am trying. I've become much better. In my 20s, I was running ragged, burning myself out, and living an utterly unsustainable lifestyle. Marriage and fatherhood have forced me to slow down. I am now an old, fat, lame, hairy, greying stereotype. My wife says I'm hibernating and the rest is necessary. My friends who are experienced fathers and even grandfathers say this investment in family is important because it pays off in the long run. It leads to a more fulfilling marriage, relationship with your child and, dare I say, happiness. So, I'm trying to be more present and aware when I'm home. This means a reduction in social media and other distractions. I haven't succeeded yet, but I'm trying.
What advice would you give to anyone who is searching for their life purpose? Or looking to pursue their dreams?
Make a long-term investment in yourself and, more importantly, your happiness. If you are privileged and lucky enough to have a choice about what you want to do or become in this world, then first and foremost you must pause and acknowledge the privilege. Very few people in the world are afforded this opportunity.
Too often I see people voluntarily sabotage their happiness for other people's definition of success and happiness. I would say try your best to mentally free yourself of this and create your own checklist of success. Also, embrace your failures along the way as necessary steps towards your ultimate goal — even if it hasn't been realized. This doesn't mean you have to be an uncompromising absolutist. We all have our unique struggles and challenges. Suppose you want to be a writer, but you have to take care of your family and must work a non-creative job because it pays the bills. Be an opportunist. Do it. But re-calibrate so you write maybe once a week. Or 15 minutes a day.
The key is showing up. If you don't do that, you've already failed. Talent is never enough. It has to be honed into a skill through hard work and time. Those are two factors people don't want to invest: hard work and time. There's no magic potion or bullet. I wish it existed.
Also, cultivate a fellowship. Homies and allies who support you out of sincerity and criticize you, not to belittle you but because they want you to be the best version of yourself. I have found this to be critical in my career.
I'd also recommend always being the best, most authentic version of yourself. You can't control life or others, but if you invest in being the best version of yourself, I have found the universe reciprocates in remarkable and unexpected ways, both professionally and personally.
Finally, be curious. Keep trying new things. Keep challenging your comfort zone and boundaries. Along the way, usually, people somehow end up finding purpose. Sometimes they even discover God and themselves.
This article was produced exclusively for Muslim Link and should not be copied without prior permission from the site. For permission, please write to info@muslimlink.ca.