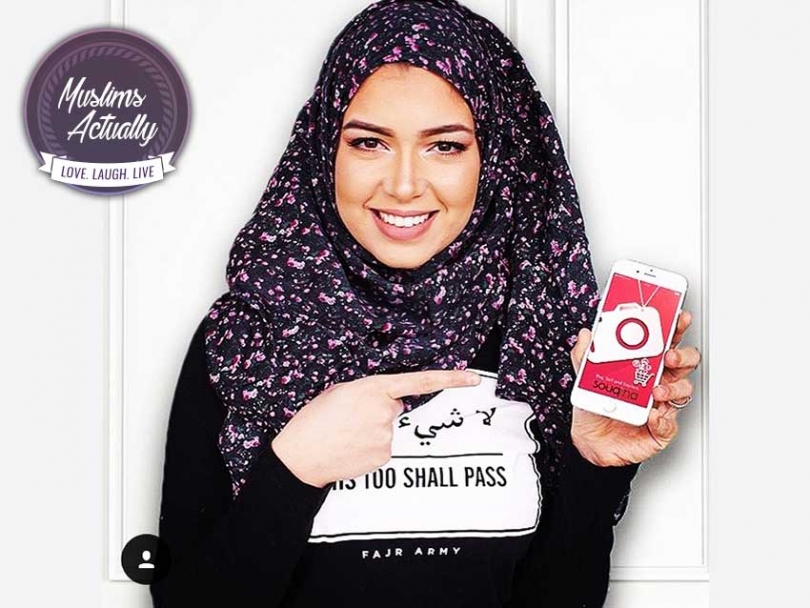 Interview with Nour Kaiss Soliman, one of Canada's top hijab bloggers
05
Jan


2017
Nour Kaiss- Hijabi Blogger & Founder of Tech Startup Souqina
Written by Muslims Actually
Nour Kaiss Soliman is one of Canada's top hijab bloggers in the digital space. Currently, she is the CEO of two companies, one of which is a new mobile app company called Souqina, set to launch this May 2016. In the past, Nour has worked as a brand representative, community speaker and entrepreneur. She graduated with a Bachelor's degree after double majoring in Religion and Middle Eastern Civilization and minoring in History and Politics from the University of Toronto, and got into her creative pursuits pretty soon after graduation. She has amazing fans from all over the world and she also owns her own hijab company, ELLE-vation.
I walk into the Panera a little late but excited to see the woman behind so many innovative ideas. It was only a week ago that I recognized her from social media and introduced myself at a wedding.
It is a rare thing these days to find youth with big ideas working hard to make them happen.
It was not hard to spot the beauty in her well-wrapped hijab, pouring fresh coffee, just 23, not an eyelash out of place. Her outfit screamed "innovative Muslim blogger" and her confidence was as memorable as the pair of sneakers she wore to our meeting. I warmed up with a hot classic tomato soup and listened to the story of how a young woman's dream was inspiring others.
Here's Nour's story:
1. Where were you born and raised?
I was born and raised in Mississauga, Ontario. Canada.
2. What did you study?
I went to University of Toronto (St. George Campus) and did a double major in Religion and Middle Eastern Civilization and minored in History and Politics.
3. What do you do as a career?
I currently run an online Islamic marketplace called Souqina where I host multiple brands from all over the world and give the Muslim consumer market an opportunity to purchased from multiple stores on a single platform. Essentially I'm an entrepreneur.
4. Did you always know you wanted to do something creative?
I always knew I wanted to be my own boss. I never liked answering to anyone and always wanted to be the leader of the team whether it be in sports, school, or career. I feel that I do have a creative sense that sets me apart from others in the sense that I am able to bring to the table what is unique about me and use that as a way to get to the top.
5. What inspired you to become a blogger?
I realize there is a need for leadership in our community especially for young Muslim girls who come from households where they aren't always encouraged to be the best they can be. I want to be that person they can look up to and be inspired by. I like to think of myself as an older sister and mentor and so for me, that's what inspired me to start blogging. I also feel that blogging is a more creative way of sharing your life story and experiences.
6. What sort of adventures have you been on as a result of this work?
I have seen it all. I've encountered girls suffering from depression who just want someone to talk to and in return hear them out and offer friendly advice. I have come across people who are facing an immense amount of discrimination where they are living and just want to know that everything will be ok. Personally, this has been challenging for me as I don't always have the right answer but I think everything comes down to confidence which is the main message I try and share on my blog and social media. In terms of my work as an entrepreneur…oh boy have I been on adventures! You can actually read about some of them on my blog. I have made and lost friendships through business and it's because I realized that I am pretty tough when it comes to being a business woman. I know where to draw the line, and, when boundaries are crossed or not respected I know how to put my foot down to get things in order. I have dealt with pretty interesting people, but as I always remind myself, the good and the bad are the perfect ingredients in life to make you a stronger and better person.
7. What is the Muslim community's response to your career choice?
I believe there is a huge demand for this kind of business. I know the Muslim community is hungry for good Islamic commerce. I took advantage of that and it's been positive this far.
8. What did your family say?
My family wanted me to be a lawyer. But I see my skills and creativity better displayed and used in a setting where I am not behind a desk all day. I like to communicate, stay active and build a network based on friendships and like-mindedness.
9. What is Souqina and what led you to this?
Souqina is an online Islamic marketplace catered to everyone who might enjoy such products, not just Muslims. It hosts brands from everywhere and presents them to the public so they can shop on one platform. Kind of like Instagram with a Buy button. Makes things easier. What led me here is my experience with blogging. Numerous companies everyday message me to collaborate with them and when I do and post pictures on social media, the response from my followers is always positive. I noticed there were details missing though – my audience wanted to know where the product was from, where to get it quickly, how much it might cost. I quickly realized that I had the resources and was in a position to fill a need for my fans and it just kind of grew from there.
10. As a Muslim how can we use technology to enhance the Muslim lifestyle or even our narrative in the media?
I think the response to this from Muslims themselves is mixed. I believe there is still a negative perception of technology in the Muslim world. However I think that technology is an asset — it can help us all as a Muslim community learn and connect beyond their respective communities. I think that if Muslims use technology to their advantage and see globalization in a positive light, we can do great things. I strongly believe that being tech-savvy Muslims could help us showcase who we are and trump other negative narratives that circulate about us.
11. What inspires you to continue your work?
My fans (friends as I like to call them) inspire me to continue my work. I like to lead a life of purpose and when I see that I instill happiness in the lives of some of the people who support me and encourage me, I am motivated to keep going. I love to see hard working women as well, in the Muslim community, and outside it. I aspire to be as successful as they are so we can encourage more women to do good things and succeed as well!
12.Where do you see yourself in 5-10 years?
A billionare, donating to as many charities as I can, creating a strong Muslim lobby that can serve the interests of Muslims like myself and to further expand my business all over the world and have Souqina be the leading tech company recognized worldwide.
13. Where can we learn more about your work?
Visit my blog at here (recently launched), check out my social media handles (listed below) and also visit my e-commerce website
This article was written by Iqra Azhar originally for Muslims Actually
This article was produced exclusively for Muslim Link and should not be copied without prior permission from the site. For permission, please write to info@muslimlink.ca.