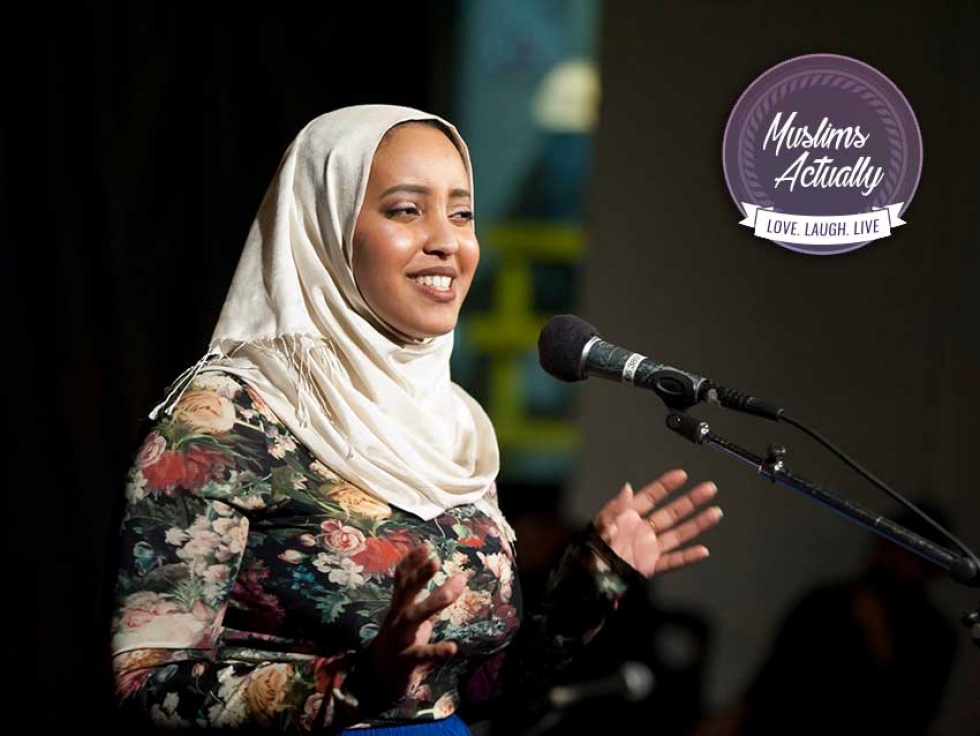 Muslim Link interviewed Ethiopian Canadian arts educator Timaj Garad.
noorphotography http://www.noorphotography.ca
22
Dec


2017
Timaj Garad: Using Poetry and Theatre To Bring Stories To Life
Written by Muslims Actually
Muslim Link interviewed Ethiopian Canadian arts educator Timaj Garad. Timaj is a Toronto-based multi-disciplinary artist, using poetry and theatre to bring stories to life. Her art is auto-biographical, working at the intersections of a black Muslim woman challenging injustice, unearthing truths, and healing. As an award-winning artist and educator, Timaj Garad has graced over 200 stages and facilitated several arts-based workshops. She whole-heartedly believes in the transformative power of the arts and is dedicated to engaging youth in critical arts education initiatives to uplift, inspire, and build ethical communities.
1. Tell us about yourself
I'm Ethiopian, from the Harari community to be specific, but was raised in Scarborough in a Toronto Community Housing high-rise in the Kingston-Galloway-Orton park area. My family and I immigrated to Toronto in the early 90s from Giessen, Germany. Growing up, I was always curious, adventurous, and optimistic despite navigating an often confusing third culture identity stuck in-between a myriad of cultural influences - Ethiopian, Torontonian/ Canadian, Hip hop, etc. I never really felt a sense of belonging anywhere (until I was well into my 20s). I marched to the beat of my own drum, which unfairly landed me the label of 'troublemaker' in most institutions I frequented as a child including schools and saturday islamic classes at the masjid - the beginning of a feeling of strangeness that I hated at the time but now hold close to my heart.
Through my own mental health journey I was inspired to enter the mental health field and pursued studies in social development, which eventually led me to working in the social services in various capacities including as a Case Manager, Counsellor, Youth Worker, Facilitator, and Instructor Therapist for folks with Autism Spectrum Disorder. Though I've also been a Culinary Arts Instructor, Fundraiser, Sales Associate, Research Assistant, and Translator. There's a running joke between a couple of my friends and I that each time we speak they learn about a new career or eclectic life experience that I've had. Some may call it random but I like to see it as mutli-passionate - I'm kind of a textbook Saggitarius that way.
2. How did you discover your passion for writing?
I was bullied a lot growing up and needed an outlet. I needed to process my feelings of strangeness (still do) and writing gave me that. I was always an expressive and creative person so it also just came naturally and even in moments when I didn't necessarily have anything I needed to express, I would write playfully for sport just to see how far I could bend words and what worlds I could enter through them.
3. How did you begin to perform?
I've been performing since I was a child in some capacity or another. Whether it was as the star of the school play in elementary, talent shows, my high school dance crew, or in a nasheed collective at the masjid - expressing myself through performance has been a part of my life for as long as I can remember. Theatre was my first love performance-wise. I was really involved in theatre, particularly music theatre, high school and later explored music through bands I was a part of, including a steel band.
In grade 10, my English teacher gave us an assignment to write a poem and present it to the class creatively. Some people wrote a skit inspired by their piece, others did an interpretive dance. Hip hop was a huge influence for me and I was lowkey trying to be a rapper/rnb star at the time so I thought I would rap my poem. When I was done my performance I got an unexpected standing ovation and a couple of my peers approached me after class and said "yo how long you been doing spoken word? That was sick!". Somewhat defensively, I corrected them and said I was actually rapping. At the time I had little exposure to the world of spoken word poetry (this was before YouTube) but this moment stuck with me and their words rung years later when I finally scratched my poetry performance itch at 18. My journey was somewhat unconventional because I actually started performing at my own events. I curated events through different campus clubs I was apart of and they became amongst the first stages I performed on. I took a hiatus soonafter and was later inspired to re-enter spoken word performance after indulging in the proverbial emerging poet Def Poetry Jam binge-fest on YouTube.
4. You identify yourself as a storyteller and you use multiple art forms (poetry, theatre, etc). What types of stories do you feel compelled to explore in your work?
I try not to limit my storytelling to particular themes, but I find lately I've been writing a lot about mental health and the stigma that surrounds it. I've been exploring the personal in the political, which has led me to unpack identity, belonging, and love as an act of self and community preservation. For example, this year I wrote a poem called Black Gold that's become one of my favorites to perform which is basically a love poem to black muslim women and girls but also sheds light on the anti-black racism that exists in the muslim community and the silence surrounding this issue.
5. You know do arts education, notably with your PoeticHeart workshops. What challenges and triumphs have you faced as an arts educator and how do you feel this has informed your own writing and performance?
One of my bigger challenges is dealing with imposter's syndrome - that voice that tells me I'm not really skilled or good enough to do this and I've simply deceived folks into believing I am long enough for opportunities to come my way. I feel very unready and fearful when I embark on a new project. When the imposter's syndrome and fear of failure kicks in, I remind myself not to always believe my own thoughts. I'm still learning ways of self-soothing and healing from the depression that lets me so familiarly slip into negative self-talk. Writing has helped me navigate that and many of my poems are clap-backs to negative thoughts I have about myself. These poems become public affirmations every time I perform them. My triumphs as an Arts Educator far out-weigh my challenges. I feel very fulfilled, connected, and in my element in most spaces I facilitate in. Holding space for others is such an art - and can be challenging at times with varying needs of folks in the room - but each experience leaves me feeling motivated to continue to learn better and safer ways of engaging in collective heartwork. I feel blessed to have crossed paths with each and every individual who has taken one of my workshops - there are so many beautiful moments of vulnerable sharing and connecting that often feels magical and outer-worldly. These moments are therapeutic for me and replenish me in my own writing, feeling supported and strengthened to continue to do the work I do.
6. You developed the project Stellar (R)evolution to educate Black Muslimahs in poetry and theatre. Why did you develop this project and why was it important for you to focus on young Black Muslim women?
Black Muslimah voices are systematically suppressed by a dominant narrative that seeks to erase us. From every angle, whether it's the muslim community, black community, or within larger Canadian society, we are demanded to fragment ourselves in ways that diminish the complexity of our multi-layered identities. We experience the violence of anti-black racism, islamophobia, and misogyny in ways that are intersectional, informed by all of our identities, yet we rarely see representations that give voice to these experiences. Instead, we are asked to check our blackness at the doors of our mosques and our muslim-ness at every other door. For those of us that are visible hijab-wearing Muslims, our blackness is questioned. At every turn we are asked to chose between our identities, which is no choice at all. Expecting us to make this choice is to expect us to leap out of our skin, out of our own hearts.
The Stellar (R)evolution workshop space has been a healing space for us to gather, discuss, and connect to our stories and each other in ways that could have only been possible in an environment that celebrates, uplifts, and empowers black Muslimahs - a space for and by us. The Stars Within Us showcase is an invitation to allyship and awareness, as much as it is a celebration and acknowledgement of our stories. It's so important for Black Muslimahs to take back the stories that will only be told for us without us (and in harmful ways) otherwise.
Our stories are resilient. Our stories are necessary. Our stories are urgent. Our stories matter. Black Muslimah stories matter.
7.You are co-organizing a workshop as part of the Canadian Muslim Mental Health Conference. Why is using art to explore mental health issues with Muslims important to you?
There's a lot of silencing and shaming in the Muslim community when it comes to mental health issues. The salience of the 'pray it away' mentality - making the false connection to mental illness as a manifestation of spiritual deficiency - highlights a lack of empathy and understanding related to these issues and the people directly affected by them. As someone with a professional background in the mental health field, I've seen a lack of evidence-based, lived experience knowledge coupled with dangerous misinformed narratives guiding the ways we approach mental illness as a community. This is irresponsible and endangers lives. As someone living with depression and anxiety, it hurts to witness and experience this level of negligence from a community brought together by a faith that calls us to take care of one another, especially the most vulnerable amongst us.
I've come to understand vulnerability as a strength: it frees us from the toxicity of silences that are created to shame and uphold an exclusionary status-quo that serves few at the expense of many. Being vulnerable through sharing our stories, allows us to heal, and ultimately, thrive. However, safer spaces are needed to make room for vulnerability, which is something I heavily focus on in my work as an Arts Educator and became the premise for THRIVIN' - an arts-based community resilience workshop that I co-created and facilitated with Artist, Activist, Community Educator, and my dear friend, Sakinah Hasib.
8. You are working as an artist. This can definitely be challenging. What advice would you give to people who want to make a living from their art?
Surround yourself by people who inspire you. Don't ever place your value on 'making it' - you're amazing and have already made it. Wherever you're trying to go, you're already there. Truely. There is no end-game and you will never want for nothing so just enjoy the journey. Connect with other creatives, organization, and individuals who you would like to work with - they're often more approachable than you think and if they give you a hard time, just swerve because a collaboration should never feel forced. Write grants to fund your dreams and, if you're just starting out, go to lots of shows and events to perform and meet other artists - this creates opportunities and it's also a great learning experience to witness other artists do their thing.
Also, to the young emerging women artists, be weary of older men who try to "mentor" you or create paid "opportunities" for you. There are a lot of snakes in the grass, love. Take care of yourself and trust your intuition.
Lastly, art isn't everything. Your value as an artist is not tied to how much money you can make pursuing your art; the act of creating art is what makes you an artist. If it keeps breaking your heart to pursue your art in a certain way, stay flexible and open-hearted to whatever else this world has in store for you. Remember, you hold the pen, not the other way 'round.
9. What upcoming projects are you working on?
I'm working on the second cycle of Stellar (R)evolution now and will be having a showcase mid-December - so look out for that! I'm also working on an arts-based trauma-informed capacity building series for Muslimah changemakers around survivorship and community. In terms of personal arts projects, I'm working on a spoken-word/ music EP and poetry collective to be released in 2018. I'll be launching a website at the end of this year as well so folks can keep in touch with what's in store! For now, you can follow my work on all social media platforms at @timajgarad.
10. Where do you hope to see yourself in 5 years?
I hope I'll be able to continue and expand my work to help create spaces to empower, heal, and build capacity for anyone who needs it but particularly for vulnerable folks living on the margins. I want to eventually create and sustain an alternative arts-based curriculum that I can facilitate regularly. I also want to have more of my work out in the world with my publications (books, an EP/album, videos). I want to curate unique mixed-media performance experiences that leave sparks and inspired hearts in every space I perform, touring with a curated show and band. Also, more collaborations with artists that inspire me inshaAllah!
On a personal front, I want to live a more connected, intentional, and balanced life surrounded with the people I love (and perhaps find bae and have a baby or two along the way inshaAllah). I want self-care to become more habitual and less reactionary. I want to feel spiritually fed, grounded, and ever-aware of God. I want to live a life with God-consciousness at the centre of everything I do. I want to hold on to my strangeness and never feel too good for it, because I know that's what will anchor me in my purpose most.
This article was produced exclusively for Muslim Link and should not be copied without prior permission from the site. For permission, please write to info@muslimlink.ca.