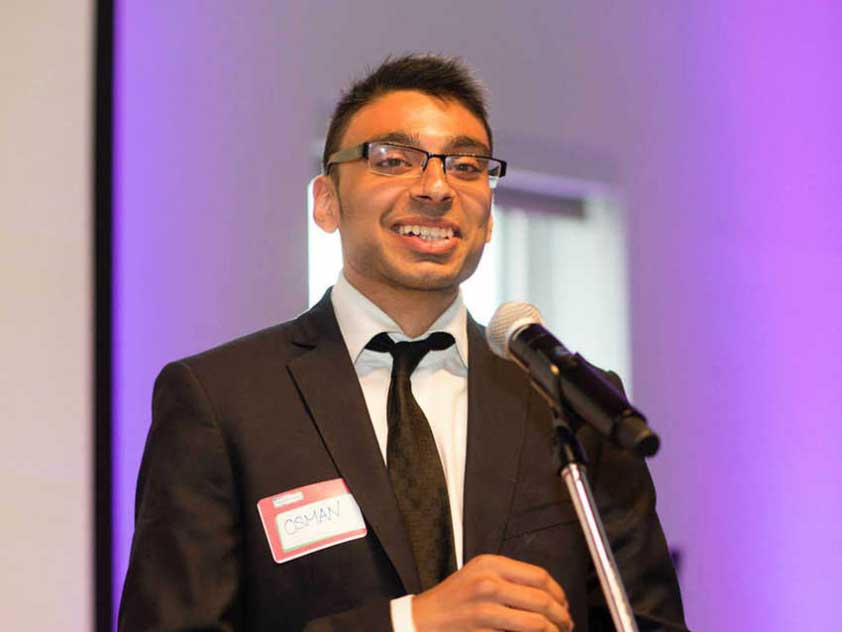 Osman Naqvi is a co-founder of The Dream Catchers.
Courtesy of Osman Naqvi
14
Oct


2014
The Dream Catchers-A Youth-Led Community Development Initiative
Written by Osman Naqvi
As a 6th grader, the extent of my worries included making sure I had the latest video games, the whitest sneakers, and hoping my mom would let me play basketball with my friends after dinner. Also like many others my age, I took much of this for granted. While I knew that I was lucky, I never realized just how lucky I was until my parents took me on a trip to Pakistan. The inequalities I saw there were eye opening, especially for a 12 year old. Children younger than I were forced to panhandle on the streets and countless people were going to bed hungry. I began gathering fruits from my grandparents' home and started to give it out to the children I encountered, who were panhandling on the streets. What I saw there was heartbreaking, and when I came back to Canada, I became more aware of the issues that many members of my community were facing.
Though much is being done in Ottawa to help its citizens, it is a sad fact that many needs are not being met and can, at times, slip through the cracks. In middle school, a few friends and I founded the Bayshore Youth Council, a collective focused on creating events designed to engage the community. From there I was able to sit on different community boards to expand my passion. It was thanks to all that I learned from these roles that I- along with my friend Moses Otim- were inspired to create The Dream Catchers.
The Dream Catchers is a not-for-profit organization we founded this year. What started off as a small group quickly grew to include classmates and friends who shared a common goal. We now have 10 board members, including Lena Boyd, Head of the Photography Committee; Nikki Chopra, Administrative Director; Jaipaul Dubb, Volunteer Coordinator; Sumeet Dubb, Steering Committee Chair; Jevaughn Newman, Treasurer; Kevin Nguyen, Promotions Director; Saad Naqvi, Communications Director; and Nicki Paltooram-Dédier, Marketing Director. With the combined efforts of these individuals, as well as many loyal supporters and volunteers, we aim to help youth in Ottawa reach their maximum potentials. To do this, The Dream Catchers has adopted a multifaceted approach, the first of which is to ensure that all youth are equal in having their basic needs met, and the second is to provide a means for creative expression.
Based on these goals, we established several events unique to our group, such as the Wardrobe On Wheels (WOW) initiative. 'WOW' is a pop-up shopping experience set up for various communities around the city. Through 'WOW' we collect clothing donations, which we later distribute to assist families who may be in need. To encourage the creative aspect of childhood/youth development, we organize an annual Halloween Costume Drive created to ensure that all children can fully enjoy the holiday. Halloween is an incredibly magical evening for all youth to let their imaginations run wild and collect free candy at the same time. To facilitate this, we collect new and gently used costumes to spread to youth in need.
The Dream Catchers have also developed a sister initative called Citizens of the Capital.
Six photographers: Abdulkadir Abdulkadir, Joy Biu, Holly George, Kellen Geha, Erica Vong, Michael Oyeleye, Laurel Martin, and Leah Henry, attend community events and circulate around Ottawa to capture magical photography and captions from participants on a variety of issues important to them. These profiles are then posted on our Facebook page to create a sense of familiarity and openness. They help to attach the label of 'friends' to people who would otherwise be considered strangers.
To further grow this sense of community, please reach out to volunteer or donate clothing/Halloween costumes. We are always keen to meet and team up with incredible individuals!
To learn more email This email address is being protected from spambots. You need JavaScript enabled to view it. or check us out on Facebook, Twitter or WordPress.
This article was produced exclusively for Muslim Link and should not be copied without prior permission from the site. For permission, please write to info@muslimlink.ca.