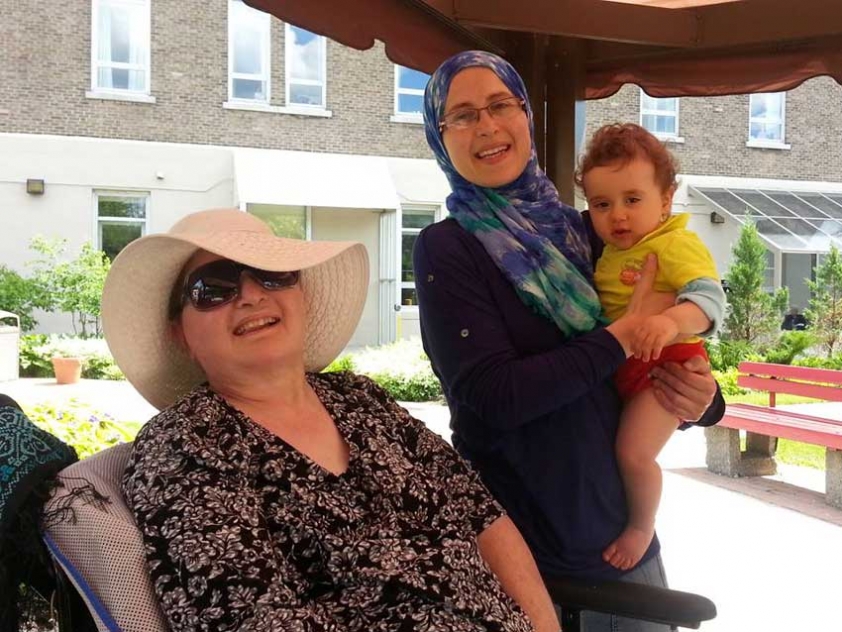 Amira Elghawaby with her mother Mona, and one of her children.
Courtesy of Amira Elghawaby
05
March


2015
Sleepless: A Muslim Daughter Reflects on Her Mother's Struggle with Multiple Sclerosis
Written by Amira Elghawaby
Originally written in 2009 for Sisters Magazine, Muslim Link is republishing our Editorial Advisor Amira Elghawaby's tribute to her mother Mona whose struggle with Multiple Sclerosis (MS) came to a peaceful end on March 3rd 2015. Mona Elghawaby had been living at the Bruyere Continuing Care since 1996.
It's 2:30 a.m. and I'm still up because my daughter's sick. I'm afraid to sleep and miss the beginning of another coughing fit so that I can hold her over some steam to clear up her airways. Or, maybe her fever will come back overnight and she'll need someone to bring it down right away. I'm fretting and nothing except her recovery will allow me to sleep easy. 
My mom used to worry her nights away over me, too. Whenever I was sick, she'd be at my side, wide awake, pressing cold compresses to my forehead, or holding my head over the toilet while something wretched came up. Her soothing voice meant it was all going to be alright. 
But now, I can barely hear that voice when she wants to tell me something. Multiple sclerosis, a debilitating disease that strikes the nervous system, has taken away much of her abilities – from walking to eating, to talking, to being. 
It has changed our lives, and there is little hope she'll ever get better – though we're still waiting up. 
* * * 
The MS Read-A-Thon was a big deal back in grade three. I had to ask people for money for every book I managed to get through over several weeks. My earnings would be sent to the local branch of the Multiple Sclerosis Society and the money would be used for research. I still remember carrying around the rumply sponsor sheet in my pocket, asking my friends and neighbours, and of course, Mom and Dad, for a quarter, or – gulp! - a dollar. They always gave a lot more. 
I didn't really understand what the disease did but I figured it was pretty important, especially since the adults tried to make it fun to learn about. When the school called a special assembly to launch the fund-raiser, there was a cheerful cartoon dog talking about the mystery of the disease. I never forgot his description of how MS affected the body:  "imagine a telephone wire that's all chewed up – that's the nerves trying to send information from the brain to the body. MS chews up the wire so the message can't get through." I had no idea then how many times I'd fall back on that imagery to explain to people why my mom could no longer move. 
The read-a-thon happened years before we found out that mom's immune system was attacking the tissue around her nerves and that there was nothing anyone could do about it. It was a disease that struck suddenly and at random – though it was primarily women, between the ages of 20 to 50, living in colder climates that were the majority of its sufferers. That could mean that anyone of us could be hit with it, just like my mom, no matter how active and healthy we are right now. 
* * * 
Once, when our neighbourhood mall was about to close, and I had my heart set on a particular novel from the bookstore, my mom told me to run so we'd make it just in time. I was only eight or nine years old, but I'll never forget how much it meant to me to be running in the emptying corridors with her as we giggled like schoolgirls. Her laughter still lingers in my heart.  
But then, the image starts to change.  The beautiful, agile mother who seemed to know just when to let go of the bicycle so I'd finally know how to ride; the mom who always had a warm plate of French fries waiting for our return from school; the mom who would often stop by class to sneak cookies into my waiting hands; she starts losing her balance, needing to hold on tightly to a family member whenever the distance stretched ahead. Then, her eyes start bothering her, and no one knows what's wrong, and then they tell her what's wrong and everything changes. But oh, so slowly. Both painfully and mercifully slowly. 
* * * 
I remember the canes, the walkers, the wheelchairs; The subsidised caregivers who would drop by to help with the housework, the cooking, and just taking care of mom. I remember her sadness at not being able to closely watch over my younger brothers and not being able to carry the youngest of them, as the disease began ravaging her body. 
For a mother so used to doting over her children, watching them grow up from the sidelines was so obviously hard to bear. Her faith kept her going, though. 
* * * 
Our family coped as best as we could, but it was hard. We didn't know how to help, how to make the sadness go away. It took a few years for the disease to make it impossible for her to live with us, and she was soon surrounded by the four green walls of a drab hospital room, that still somehow radiated with herlight.
As the years of suffering rolled into decades, her ability to cope improved, as did her physical surroundings – they renovated the hospital to bring cheer to countless patients who were imprisoned in their own bodies. Her days of doing things were becoming a distant memory, and it was actually the "little" blessings that she missed the most: Taking care of her personal needs, eating for pleasure and not just survival, lifting a child into her arms. But nowadays, when Mom is really, really sad, all she will say is, "I fear God". 
* * * 
The nurses and doctors who bustle about her bedside all day and most of the night know she is special. They remark about her gentle smile, her patience, her devotion to her family. They seem touched by the steady stream of visitors who fill her room with smiles, and flowers, and children and hugs. Everyone who meets her, loves her, reminding me of the days my five-year-old classmates would look at her wistfully as she handed me my cookies and say, "I wish she was my mom." 
I understand why they felt that way. Even now, as she lies in bed for most of the day, struggling to get her words out, her smile remains sweet and constant. I pray that someday she will find rest – andParadise- after this sleepless, seemingly endless, night of waiting.
* * * 
Facts about Multiple Sclerosis (MS)
The causes of MS are still unknown despite decades of research. The best current evidence suggests that lifestyle, environmental, genetic and biological factors all contribute.
MS is three times as likely to occur in women as in men.
MS is more common in people of northern European background, however, it occurs globally, and is only relatively uncommon in Sub-Saharan African countries.
There is no known cure.
Canada has one of the highest rates of MS globally.
May 27th is World Multiple Sclerosis Day.
Further Reading:
Multiple Sclerosis Society of Canada
Multiple Sclerosis International Federation
This article was produced exclusively for Muslim Link and should not be copied without prior permission from the site. For permission, please write to info@muslimlink.ca.