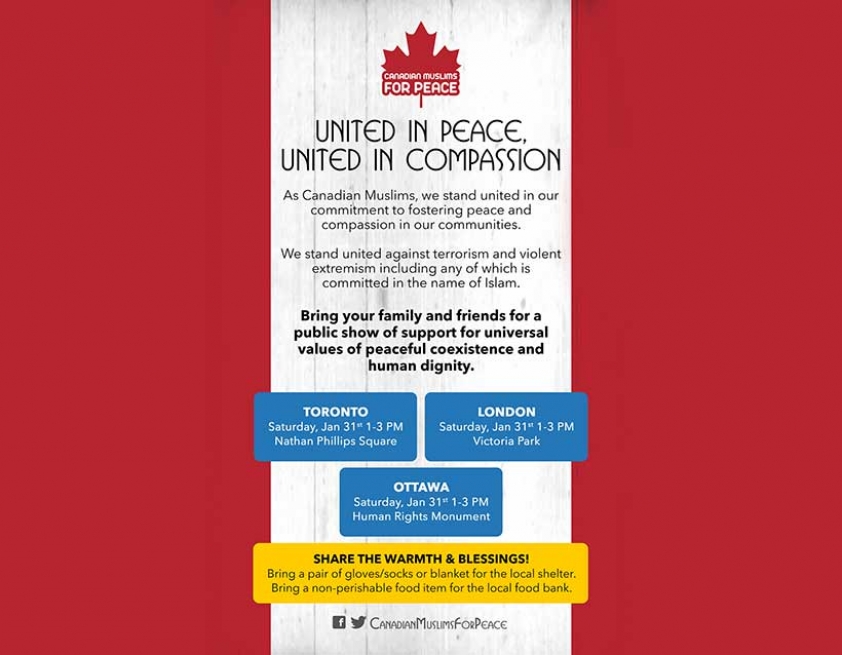 26
Jan


2015
Ontario Muslims Gather for Peace on January 31st
Written by Chelby Daigle
Muslims in Ottawa, Kingston, Toronto, and London will be coming together on January 31st to celebrate peace and community spirit.
Organized by a group Calling themselves "Canadian Muslims for Peace", long-time community activists Saleha Khan, in London, Ontario, and Sheema Khan (no relation), in Ottawa, developed the idea of having a peace gathering for Muslims. They felt that it was important for Canadian Muslims to hold an event that would help reclaim the narrative about Islam and Muslims in the wake of the Paris attacks and threats from ISIS. Shahzad Mustafa from Toronto joined in to complete the core coordinating committee.
Other community members quickly joined in to help with the events in their cities. In Ottawa, they include Amira Elghawaby, on behalf of the National Council of Canadian Muslims (NCCM), which is supporting the campaign. Local writer and teacher Aisha Sherazi and Imam Sikander Hashemi of the Kanata Muslim Association are also involved and will be speaking at the event. Imam Ahmed Limame of the Gatineau Mosque will be delivering a speech in French.
According to their press release "the aim of the event is twofold: to take a clear stand against violent extremism and terrorism, including any of that which is perpetrated in the name of Islam; and to show that Canadian Muslims have always been, and will continue to be, civically engaged in their communities."
Muslim Link interviewed London-based organizer Saleha Khan about what she hopes the event will achieve.
What was the impetus for organizing the Ottawa Peace Rally?
This is one of several events that are planned to happen on Jan 31st insha'Allah (God willing). There were a few concerned parents and individuals who got tired of the negativity in the news and wanted to do something positive and to reclaim their Prophet of peace as well as their faith.
What outcomes do you hope to achieve with this event?
We hope to shine the light on all the good that Muslim communities engage in on a routine basis; but since this is a good news human interest story, it usually doesn't get the media play. People tend to have a greater appetite for bad news, and tend to believe the worst of those who appear to be different than themselves, so we want to offer a more accurate image. Our kids also need to see their communities in a positive light. Typically Muslims are shy or modest about letting others know about their contributions, but the circumstances we find ourselves in makes it necessary for us to speak up and show how we are contributing positively to our communities.
Who will be the speakers? What will they be talking about?
One person will introduce what this campaign is all about, and the genesis of this campaign; an Imam will speak about our Prophet (pbuh) and his commitment to compassion and humanity, and finally one person will speak about the responsibilities of citizenship and the need for civic engagement.
Is being called a "Peace Rally"? Is this an anti-war rally? Will there be discussion about Canada's current involvement in Iraq?
This is not a rally, protest, or march. It is a peace gathering and we are not referring to any political issues. We will have a banner for people to sign with messages of peace, and we will have a photo opportunity to stand with the banner. The title on the banner is our event theme, "United in Peace; United in Compassion".
Given concerns that it is youth who are most vulnerable to being recruited into violent extremism, how have youth been involved in organizing this event and how is word about this event getting out to them?
Many of the volunteers and organizers have been speaking to their own children and youth, and engaged them first hand to get their feedback. The campaign is also very social media dependent, with a Facebook and Twitter presence. We are inviting parents to bring their children and youth to the event as well to show how Canadian Muslims are positively engaged in their communities, and to hear from their imams about the authentic Prophetic traditions. We are also reaching out to college and university students.
Is this a one-off event or the launch of an ongoing series?
The original idea is that this would be a series of peace gatherings in various cities that will follow a set format. We may also think of holding future civic engagement days where community members participate in various local initiatives like blood drives, shovelling neighbours' driveways, etc. A lot of these types of initiatives are already taking place in our mosques and community organizations, but we need to sometimes publicize these efforts so that more people can join in. This campaign can also help provide a positive narrative about Canadian Muslim involvement which can then become stronger than negative narratives.
Is there anything else you would like to add?
We really encourage families to come, and to bring donations for the local shelters. This is a valuable opportunity to show our youth what Islam really stands for, and to reaffirm our values of peaceful coexistence and respect for human rights and dignity.
In Ottawa, Muslims will be gathering at the Human Rights Monument at 1pm on January 31st. Visit the Muslim Link Event Listings for details.
To learn more about Canadian Muslims for Peace visit their Facebook Page and Twitter Page.
This article was produced exclusively for Muslim Link and should not be copied without prior permission from the site. For permission, please write to info@muslimlink.ca.