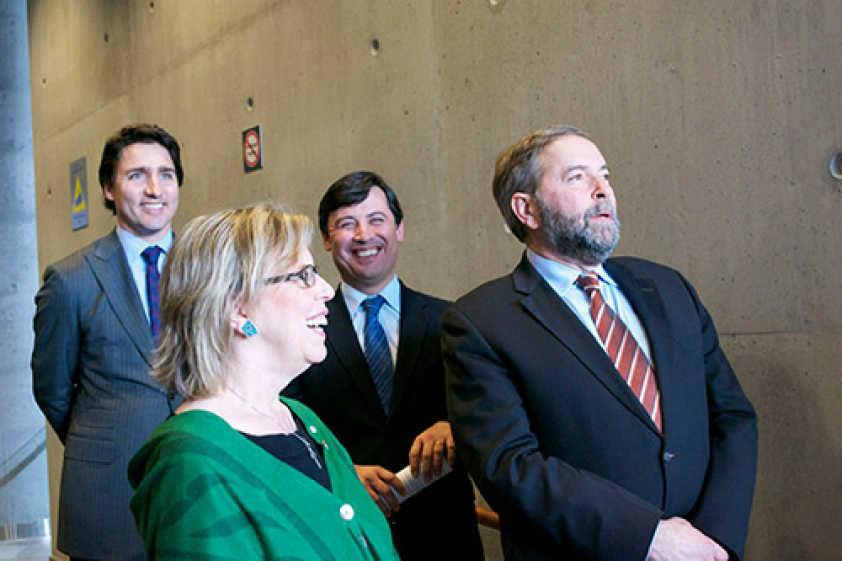 Liberal Party Leader Justin Trudeau, Conservative MP Michael Chong, Green Party Leader Elizabeth May, NDP Party Leader Tom Mulcair
I Vote
09
Apr


2014
Recently, amid security concerns and alleged electoral fraud, Afghan men and women stood under pouring rain to cast their ballot in the 2014 presidential elections in Afghanistan.
Many young people were discouraged from voting by family members because of the danger around many polling stations. But regardless, images show long lines winding their way around those areas.
Here in Canada, there are few security concerns or fear of attacks and yet many young people are not turning up at voting stations.  According to Elections Canada, 38.8% of youth between ages 18-24 participated in the federal elections in 2011.
I don't believe the number is small because youth are apathetic but because they believe the political system does not represent their needs and hopes. Justin Trudeau echoed this belief at the I Vote/Je Vote conference that took place at the University of Ottawa on March 25.
Over 1,000 students looked down from balconies and squeezed into the packed Faculty of Social Sciences building to hear the panel discussion. New Democrat Leader Tom Mulcair, Liberal Leader Justin Trudeau, Green Party Leader Elizabeth May, and Conservative MP Michael Chong discussed the lack of youth engagement in politics.
The session began with each political figure explaining why they chose to pursue politics. May said that Harper's political decisions had driven her towards politics. She stated that everything she worked for in order to protect the environment was at jeopardy.
I found it comforting to see many Canadian Muslim youth at the conference listening intently and even running after various party leaders, camera at hand, attempting to take a picture.
Pollster Nik Nanos says polling shows that younger people are more likely to state that the environment and education should be priorities for the government. This demographic, he said, is confident that changes can be made in these areas.
Trudeau argued that youth are drawn away from politics because of their frustration with the system. He told the crowd, "You've become convinced that politics isn't a useful use of your energy."
I believe that our Canadian Muslim youth, as well, are frustrated. But the Canadian Muslim community must encourage them to get over that frustration. We must encourage both young men and women to be politically engaged in every aspect of their lives. Even when they are children, we must ensure they are aware of political and human rights movements within the country. This engagement needs to be seen as an act of worship.
Our Prophet (PBUH) taught us to act in a manner that is fair and just. He taught us that worship is not limited to prayer and rituals but it is also ensuring that people are treated with respect and their rights are upheld. Therefore, as an act of worship, Canadian Muslim youth should learn about government decisions that will impact the well-being of the earth and our fellow human beings.
At the conference, Chong told students that if youth want to see something change then they must vote. He said, "If you don't vote, if you don't participate, you don't have a voice."
I hope that teachers, leaders, and everyone else in our communities encourage political participation in order to make this country a better place. I also hope that people do not wait to participate until the federal election in 2015. As May pointed out, youth need to get involved now.
As Canadian Muslims we must get actively involved in politics in order to bring positive change. We must also peacefully protest against harm. As Muslims, we must ensure that the places we go become better because of our presence.
Miriam Katawazi is an Afghan-Canadian journalism student at Carleton University.  
This article was produced exclusively for Muslim Link and should not be copied without prior permission from the site. For permission, please write to info@muslimlink.ca.