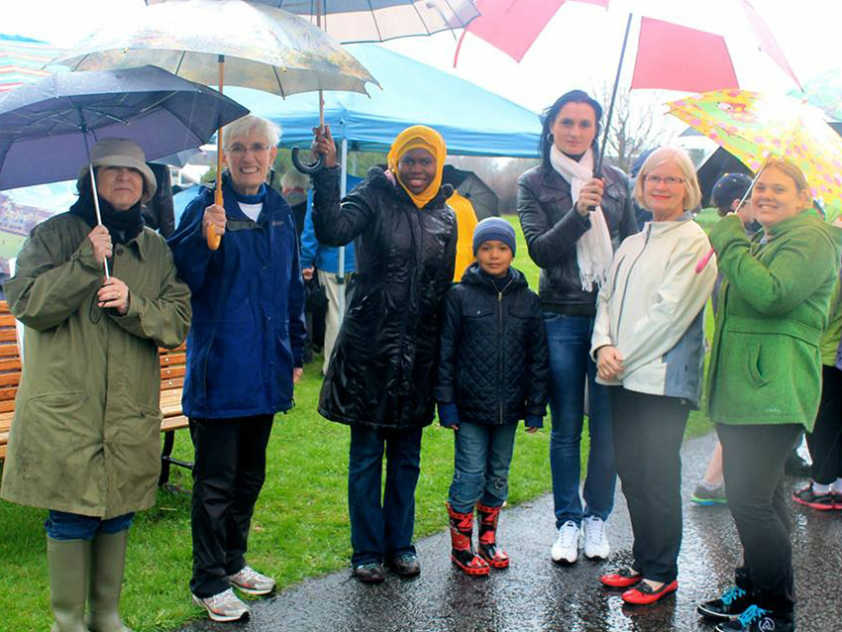 09
May


2014
Tulipathon for Affordable Housing: The Multifaith Housing Initiative
Written by Miriam Katawazi
Advocating for affordable housing in Ottawa, faith groups from the Jewish, Christian, Unitarian, and Muslim communities took on the pouring rain to participate in this year's Tulipathon walk.
Hosted by the Multifaith Housing Initiative (MHI), a non-profit coalition in Ottawa, the Tulipathon brings people of all faiths together to walk among tulips and raise awareness and funds for affordable housing in Ottawa.
The walk takes place on the first Sunday of every May. This year, the walk was cancelled because of heavy rain. Regardless, a group of over 30 people stood underneath umbrellas and canopies to show solidarity with those in need of affordable and decent housing.
Sahada Alolo, manager of volunteers at MHI, stated the importance of people from all faiths to advocate together, "Even though we all have different beliefs and values, we still share our care for social justice and our care for humanity. This is what we all have in common." Despite the rain, she explained, people showed up ready to walk the 3.2 kilometres, "This shows their resilience and deep care."
Organizers handed out watermelon slices and other snacks to the wet participants who huddled together. Monia Mazigh, this year's chair of the planning committee for the Tulipathon, feels that it is very important to address the need for affordable housing in Ottawa.
Mazigh highlighted how important it is that faith groups and others in the city get together to pressure community leaders to do more on this issue, "10,000 people are currently on the City of Ottawa's waiting list for affordable housing."
"The walk is to show solidarity with those waiting for social housing and those who are homeless," she added.
Betty Salewicz stood underneath a green canopy to escape the harsh rain and wind. She said she showed up despite the weather so that she could show her support as a member of the First United church.
Salewicz said she understands how it feels to be in need of affordable housing. "Years ago we lived in Montreal and we had a large family. We didn't have a lot of money but we were able to get lower income housing," she explained, "We had five children and my husband's work was not very steady."
"I think anyone of us could be in that situation. We need to stand in solidarity with others that are," she added.
Ria Heynen, member of the First Unitarian Congregation of Ottawa, expressed the importance of people working together to advocate for social justice, "Whatever your beliefs, even if you do not believe in anything. It does not matter, we all have a kind of spirituality and I think spirituality is connected to compassion and love for one another."
"Faith groups need to be aware of their political power." This power, Heynen said, needs to be utilized to make a difference.
Affordable housing is a municipal issue so with municipal elections coming up on October 27th2014, there is an opportunity to put that political power into action.
To learn more about the Multifaith Housing Initiative visit http://www.multifaithhousing.ca/
Miriam Katawazi is a journalism student at Carleton University. ■
This article was produced exclusively for Muslim Link and should not be copied without prior permission from the site. For permission, please write to info@muslimlink.ca.