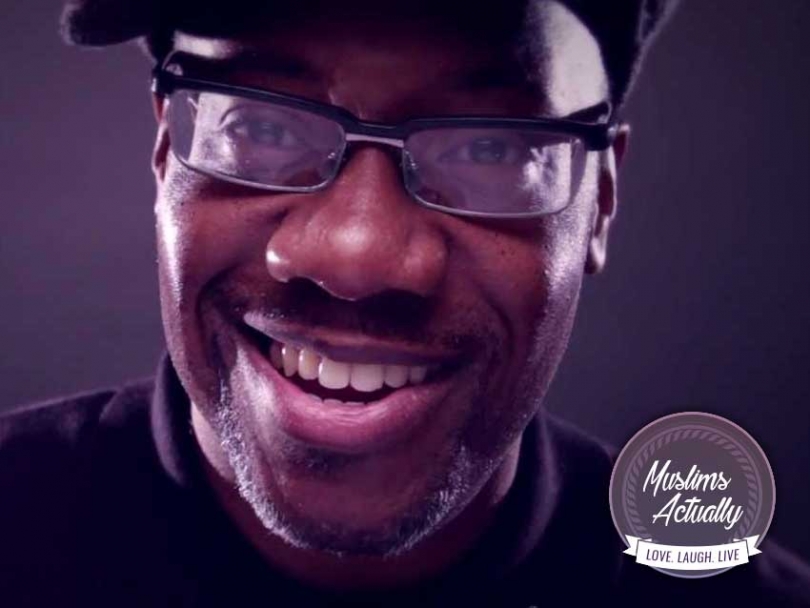 Interview with Muslim American comedian Preacher Moss.
01
Jan


2017
Known as the founder of "Allah Made Me Funny"- The Official Muslim Comedy Tour and as the "poor righteous teacher" from his days as a young performer coming up in the industry, a writer for Hollywood heavyweights like Damon Wayans, George Lopez, and Darrell Hammond on Saturday Night Live, Preacher Moss has proven his value across many levels of stand-up, activism, and community empowerment. His "End of Racism" Comedy and Lecture tour has been voted "Best Diversity Act" on college campuses for 2008 and 2009.
His material has been described as "smooth, intelligent, and thought provoking", as his comedy simultaneously occupies two spaces, at the same time. Moss makes you laugh and think. He is a master craftsman. His experiences as a comedian, writer, lecturer, Muslim, African-American, and poor righteous teacher are the sum of all his parts. He is The Mighty Preacher Moss. Follow him on twitter at @PreacherMOSS.
Where were you born and raised?
I was born and raised in the Nation's Capital Washington, DC. I am a native Washingtonian.
Were you born Muslim? If not, what inspired you to convert?
I wasn't born Muslim. I converted in the late 80's, after being introduced to Islam in my younger years via the Nation of Islam, and local 5 Percenters. I was introduced to what I called, "International Muslims" in college. I converted as I really began to understand my history as an African American, and the true nature of protest religion in my life. It would be a unique paring of Islam and Hip Hop.
What did you study and what do you do as a profession?
I studied Broadcast Journalism, with a minor in film. I began doing stand up when I started college at age 17. Currently, I am a comedian, writer, producer, consultant, and social advocate.
What is Allah Made me Funny? What inspired to you to begin this endeavor?
Allah Made Me Funny is a collective of, what I feel, are elite Muslim comedians. The tour was founded in 20003, as a protest tour against 9-11 blowback, and anti-Muslim sentiment. The idea was to expand the idea of free speech, and promoting Muslim identity through humor, and comedy. Almost twelve years later, we are still bringing smile, and education to the masses.
How has family played a role in this process? 
Family as been extremely important, as they are ultimately the ones that make the sacrifices for myself, and the other comedians who have been on the tour (Azeem Muhammad, Azhar Usman, and Mo Amer), to go out and do what we do. Family also keeps you grounded to things that are important and relevant in most cases. Having a family structure as a foundation is what ultimately made this a very successful tour over the years.
What inspires you to keep going?
The examples of Prophet Muhammad (peace be upon him), and witnessing the struggles of my parents, and those who went before me, let me know that my work is never done. There is always good to be achieved in the world and I should be aware of trying to bring it to others.
Were there any defining moments in your life that have lead you down this path?
I have always felt that Allah is the best of planners. I often say, "Allah is God. Keep It Simple." I truly believe that mantra. I'm not here to understand my purpose, as much as achieving my purpose.
What advice do you have for aspiring Muslim artists?
My advice is simple. Be true to yourself, and then be willing to share that truth to the world. Art begins and ends with truth, but manifests itself in the commitment to share that truth with others.
Where do you see yourself in 5-10 years?
I'm not sure where I will be. Inshallah I'm productive and happy.
Is there anything else you want to share with us?
In the next two years I hope to come out with more Muslim specific and non-specific branded content in the areas of entertainment, and the arts. I'm look at potential broadcasting opportunities, as well as TV vehicles for my specific skill sets in comedy.
I also hope to introduce the next generation of Muslim comedians, as Allah Made Me Funny looks to bring on new comedic voices, and flavors. I'm especially intrigues with the idea of an AMMF Canada with Canadian Muslim comedians, and comediennes.
This article was produced exclusively for Muslim Link and should not be copied without prior permission from the site. For permission, please write to info@muslimlink.ca.