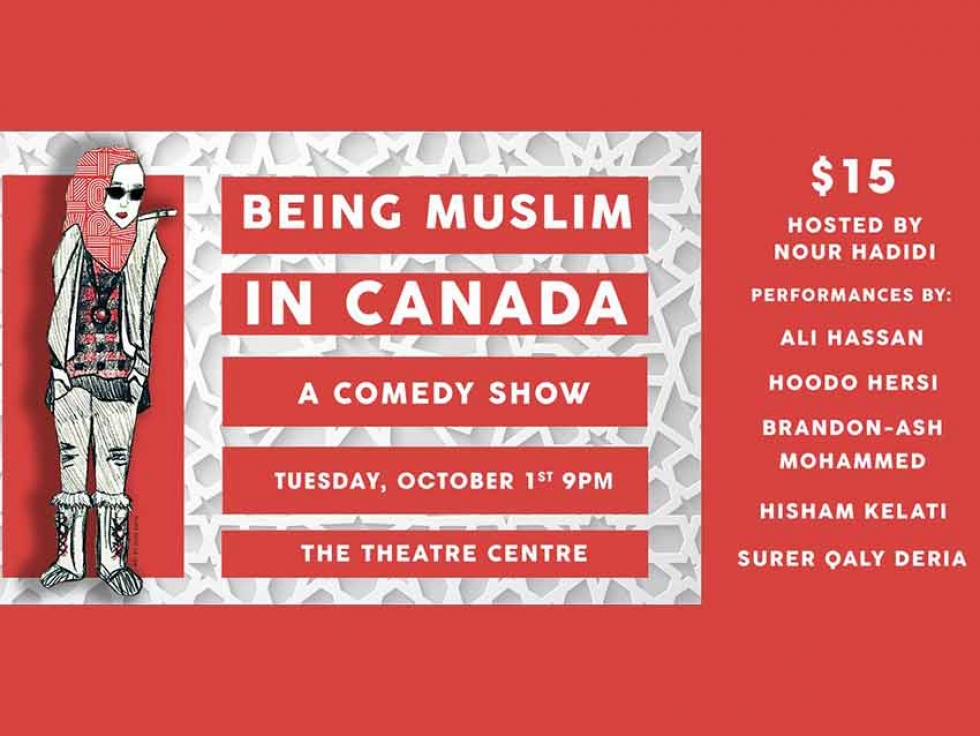 01
October


2019
Check Out Being Muslim in Canada A Comedy Show as Part of the Launch of Islamic Heritage Month in Toronto October 1
Written by Chelby Daigle
Being Muslim in Canada will feature an amazing line-up of brilliant, Toronto-based comedians who identify as Muslim.
They will share their many stories, thoughts and opinions in a positive, uplifting space where Muslim voices can be heard, supported and celebrated.
Admission is $15 and tickets can be purchased in advance online here.
The evening is being hosted and produced by Arab Canadian stand-up comedian Nour Hadidi. You can watch her at the Winnipeg Comedy Festival below: (It may take a few moments for the video to load from YouTube).
Nour is a Toronto-based comedian who has been featured locally on the CBC News, FLARE Magazine and was picked as one of four comedians to watch in 2016 by the Toronto Star.
According to an interview Nour did with She Does the City about producing the show, Nour stated, "I had produced this show once before in 2017 in the wake of the Quebec Mosque shootings and the Muslim ban," says Hadidi. "I'd like to say things are easier [now] but they're not. In April of 2019, I was heckled by an Islamophobe in Kitchener. It's the first time I had experienced that in person; it's much easier for me to disregard an Islamophobic comment on YouTube than to hear it in the middle of a performance....Having to denounce radical Islamic terrorism every five seconds…it's exhausting and really slows down my punchlines!"
The lineup includes comedians Pakistani Canadian Ali Hassan who is a stand-up comic, actor and the host of Laugh Out Loud on CBC Radio & SiriusXM. This fall, Ali will be part of the Just for Laughs Live Tour across Canada, hosted by Rick Mercer. Ali was recently on television in the CBS action series Blood & Treasure. His other credits include Designated Survivor on ABC and FXX's Man Seeking Woman, PBS Kids' Odd Squad and CTV's Cardinal. He also created the one-man show Muslim Interrupted. You can watch his interview on q about the show below (It may take a few moments for the video to load from YouTube).
Somali Canadian comedian Hoodo Hersi is also part of the lineup. Hoodo Hersi is a Toronto-based comedian recently selected as a New Face: Canada at the Just For Laughs Festival in Montreal, where her performance aired on the Comedy Network. She has performed in clubs and festivals all over Canada and the United States, including the Winnipeg Comedy Festival and the BBC World Service Montreal Comedy Show where both of her performances will air on the CBC, the 12th annual New York Arab-American Comedy Festival, Boston Women in Comedy Festival, and Toronto's Shedot Festival. In 2018, she was selected as an Audible New Voice at SF Sketchfest, and performed with Hasan Minhaj, Lil Rel Howery, Chris Redd, Gina Yashere, Moshe Kasher, and Maria Bamford among others. She also had the distinct honor of hosting the TEDxToronto Conference, and featuring in Sephora's national "Get Lippie" lipstick campaign in partnership with Fashion Magazine, where she was profiled as one of the three Female Comedians Taking Canada by Storm Right Now. Hoodo is also one of the CBC's 15 Comics to Watch in 2019. You can watch an interview with Hoodo by NDINI about her work. (It may take a few moments for the video to load from YouTube).
The event is also part of The Theatre Centre's COMEDY IS ART series.
Did you know: Comedy is not recognized as its own art form in Canada?
There is almost no specific government recognition or funding for comedians.
Excited by the advocacy work being done by our friend Sandra Battaligni, and the Canadian Association of Stand-up Comedians, The Theatre Centre wants to help change that. In celebration of this commitment, we are hosting a week of comedy featuring some of the country's best comics as the first in a series of new initiatives.
To learn more about each stand up comedian who will be performing on October 1 click on the images below:
This article was produced exclusively for Muslim Link and should not be copied without prior permission from the site. For permission, please write to info@muslimlink.ca.