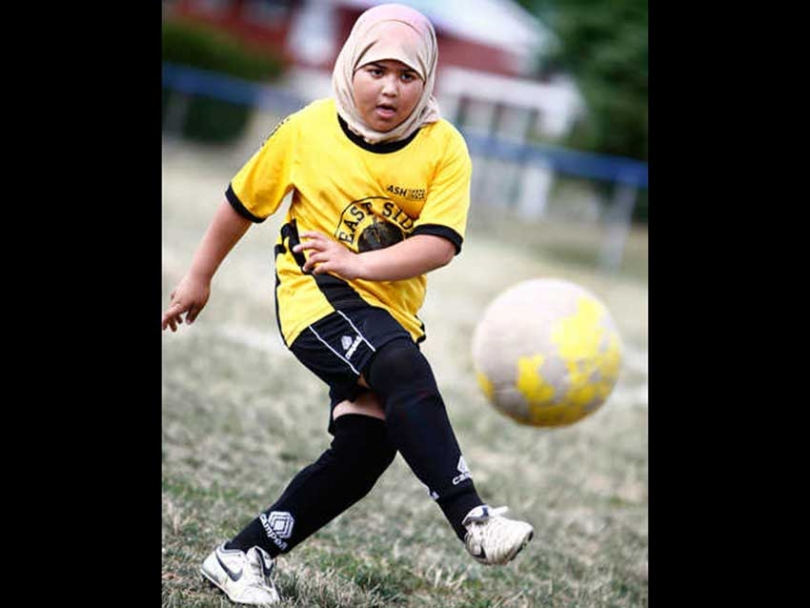 12
April


2013
Playing fair: Sports, racism and the hijab
Written by Sadia Virk
The International Day for the Elimination of Racial Discrimination was commemorated worldwide last month on March 21, with the theme for this year being Racism and Sport, focusing on the importance of using universal activities such as sport to affirm fundamental human rights and help combat racism.
According to Ban Ki-Moon, Secretary General of the United Nations, racism remains a serious problem around the world today and is even prevalent in professional sports. He called on using this day to highlight the positive values of sports and promoting the values of equality and non-discrimination to combat racism.
"We must join forces to end racism and sport can help reach this goal," he said in a UN released statement. "On this International Day, let us recommit to ending racial discrimination and realizing our vision of justice, equality and freedom from fear for all."
Hijab, sports and racism
In Quebec, the issue of hijab, sports and racism made worldwide headlines in February 2007, when an 11-year old soccer player from Ottawa was kicked out of a soccer tournament in Laval, Quebec for refusing to remove her hijab on the field. Asmahan Mansour, from the Nepean Hotspurs Selects, was told that her hijab was in violation of the Quebec Soccer Federation (QSF) rules, which specifically prohibited the wearing of hijab during sports play. Wearing a tight hijab tucked into her jersey, Ms. Mansour had faced no problems when she previously played in Montreal tournaments, nor in any games in Ontario.
When Ms. Mansour was forced to leave the tournament, her team along with four others walked off with her, in support of her right to play.
According to the QSF, it wasn't a case of racial discrimination against the hijab; rather they were only following guidelines laid down by the Fédération Internationale de Football Association (FIFA), which prohibited the wearing of clothing that may endanger the safety of a player. The case was brought before FIFA shortly after, which upheld the ban on the hijab.
Brossard resident Aisha Khan, who has been playing amateur soccer for many years while wearing hijab, says such bans are an indication of intolerance.
"I feel as though Muslim women are targeted and that it is no longer about sports, but about race and religion," she says. She believes that when worn properly on the field, a hijab does not necessarily constitute a safety hazard and that players can just as easily be injured in other ways on the field.
"It is just a piece of cloth on a woman's head, it's not crazy-glued around her neck so small that it would cause her to choke," she explains. "It is not made of steel or iron such that it is any more dangerous than a t-shirt in which the neckline could be a choking hazard. Also, we forget that the referees are there to regulate the game, so the risk of injury related to women pulling on another woman's hijab is not any more than other injuries."
The decision from the QSF to ban the hijab also drew increased ire, as it conflicted with soccer rulings from other provinces. The Ontario Soccer Association changed its rules in 2005, allowing for players to wear religious headgear so long as it did not endanger the safety of players. Likewise in British Columbia, a ban was overturned the same year, after a young Sikh player was kicked out of a game because of his turban. The Alberta Soccer Association also amended its rules regarding religious headgear in 2007.
"Within the same country, how could there have been such differing rules from one province to another?" says Montrealer Imaan Fayaz, an enthusiastic outdoor hijabi athlete who enjoys kayaking, biking, skiing and snowboarding.
"If the hijab was considered safe for sport in one province, how could it be banned as a safety hazard in the neighbouring province? It never made any sense to me how Quebec could be so staunch in its banning of the hijab on the field. It just seemed like discrimination against Muslim players in hijab."
The prohibition against hijab for sports players wasn't restricted to the soccer field. A few months after Ms. Mansour was told to leave the field, a Muslim girl's Tae Kwon Do team was banned from participating in an annual Tae Kwon Do tournament in Quebec in April 2007, on the grounds that their hijabs posed a safety threat.
Rulings from FIFA and QSF
In 2012, Jordan's Prince Ali bin al-Hussein, a vice-president at FIFA, successfully led a campaign to overturn the organization's ban against hijabs. The FIFA governing board officially overturned the 2007 ban in July and proceeded to test prototype designs of sports hijabs, which would allow Muslim players to cover safely while on the field.
The decision was met with relief by many and seen as a move which both helped to protect the individual religious rights of the players and also to ensure safety on the field.
"I think it is a step in the right direction," Ms. Khan said. "Despite the fact that the initial ban was illogical, I am happy to see that they have at least accepted a design that will make it "˜safer' for women to play while wearing the hijab."
All eyes then turned to the QSF to see whether they would lift their ban on the hijab. Despite calls from the Canadian Soccer Association to do so, the QSF continued to uphold the ban until the new international guidelines were released by FIFA and a special sport hijab was approved for wear on the field.
Among the designs considered by FIFA was one designed by Montreal industrial design student Elham Seyed Javad. Her design for ResportOn, a tight-fitting sporty hijab, was accepted as a FIFA-approved model hijab in November 2012. It was one of two approved by FIFA, after they found it upheld all their safety standards and criteria.
It wasn't until March 2013 that the QSF finally reversed it ban and allowed hijabs back in the game.
"I think it's great that FIFA has accepted the hijab in soccer," says Ottawa resident Lynn Chalati, a competitive soccer and rugby player who also wears hijab. "It would be a shame to lose all those talented players. I think there are accidents that happen in all sports. As someone who plays contact sports, I understand that very well. But I honestly think wearing a hijab is no more dangerous than wearing a jersey: if (a jersey) gets pulled, you feel it. So why not let us enjoy our freedom of rights?"
Change through education, participation and integration
As the UN called for the use of sports to help promote tolerance and harmony, Ms. Khan believes that education is key to help foster social cohesion through sport and bring different cultures together in peace and respect.
"I think education and open discourse might be one way to help," she shares. "Another way would be to have more interaction between different cultures, religions and races to create more awareness. The city or different community groups can organize sport days where different groups play together. Visible minorities should also continue to register their children in mainstream sports leagues and not be afraid by the negative attitudes. If Jackie Robinson never took than first step onto the baseball field, where would the sport be today?"  
This article was produced exclusively for Muslim Link and should not be copied without prior permission from the site. For permission, please write to info@muslimlink.ca.