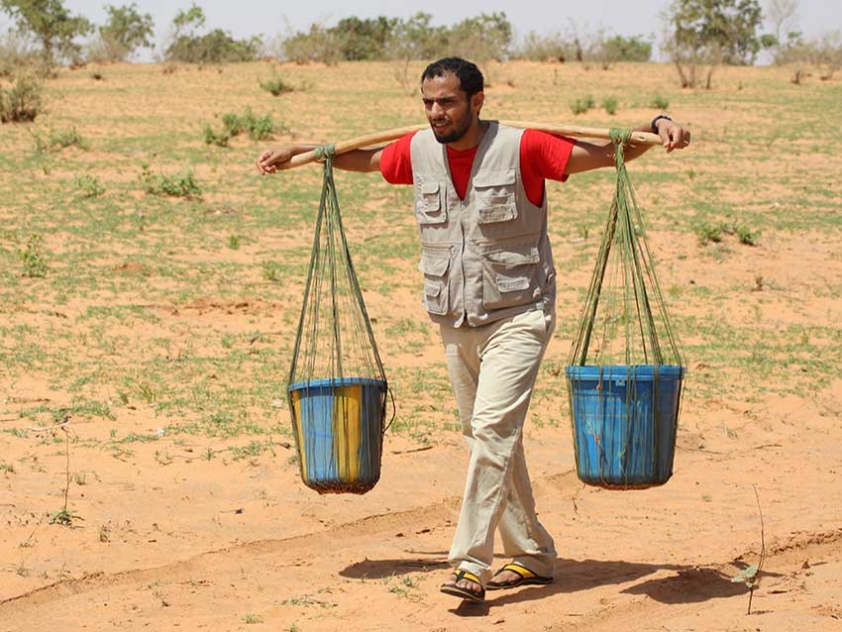 Zaid Al Rawni carries heavy buckets from the oasis to a village in Niger, mimicking the walk the people of the village have to carry out daily - the strain of the heavy weight visible on his face.
Courtesy of Islamic Relief Canada
02
Jul


2015
Interview with Islamic Relief Canada's CEO Zaid Al-Rawni
Written by Muslim Link
Muslim Link interviewed Islamic Relief Canada's current CEO Zaid Al-Rawni about working within one of Canada's largest Muslim charities.
1. Tell us about yourself and how you became involved with Islamic Relief Canada (IRC)
I first became involved with Islamic Relief UK during my school years. I used to volunteer for different events with IR and I became heavily involved during the Bosnia crisis in 1992. I continued to volunteer with IR UK throughout my undergrad, which I did in Communication Studies, and soon after they offered me a job with their communications team! I went to Sudan for a while, on behalf of IR UK, and other parts of the world visiting Islamic Relief projects and working on our projects abroad. Eventually, I joined the fundraising team in UK, and because of my experience with fundraising I was sent to IR Canada when the office here initially opened up. Thats how I ended up in Burlington! As for myself, I did my undergrad in Communications - completed my Masters in Development Management, and now I am doing my MBA.
2. Recently a team of young people participated in an IrChallenge at the Ottawa Marathon. Tell us about IrChallenges and how they are an innovative way of engaging donors.
I love IRChallenges! I was part of the first team that ever did an IRChallenge in the UK. We've been doing challenges for many years now and they are really a great way of involving the community. Asking people to challenge themselves, and then having their achievements benefit other communities around the world, is really an exciting and rewarding way of involving yourself in the work IR does - it engages you, your family, and your community.
3. Donations to IRC are often used abroad in disaster zones such as Nepal or conflict zones such as Syria, how does IRC maintain donor accountability in regions where there is such instability?
This is a great question. IRC has a set of very rigid policies. These policies have to be very creative because we have to be able to deliver aid to people quickly in times of emergencies - literally, how fast we are will affect how many people live or die. As one of the largest Muslim NGOs, we have a very broad network of offices and all of them adhere to global standards of financial accountability. We utilize these networks to transfer money to conflict and disaster zones as quickly as possible. One of the key aspects of this network is it ensures that, at every stage, there is never only one person responsible for funds - there is always a group, a minimum of 3 people, who maintain control of funds.
4. IRC is now also funding projects in Canada, such as the recent donation to the Iqaluit Food Centre in Nunavut, why do you think it is important for charities like IRC to start contributing locally? 
Most of our work has been, and will continue to be, overseas because of the effects of global poverty on communities in the underdeveloped world - however, that doesn't mean poverty does not affect people in the developed world. We can't ignore local poverty. IRC made a strategic decision last year to engage with and work on projects in Canada that seek to alleviate poverty and hardship for people here - so wherever we can have a positive impact, we will. Why is this important? Well, for the same reason it is important to help people in Somalia, in Palestine, it's because - in our religion - we are implored by spiritual texts to be an aid to those in need. If someone in Canada is in need, or someone in Palestine is in need, well we ought to be there.
5. IRC recently collaborated with Oxfam Canada to host a fundraiser with Naomi Klein at the Aga Khan Museum. This type of fundraiser is quite different than the ones we usually see directed at Muslim Canadian communities which often involved an imam as the keynote speaker (such as upcoming IRC fundraiser in Ottawa with Imam Siraj Wahhaj). Do you think it is important for IRC to collaborate more with non-Muslim individuals and organizations? If so, why?
Yes, absolutely. It is important for IRC to collaborate with everyone, Muslims and non-Muslims. Why? Because poverty is a global problem that will only be solved through global solidarity. We cannot be exclusive in this world. We are sharing the planet with people from every community and working with everyone is the only way to tackle poverty. If we only want to help a few causes, then sure, continue as you are. However, we are serious about eradicating global poverty and we will work with anyone that shares this vision.
To learn more or to donate to Islamic Relief Canada click here.
This article was produced exclusively for Muslim Link and should not be copied without prior permission from the site. For permission, please write to info@muslimlink.ca.