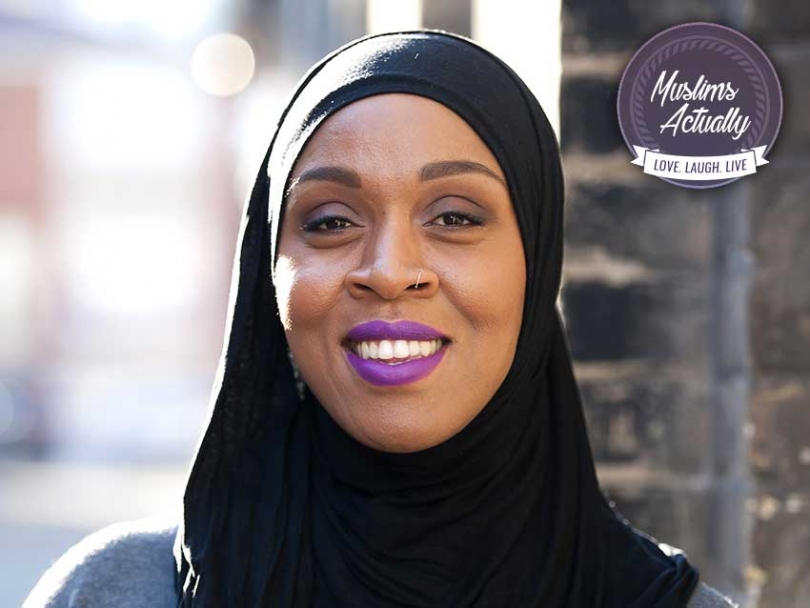 Fatimah Jackson-Best is a Black Muslim Canadian healthcare researcher, advocate and academic.
13
Feb


2017
Fatimah Jackson-Best - Researching Women's Mental Health
Written by Muslims Actually
Fatimah Jackson-Best is a healthcare researcher, advocate and academic. While studying for her PhD in public health science at the University of Toronto, she relocated from the city of her birth to the island where she traces half of her heritage: Barbados. Her PhD research project focuses on Afro-Caribbean women's maternal health; however, her interests also include the health of Muslim communities.
Tell us about yourself
I identify as a Black Muslim woman. I was born in Toronto, Canada while my dad is from Barbados and my mom is African American. I grew up immersed in both cultures, and also in diverse Muslim communities in Canada.
What was it like growing up Muslim in Toronto while still being strongly connected to the Afro-Caribbean Community?
I grew up Muslim in Mississauga (a suburb of Toronto) and Toronto, and both experiences were incredibly formative. In Mississauga I went to a private Islamic school from elementary to junior high school and that was a huge part of my early religious and social development. When I went to the school it was quite diverse, and I had friends from Pakistan, Egypt, Syria, Thailand, Lebanon, etc. However, my cousins and I were the only Black Caribbean-Canadian/American kids, so we always stuck out but we were also always taught to be proud of our cultural heritage. It also helped that my family was connected to a Muslim community comprised of mainly Caribbean and Black Muslims, so I was very aware of my Caribbean heritage and affirmed of its uniqueness. In Toronto I was able to really carve out my identity as a Black, Muslim woman of Caribbean descent in high school and university. I met more Black Muslims from all over the world who were both socially and politically mobilized and that exposure is still one of the biggest influences in my life in relation to navigating my Black and Muslim identities.
Why did you decide to go into mental health research?
My dad worked at the Centre for Addiction and Mental Health in Toronto as a chaplain for a number of years, and through his work our entire family became more informed about mental health. When I was in university and decided to do a Masters degree, I chose to focus on mental health in Black Canadian communities because I realized that the information that I wanted to know about my community as it relates to mental health and illness just wasn't there. Seeing that gap and knowing how central mental health is to all of our lives made it important for me to serve my community through research, even if it is a small contribution.
Your work has focused on the challenges Black women face in relation to mental health. What do you see as some of those challenges?
I would say mental health stigma remains a huge challenge for Black women. Black women come up against a number of expectations, and a significant one is that we can maintain strength through the most difficult times. I know there is truth to this based on all of the resilient Black women I am surrounded by, but it doesn't mean that we are machines. Everyone deserves the opportunity to ask for help, and be vulnerable but stigma can prevent that.
Another challenge is the lack of mental health services designed for and by Black women. I can't tell you how many messages I get from people asking for numbers to counselors, therapists, etc. Imagine if there was affordable and high quality mental health care tailored for Black women that we could access? It would revolutionize so many people's lives.
Based on your research and experience, what impact does anti-Black racism and Islamophobia have on people's mental health?
Human beings have multiple identities and experiences that are based on our gender, religion, sexuality, class, ethnicity, etc.  We also become subjected to discrimination and hate because of our identities, and that definitely can have negative impacts on our mental health. I believe it is really important to understand that Islamophobia and anti-Black racism are deeply structural, meaning that they seep through all of our institutions, like schools, the justice system, and even our religious groups which is particularly true for anti-Black racism. When we understand how deeply embedded this kind of discrimination is, then we can also understand that it has the power to impact our mental wellness. If you are always on edge that you will be the target of a racist or Islamophobic attack, then that will affect your quality of life and overall well-being. We cannot be afraid to make those links, even in the face of increasing xenophobia towards Muslims and ongoing anti-Black sentiments.
In your in Barbados, you reflected on the impact of poverty on mental health. Do you think this is an issue we need to discuss more in Canada?
Living in Barbados showed me that class is incredibly important. People with money usually have more access to health care services and education which can work to destigmatize mental illness and increase their mental wellness. While people who do not have that access may not have the same opportunities. In Canada we know there are deep divides between people that have financial security and those who do not. While Canada has more social services than Barbados, we still need to look at the existing barriers that prevent poor people from getting the mental health care they need and deserve, and then do everything we can to smash them.
What role has your faith played in your approach to your studies and your research?
My faith is the most important part of my life. I started my undergraduate degree in 2002 and went straight through to my Masters, PhD, and most recently a postdoctoral research fellowship that I completed in November 2016. There is no way that I could have done any of that without Allah and cultivating a deep connection to Him. An added layer to this is that talking about and researching mental health can be difficult and sometimes draining! But I know that Allah has put me in the position to do this for a reason, so when it gets too overwhelming I turn to Him. Prayer, dhikr, and meditation helped me through the most difficult times during my studies and research, and I have no doubt they will always assist me. 
You now live between Canada and Barbados. Why has it been important for you to return to your parents' homeland and what have you learned from the experience?
Barbados is a really safe and comfortable space for me. I have been visiting since I was 8 years old, but in 2010 I made a move there and stayed for 5 1/2 years. There is a peace and beauty that I cannot describe, but which I feel every time I am in Barbados. It also feels amazing to be in an environment where most people look like me, share some similar cultural values, and where I can be unapologetically Black. It makes me feel connected to my heritage, and also shifts my understanding about what Blackness is and can be.
What advice would you give Muslim Canadians who are thinking of pursuing PhDs, particularly Black Muslims and women, based on your experience?
If you can afford it and if you can do work that will be impactful: go for it. I meet many brilliant Black Muslims who want to pursue PhD's but are unsure if it's the right time, right program, right funding, etc. I always advise people not to rush the decision; make sure it feels right and it is an opportune time. Ultimately I want to see more Black Muslims doing PhDs because I can count how many I know on two hands. But I also want to see the structures of universities change so that people like me can exist in them comfortably and with adequate support. 
You have written extensively for Aquila Style, an international Muslim women's lifestyle magazine, on topics from marriage, to hijab, to ethical eating to Islamophobia. Why have you wanted to write for this platform and what have you learned from the experience?
I saw that Aquila Style had a distinctive voice addressing Muslim women, but I didn't see voices like mine reflected so I decided to make a pitch and they liked it. I actually love writing, and an online platform allowed me to reach many people which I didn't fully anticipate. One of my biggest desires is to write and publish fiction novels that are based on Black Muslim experiences. Our stories need to be told, and I intend to make sure my voice is one of those that tell them. 
What's next for you and where do you hope to see yourself in the next 10 years?
Right now I am taking a much needed pause which I have dubbed my "post-Postdoc break". After almost 15 years of schooling and research fellowships, I realize that it's a necessary part of my own mental wellness, and I feel very privileged that I can do this in Barbados for a few months. Next up I will launch my research and knowledge exchange consultancy, start my first novel, and I am keeping my options open for meaningful work where I can apply the experiences and knowledge that I gained through my studies.
In the next 10 years I see myself being a mother, and professionally successful with diverse research activities and endeavours that are always connected to my Black, Muslim, and Black Muslim communities.
Follow Fatimah Jackson-Best on Facebook here and Twitter here
This article was produced exclusively for Muslim Link and should not be copied without prior permission from the site. For permission, please write to info@muslimlink.ca.