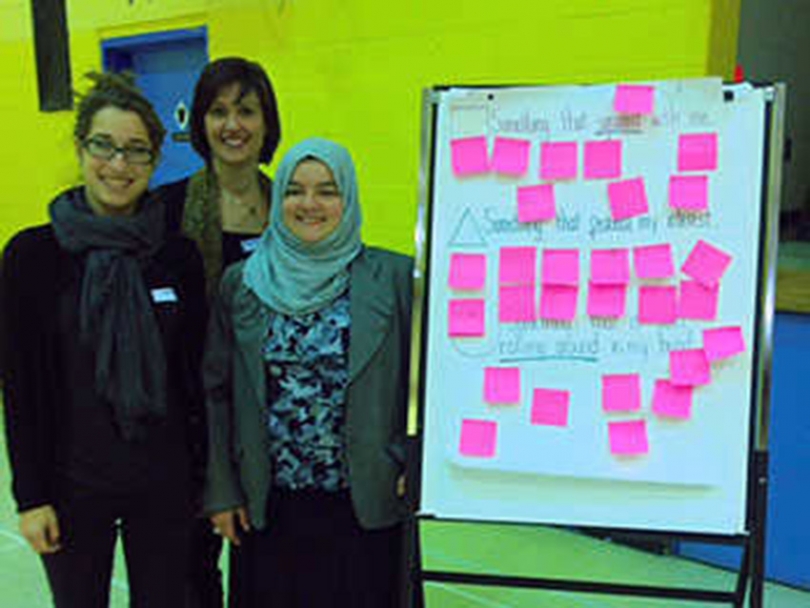 Teachers Joelle Rudick, Della Bonsor, and Lila Hammouda at the Weekend Educators Professional Development Day.
09
Dec


2013
Working Collaboratively: Ottawa Weekend Teachers Learn and Connect
Written by Farah Amir
It's 8:30am on a blustery cold Sunday morning, a time most people spend in bed with a cup of coffee. Not so for Lila Hammouda, lifelong educator and mother of four. As an Ontario certified elementary teacher at a local public school, Lila is passionate about education. She also serves as the Principal of Kanata Muslim Association's Hikmah School, a weekend school teaching language and faith.
Today is an important day as her vision of creating collaboration between the weekend school community and the larger Ottawa educational community is finally taking place. It's a day of professional development workshops for weekend educators.
Weekend schools face the challenges of teaching kids about language or faith, in a short amount of time, on a Saturday or Sunday, with restricted budgets, borrowed resources, and part-time teachers. Is it possible to overcome these limitations and deliver programs that makes kids love weekend school?
There is a general excitement in the air "" these are dedicated people, volunteering to spend their Sunday to better their skills to enrich the community. By 9:30am, right on time, the event starts in a gym full of people representing different weekend language schools. Topics of focus include classroom management, literacy approaches, incorporating games and play in the classroom, and teaching Islamic Studies in an engaging manner.
We sat with Lila Hammouda to discuss the day's success.
Muslim Link (ML): What is the purpose behind this weekend educator's professional development workshops day?
Lila: It is a step towards understanding that all weekend schools have similar challenges, and can work together, irrespective of the differences, to find solutions that effectively serve the community, especially our children. We wanted to exchange resources, help our teachers find support and increase skills, and open this channel of communication. The weekend school teachers have similar challenges, so we can work on finding these solutions that work for everybody.
ML: What can you share about the presenters and the content of these workshops?
Lila: The beauty of it is the presenters are all professionals, and have built up knowledge of their subject matter and they come from different places such as other weekend schools, public school, and local colleges. The audience came from different schools. We wanted to have a day to train our teachers to better equip them to create a warm weekend learning environment that is comparative to the engagement the kids experience in their daily schools, and we decided to invite more people to share and learn with us, so the kheir (goodness) continues with God's will.
ML: Did you achieve what you wanted?
Lila: I enjoy learning from the wisdom of Ustadh Nouman Ali Khan, and his vision about weekend school where we put the emphasis on building friendships as our friends define our identity. So we want to create a warm environment where kids make friends and learn about some of the beautiful messages of our faith. There is a growing population of Muslims in Ottawa and people want a school close to them that they feel comfortable with. We have an opportunity in the community to help our kids have fun in learning Arabic or Urdu or Islamic studies with a focus on social interaction in an organized setting, and learning about our faith through visual arts, drama, nasheed (A capella Islamic song), games, social interaction and field trips. We've had events such as language carnival, hajj workshop, nasheed and drama talent show in Islamic Studies, a fun fair, presentations, and sports. We are doing this for our kids. Perhaps in the future, we can have more collaboration Insha'Allah (God willing), between the principals so we are all learning from each other and delivering even better programs for the community. Yes, Alhamdulillah (Thanks to God), it was successful.
There is a big smile, despite the 70 hour work weeks. Lila Hammouda is a mom, a teacher, and principal with a mission: bringing people together to work together to enrich the weekend school experience for our kids.
To contact Lila Hammouda directly, email This email address is being protected from spambots. You need JavaScript enabled to view it.. 
This article was produced exclusively for Muslim Link and should not be copied without prior permission from the site. For permission, please write to info@muslimlink.ca.