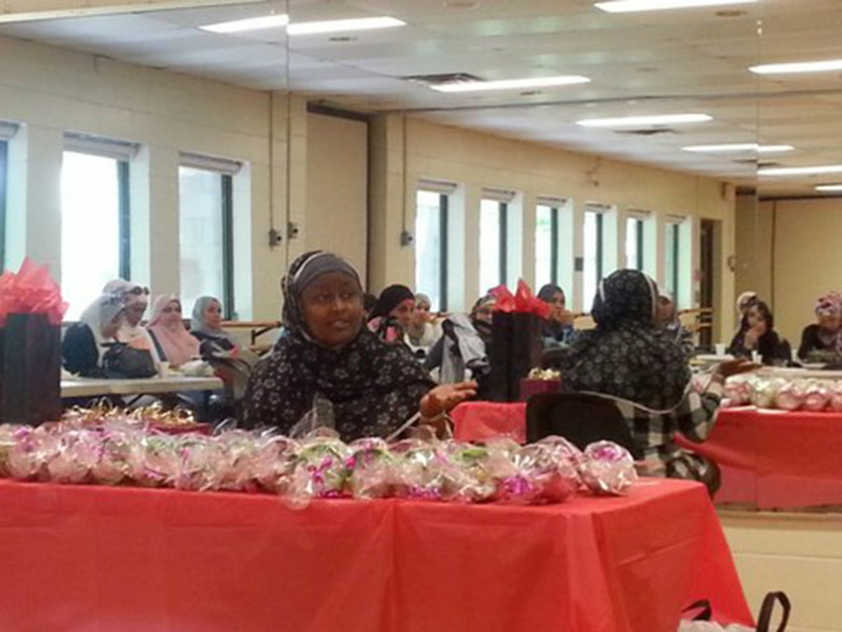 Amina Umuzayire discusses her charity with local Muslims.
Courtesy of Farah Amir
24
July


2014
Rwanda Charity has Ottawa Connection
Written by Farah Amir
The Fondation Nzamwita Omary is a registered charity serving Rwandans in various sectors. This year, they are supporting three projects: Tere Imbere (Move Forward) which provides income-generating opportunities for families, the Iftar program which feeds any hungry person (Muslim or non-Muslim) who comes to a mosque, and a program to cover high school tuition for needy students.
Muslim Link spoke with Amina Umuzayire, whose father originally founded the charity.
Tell us about yourself.
My name is Amina Umuzayire, I'm originally from Rwanda and I have been in Canada for 20 years. I'm married and have four children. I work for Canada Revenue Agency as a Project Coordinator. I'm the president of Fondation Nzamwita Omary (Canada) a non-profit organization. I also volunteer at Saint-Vincent Hospital (friendly visits).

Tell us about the charity orphanage project?
I'll begin by explaining what Fondation Nzamwita Omary is. This a non-profit organization founded by the family and friends of the late El Hadj Nzamwita Omary who worked tirelessly to help those in need. It offers humanitarian and social development programs to poor communities in Rwanda. The main objective of The Foundation is to perpetuate El Hadj Nzamwita Omary's legacy of helping others. It is active in numerous causes that touch communities in need such as hunger, inadequate healthcare, and lack of education.
Being in Canada, I could not see any way of helping this foundation. Together with the foundation members in Rwanda, we decided to open a branch in Canada.

How does it all work?
Among multiple projects that our fellows run in Rwanda, Nzamwita Omary (Canada) chooses one fund each year. Education and Iftar are the only projects that will be permanent. To achieve these goals, we signed an agreement with the representatives in Rwanda stipulating that we have full control on how the projects are run and we expect to have a report every year. The contribution of Nzamwita Omary Foundation (Canada) will be determined during the year in which the project is planned and according to the financial resources available.
This year (2014), the Nzamwita Omary Foundation (Canada) will participate in a project financing Tera Imbere which means MOVE FORWARD.. This project will help to restore the economic situation of families through income-generating activities. We plan to buy 30 goats for 15 families. As for education, we will send five kids to high school. During this month of Ramadan 200 meals are served to the main mosque and 40 families received provisions for the whole month. It is important to note that everyone is welcomed during iftar (breaking of the fast), Muslims or non-Muslims. Anyway, no one stands in front of the door for identification of Muslims or non-Muslims. The door is open to whoever is hungry.

What are your fundraising goals for this year?
Our fundraising goal is $4400 and alhamdulillah we were able to raise $3847 through our annual fundraising. We hope to raise the remaining $553 by the end of August Insha'Allah (God willing).
Why is it important that we support this project in Rwanda?
First of all, as a Muslim, I believe in helping others regardless their race or their belief. Second of all, it takes so little to have an impact on someone's life. Who would think that with $1750 you can sent five kids to a high school or with $840 you can help 15 families to generate their income. You may be their reason of getting out of poverty. Last but not least, we should support these projects to promote Islam by actions. I personally know a lot of people who became Muslims because of Nzamwita Omary's actions. My dad would help anyone regardless their faith, origin and class!
During the genocide in 1994 in Rwanda, Muslims did not participate in the killings mostly because of their faith. This action aimed them to be no longer treated as second class citizens. Today, they can go to school, hold public jobs like everybody else. Today, Eid is a national holiday in Rwanda yet the Muslim population is about 16% only! Our behaviour speaks better than our speeches.

What do you suggest to fellow Canadians who are thinking of perhaps supporting this cause?
I suggest them to give it a try and support us. I know it is hard to trust such an organisation that operates outside Canada, but I ask them to trust us and always seek for explanations whenever there is a doubt in where and how their money was used. We will provide a report every year to those who sponsored us. The same report is given to Canada Revenue Agency and Industry Canada.
Fondation Nzamwita Omary is registered under charity ID 836804039 RC 0001.
Their website is under construction, but you can learn more about the organization and donate by watching
or contacting Amina at
This email address is being protected from spambots. You need JavaScript enabled to view it.
. ■
This article was produced exclusively for Muslim Link and should not be copied without prior permission from the site. For permission, please write to info@muslimlink.ca.