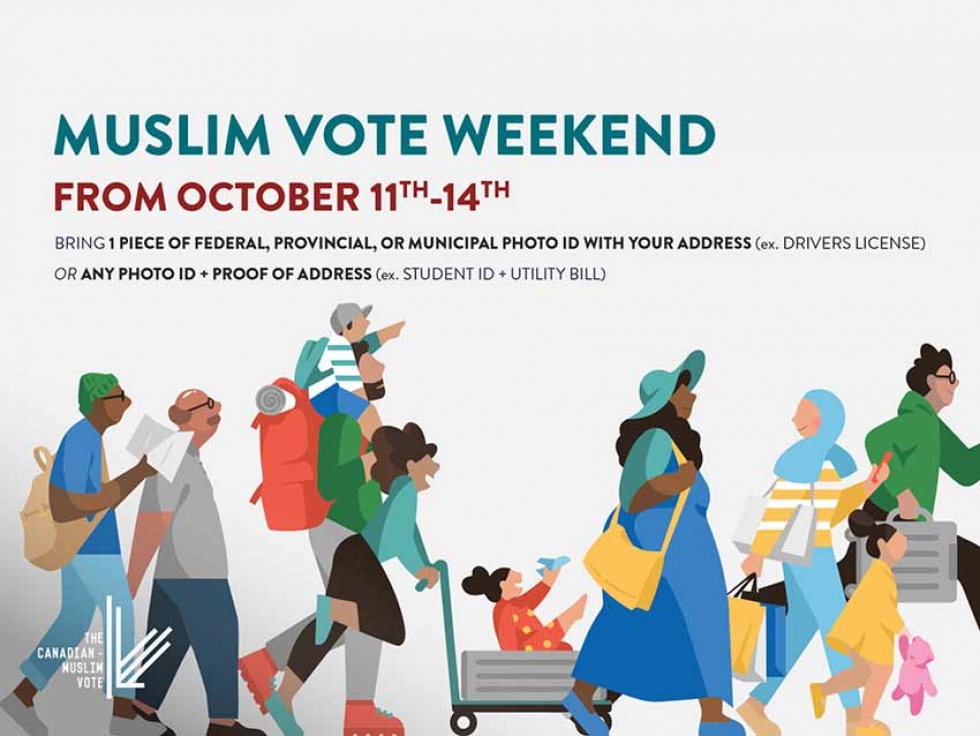 09
Oct


2019
The Canadian Muslim Vote Launches "Muslim Vote Weekend" with Get Out the Vote Sermons in Mosques across Canada for Advance Polls
Written by Canadian Muslim Vote
The Canadian-Muslim Vote (TCMV) is launching its "Muslim Vote Weekend" campaign on Friday, October 11, 2019, with Get Out the Vote sermons in over 100 mosques across six provinces and territories.
The campaign will mobilize Muslim voters to the Advance Polls over the Thanksgiving Weekend. Over 130 "Campaign-in-a-Box" all-in-one, do-it-yourself kits have been sent to volunteers at mosques from Whitehorse to Halifax to educate Muslim voters and bring them to the polls.
TCMV Executive Director Ali Manek said, "The Muslim Vote Weekend is one of the ways The Canadian-Muslim Vote is breaking down barriers to voting by getting our community to the polls early and making sure they are registered and educated on how and where to vote. Our campaign volunteers have had a million touch-points with community members this election with the message that we speak the loudest when we vote. Our community survey shows we can expect a higher Muslim turnout this election than the general average."
Iman Berry, a first year Western University student and first-time volunteer with TCMV in its Get Out The Vote campaign, explained "The Canadian-Muslim Vote's "Campaign-in-a-Box" gives me everything I need to get my community ready for the election and out to the polls. By making the election visible in my community through posters, fliers, and phone banking, I've seen with my own eyes that we are making a difference with Muslims voting early."
The Canadian-Muslim Vote was founded in 2015 with the mandate to educate and mobilize the estimated 767,000+ Muslim voters across Canada at all levels of government in a non-partisan way. It is estimated that in the 2018 Ontario provincial election Get Out The Vote campaign The Canadian-Muslim Vote had nearly 2-million touch points with the Muslim community. TCMV was also very active in both the 2018 Quebec provincial elections as well as the Ontario municipal elections in October 2018. In the recently concluded Alberta provincial election mosques used Friday sermons to encourage Muslims to vote.
For more information on the Canadian-Muslim Vote, please visit www.canadianmuslimvote.ca